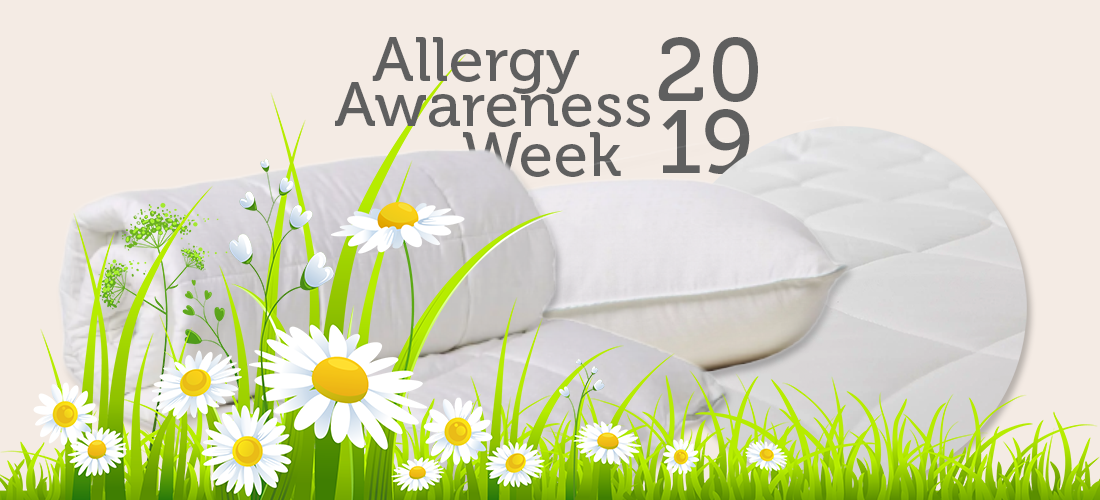 Even though it's impossible to deny that the sun is now shining and the flowers are in full bloom, seasonal changes can be the worst for people with allergies. Research now suggests that nearly half of us Brits are suffering from some form of allergy.
We're taking action, it's time to take down these allergies one by one and for Allergy Awareness Week (29th April - 3rd May 2019), we've come up with a whole range of products to help have an undisturbed sleep.
How? You may ask… Well read on and find out more! Allergies are one of the most common causes of sleep disturbances, ranging from a variety of reasons (pollen, mould, pet hairs etc).
We've worked hard to develop our Anti-Allergy range to help sufferers get the perfect night sleep. They're treated with a Sanitized® solution, the highest quality product for antimicrobial efficacy. The treatment is specially designed to help reduce any allergens including dust mites, bed bugs and bacteria.
This means that no nasties have the chance to develop on the fabric which is closest to or touching your body whilst you sleep by creating a protective barrier for the filling inside. The result?
Products that are a perfect relief for all types of allergies as well as asthma and eczema sufferers.
Check out our top products that we recommend below…
Wrap up in our beautifully soft duvet, lay your head upon our springy pillow and feel your allergy worries disappear...
Our Anti-allergy pillows also have a 100% hollowfibre fill which creates a lovely plump medium-firm pillow, perfect for those who sleep on their side. The fill is Sanitized® and they're finished with our signature double stitched and piped edge finish. These pillows are also washable at 60 degrees. They're filled with 100% hollowfibre and encased in a 250 thread count cotton case that is treated with Sanitized®, plus this product is easily washable at 60 degrees. These duvets are great for preventing bacteria build up as well as alleviating allergies that can stem from natural fibres. Anti-allergy Mattress and Pillow Protectors
Our Anti-allergy mattress and pillow protectors are a great way to keep your bedding fresh. Both are made with a high-quality construction of quilted cotton fabric treated with Sanitized®, these protectors will match perfectly together when your suffering from allergies at night. Choose a Soak&Sleep Anti Allergy product and many nights of great sleep are heading your way.
Any questions? Our friendly and knowledgeable customer service team are on hand to help.