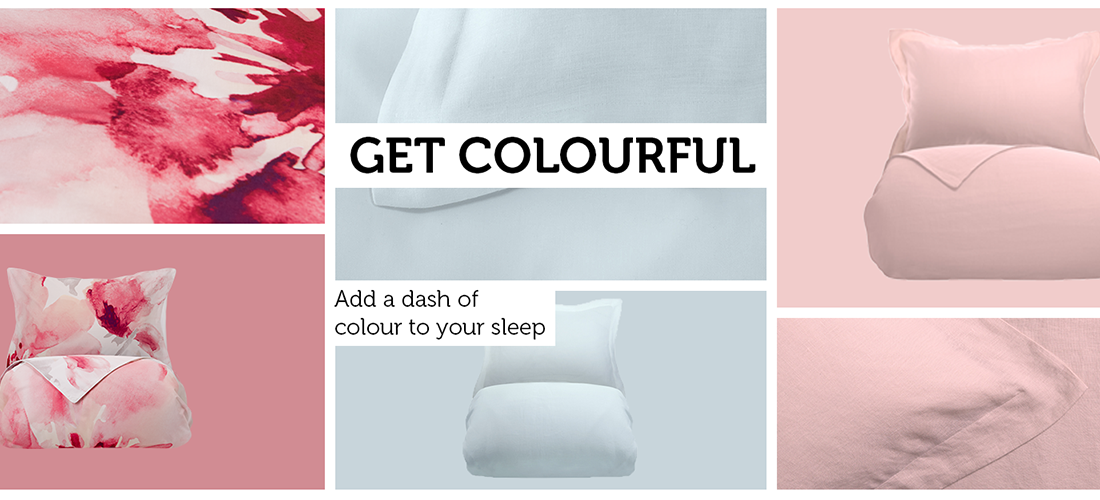 Fancy injecting a bit of colour into your home but not sure how? Soak&Sleep are here to help…
Our new #GetColourful campaign has just launched, and we want to add a splash of colour, into your lives! From luxury towels, to cosy lightweight bed throws and summer sheets, our aim is to inspire all our customers to use more colour throughout their homes, making this summer pop!
How can I #GetColourful?
Using colour in your homes, can be more than just a pretty touch. Different colours emote thoughts and feelings through our colour psychology - 'how our brains perceive what it sees'. Colour is said to have a huge impact on the brain and our decision making. So, we felt our #GetColourful campaign would be the best way to brighten up everyone's summer decor.
Three of our favourite campaign colours are powder blue, blush pink and our digital pink floral print. Scroll down and find out more about why we love these shades of sleep...
Powder Blue 100% Pure
French Linen Bedding Classic and simple, the beauty of this Powder Blue bedding comes entirely from the quality of the linen we use. The light, muted tone allows you to feel calm and comfortable. So sit back and relax into these blooming, blue sheets.
Prices From: £30.00
Blush Pink 100% Pure
French Linen Bedding Woven from French flax, we've made this bedding ever so cosy and inviting. So soften your frustration and feel contempt in our Blush Pink sheets, to make your mornings a bright, rosy bliss.
Prices From: £28.00
Digital Flower Print
Bed Linen Set A bouquet of bedtime loveliness. Made with pure cotton and printed with a unique design, this bed set is a beautiful way to wake up, giving you that fresh, awakened morning!
Prices From: £50.00
So what are you waiting for? Go and browse our 'Get Colourful' products to embrace you bright side!
Also, feel free to leave a comment below and check out our social media to let us know how you feel about our 'Get Colourful' bedding products.