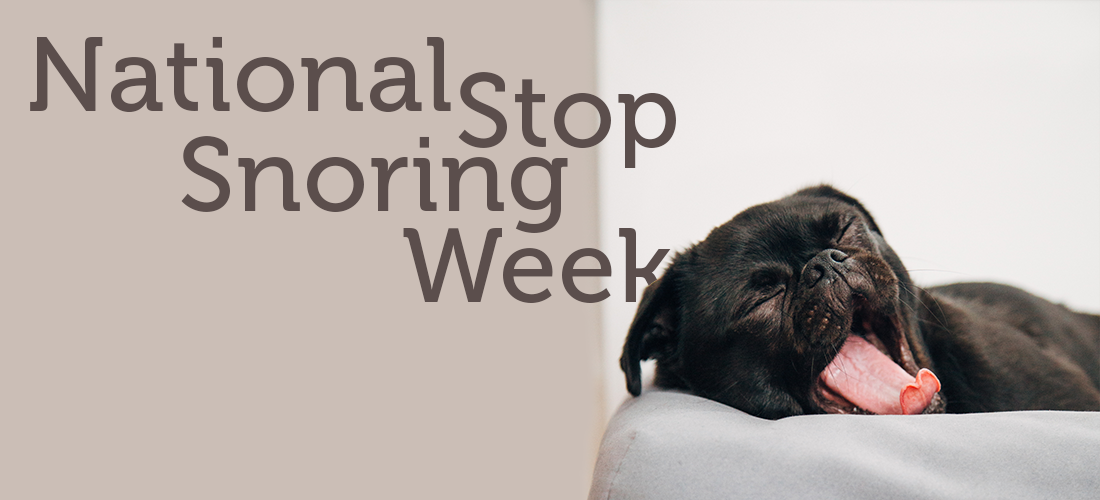 This year for #NationalStopSnoringWeek, we want to help you or your partner find the best ways to prevent snoring. As the sleeping experts, we have pulled together some of the reasons as to why you may be snoring, and also product recommendations and solutions. So if you're fed up of listening to your other half in the middle of the night, or you yourself are a snorer, then read on and welcome the silence.
What is Snoring and why do we do it?
Snoring commonly occurs to most people at some point in their lives and this is due to partial respiratory blockages of either the nose, mouth or throat. When we are awake in the day, our breathing can be quite irregular (if we are sitting, walking, running) without us even noticing. But when we are asleep, we all have a consistent breathing pattern that shouldn't get interrupted, and if it does, then this can lead to us snoring. Food & Exercise
There are a number of reasons why snoring occurs, including the types of food you eat, your overall health, allergies and also your sleeping position. Also drinking alcohol before bed and smoking has been proven to have an effect on your snoring as well. Can allergies make me snore?
A blocked nose is one of the main causes of snoring, which is often brought on by an allergy, a likely cause of which is dust. It's important to choose the right bedding if you're an allergy sufferer, as fillings like feather and down could irritate your senses and may lead to snoring. Our Anti-Allergy range (PILLOWS | DUVET | PROTECTORS) has been designed to help sufferers get the best night's sleep. The power of a pillow...
Pillows not only provide blissful comfort, they also raise your head off the bed to support your respiratory system which helps to prevent snoring. If you're using a pillow with the wrong level of support and depth, chances are that once you're asleep your sleeping position will change and your head is no longer cradled, so it's important to find the right one for you.  
Our 'Supremely Soft As Down' medium firm range is a brilliant supportive synthetic option which helps to align the head, neck and shoulders.
Unsure what pillow you need? Check out our pillow buying guide for help, or give our friendly customer service team a call.
Shop by our different fillings, firmnesses and types of pillows that we have right HERE!
Can a mattress help snoring?
Your mattress makes a HUGE difference to your sleep, and also how you position your body. Our '1000 Pocket Spring Orthopedic' mattress contours to your neck, shoulders, back and hips, providing you with support and even weight distribution to relieve pressure points for your ideal comfort in any sleeping position.
Be sure to check out all our social media pages to find out more. Also, let us know in the comments down below how you rule out snoring as an issue for sleep.
Happy sleeping:)