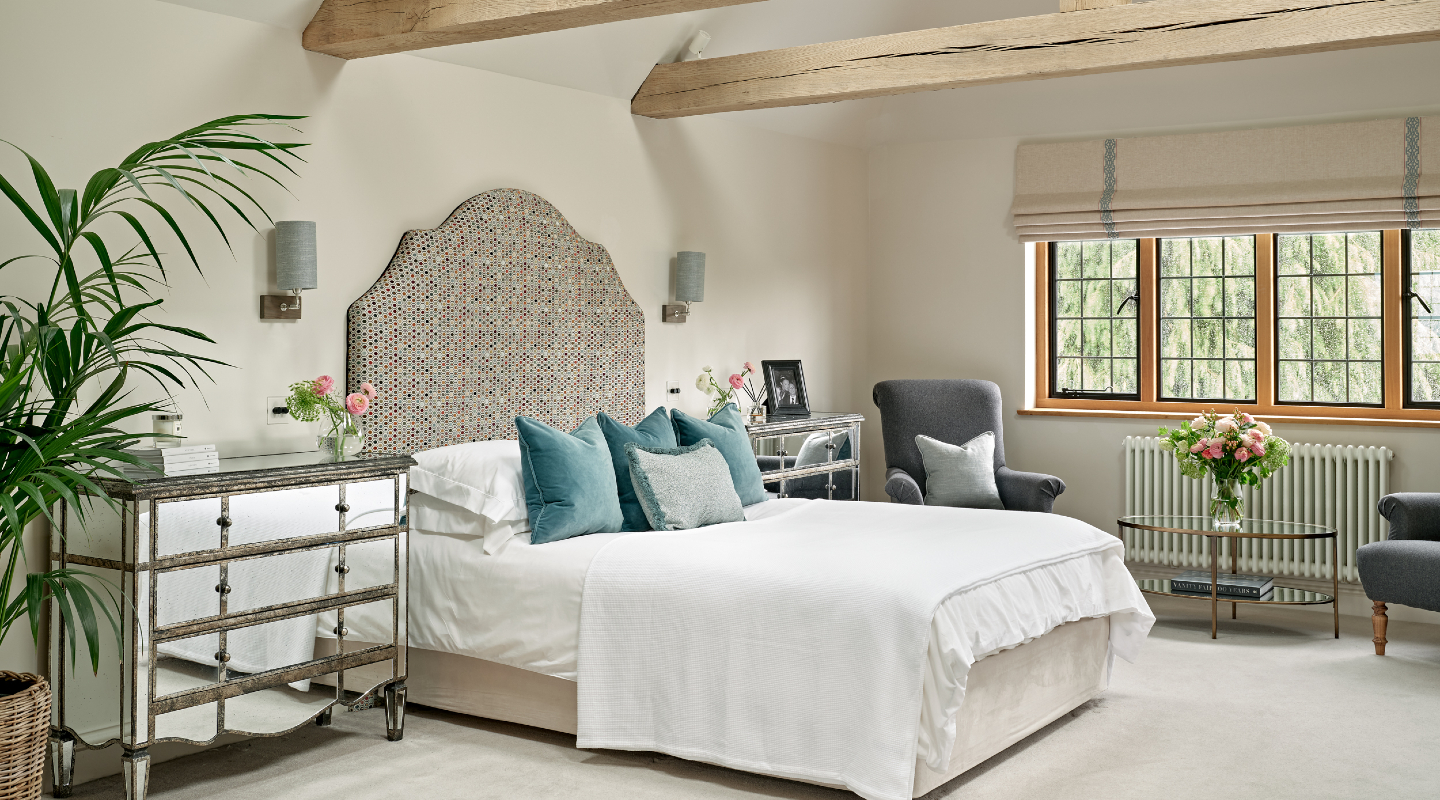 Anne-Marie Leigh is a wonderful interior designer and a popular customer in our Wholesale database. Soak&Sleep has provided her with products to kit out her beautiful bedroom. We picked her brains on all things interior design and her favourite styling ideas to make the most of your bedroom and bathroom.
What is interior Design?
Interior Design is creating and enhancing interior spaces for people to live in and enjoy.
What does an interior designer do?
My job as an interior designer is to help clients to get the best from their space by improving their surroundings.

Not only does the space need to look good but it also needs to be practical and work for the people that live there. As well as colours, fabrics and furniture its often about coming up with creative solutions, for example solving storage issues or placement of furniture.

Every project is different and I often work with architects, builders, furniture suppliers and many other specialist teams to bring a scheme to life.
---
New bedroom design – where do you start?
When designing a bedroom I would always start with the floor plan. That way you know once you have your bed in the room how much space you have You can also play around with furniture layouts to see which is the best use of space in the room.
Part of the initial brief when working with clients is to get as much information from them as possible on how they use the space. Their 'wish list' in terms of absolute must haves and must not haves whilst also getting a sense of what style they are hoping to achieve. A great way to help clients visualise it to look at various different sources, these could include Pinterest, Instagram and interior magazines. This not only helps me as the designer to understand their vision but also helps clients to visualise what they do like and importantly what they don't like!
Once I have all the information I need I would then work closely with the client on concepts and designs to deliver their dream bedroom.
One area which if often over looked in bedrooms is lighting. In a bedroom you want to create soft layers of light from different sources including wall lights, pendants and table lights. Definitely not a grid of harsh downlights!
Where do you find Inspiration?
I love to get inspiration from many places, particularly travel and staying in great hotels is great way to get ideas for bedrooms!
Small bedroom ideas/tips for maximising space
Storage, storage, storage!
In small rooms storage is key. So think divan beds with drawers underneath, built in joinery, every nook needs to considered.
Less is always more so no bulky furniture and make use of the walls with ledges for artwork and books instead of deep shelves.
Colour is also key in a small space, go for light calming colours and paint all the walls the same colour for cohesion and a sense of space. Don't forget the ceiling, the fifth wall. This doesn't have to be white and can be a fun way to introduce another colour to the room.
---
Bathroom Styling Ideas
When styling bathrooms I always add greenery for that fresh feel, plants add a pop of colour whilst helping to purify the air.
A bathroom is a practical space so lots of storage is key and add candles and big soft fluffy towels for that spa like feeling.
Using lots of mirrors to bounce light around can help to open up the space if its small and dark.
Baskets are also great for adding texture to the bathroom and perfect for storing toilet rolls or towels.
If space permits think about incorporating artwork in your bathroom, it can really add that individual touch and WOW factor.
---
Top 3 tips for designing a bathroom
1. Storage
Again this is so important, you don't want to have all your toiletries and cosmetics on show! If space permits try to incorporate a vanity unit to store everything.
2. Space
Think about how you use the space, are you more of a quick shower lover or are long hot baths your thing?
Also think about resale value, most people like to have the option of a bath or shower for different people in the house. Consider future buyers and don't limit your market.
3. Lighting
Avoid harsh lights in a bathroom, again layer the light with uplights, wall lights and alcove lighting and always have lights either side of a mirror rather than above for even light.