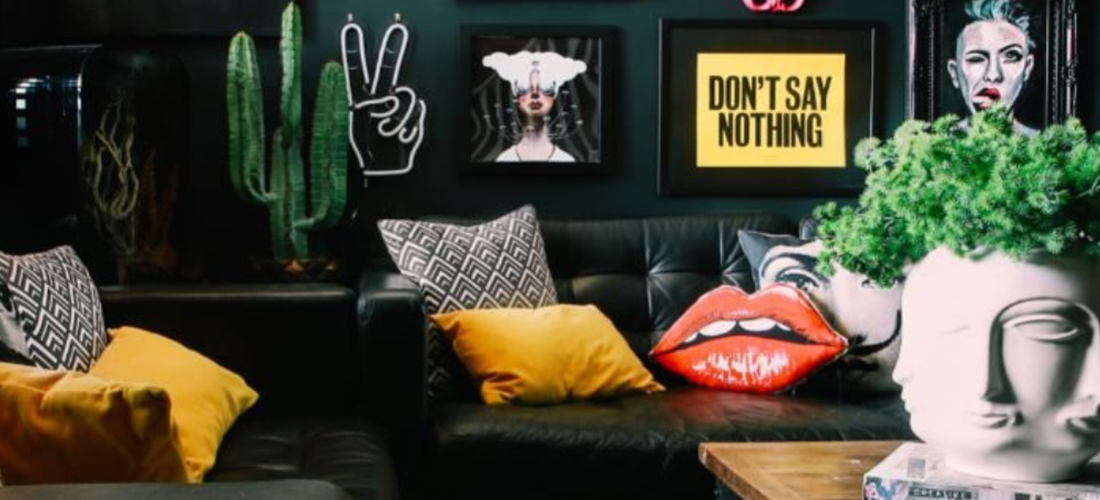 We can't quite believe its September?! It will be Christmas before we know it (101 days and 8 hours to be exact…) not that we're counting!
But let's not get distracted by future festivities, September also lends itself to many exciting events. It's the month of school year changes, University start dates, and moving from a heat wave summer into the beautiful Autumn season. The world starts to become full of bright colours, breezy mornings and cosy evenings.
This September, we are so excited to announce our blog of the month, Style-Squeeze written by Pati Robins. This colourful blog is the perfect fit for moving into the Autumn spirit. Pati's style is wonderfully eclectic and we absolutely love how she owns her individual style.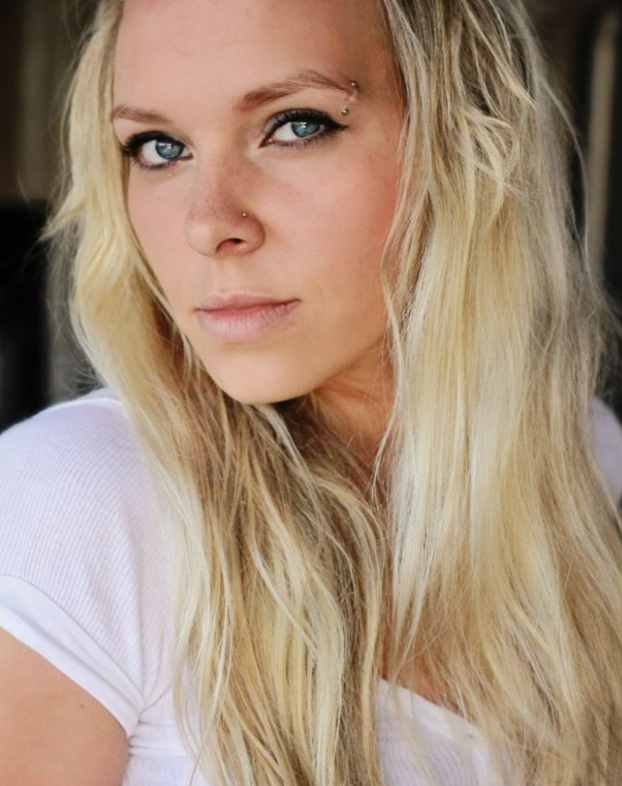 This blog is the ultimate DIY bible. Pati works hard to present readers with a "how to" guide so those who fall in love with her design ideas and style inspirations (like we have) can easily recreate them.
So let's hear a little more from Pati herself…
Early riser or night owl?
I would say a night owl, but also an early riser – not by choice
My morning 'wake up' essentials are…
extra snooze, coffee and then maybe another 20 min in bed
My interiors style is influenced by…
eclectic, maximalist and affordable interiors and my mum
My all-time favourite buy…
living room chandelier – I scored that on ebay for £50 :)- it was a bargain of a lifetime
My bedroom style in 3 words…
cosy, eclectic and yellow
My must-have for the best night's sleep is…
comfortable mattress, good quality bedding and having my husband not snore for a change
If I could sleep anywhere it would be…
anywhere in Canada – even on the snow
Thank you! P.s. we will happily join you for a sleep in Canada…sounds dreamy!
Pati's style is bold, textured and brilliantly unique. Her home is filled with detail from the large features – lights, rugs and furniture right down to the little ornaments, cushions and finishing touches. It seems as though each and every part of her home has been placed with great care and thought, all elements complementing one another to create the incredible space it is.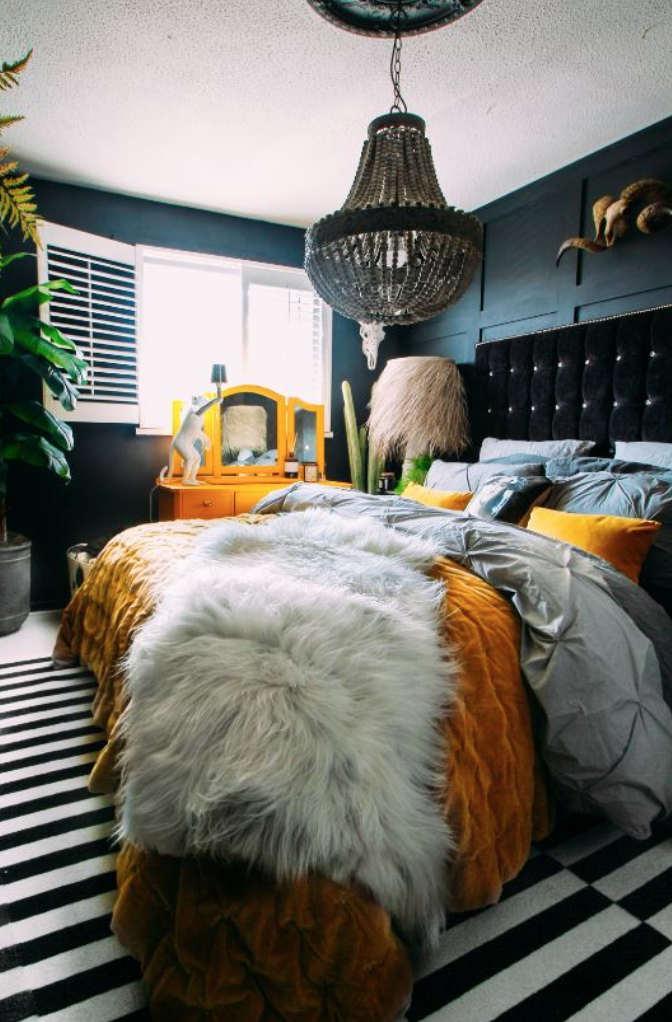 Style-Squeeze is a great platform for anyone who wants to blend everyday utensils into the background of their home. Pati provides great content about how she adapts her home for her disabled husband without anything being out of style. Her latest blog shows her genius adaptation of her staircase. Pati not only transforms her staircase into a beautiful ombre feature but also revamps their stairlift to fit the decor.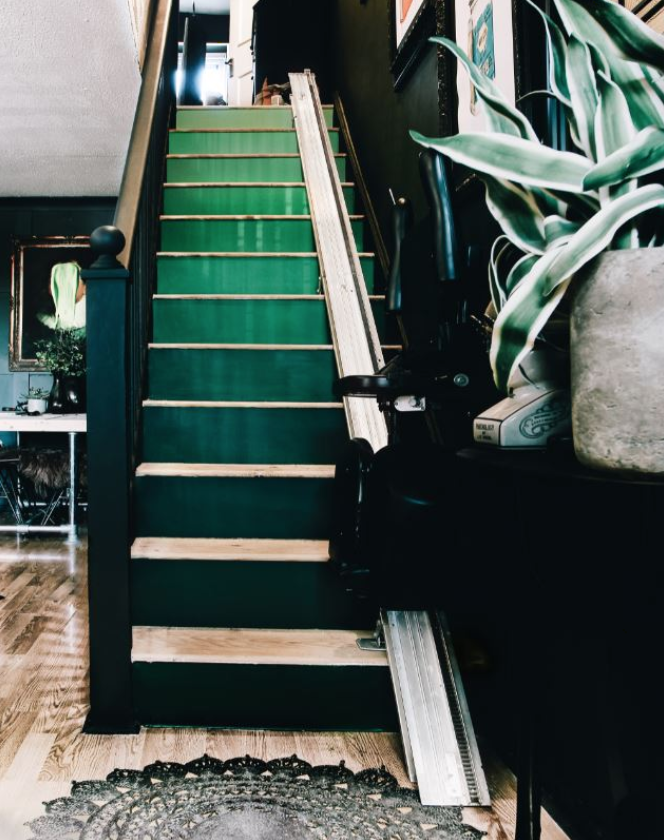 Pati has given us an insight into her blog inspirations, vibrant style and tips for creating a happy home…
What was the inspiration behind starting Style-Squeeze?
There aren't many blogs dedicated to affordable and easily achievable interiors that are also small in size as well as the fact that many people do not do any form of DIY, my aim is to encourage people to get more creative in their own homes
How do you consciously create areas of relaxation in the home?
I love layering, think cosy blankets cushions with different textures and I also need extra candles and a good book
You have a bold and vibrant style… what is your favourite part of your home?
Hmm atm it's my living room as it's the only room that in my head is finished , and it's also a room that we as a family created together by bringing our favourite pieces into the room
We love your hands-on approach to DIY ad styling. What has been the greatest challenge to date?
Putting up pergola on my own after the snow in March – I could do with an extra pair of hands to hold stuff for me, and re finishing the staircase – I cannot even tell you how many times I cried while scraping and sanding the whole staircase from layers upon layers of paint and varnish
Working in a tech-based environment (instagram & your blog) how do you switch off from technology at the end of the day?
I love and need an early night so as soon as I hit the bed the phone is left downstairs , I got nothing to distract me or tempt me to have a quick peek – the thing is social media can be such a time black hole – I have to limit myself so life won't pass me by while I'm staring at the screen
What are your go-to tricks for creating a happy home?
Ditching the rules and actually furnish how I want to live not how the latest trends dictate, having fun in interiors and going with your gut instinct creates not only a home that's personal to you but also a home that makes you smile when you come back after a long day at work
No home will never be complete without people in it – they are what makes a house a home x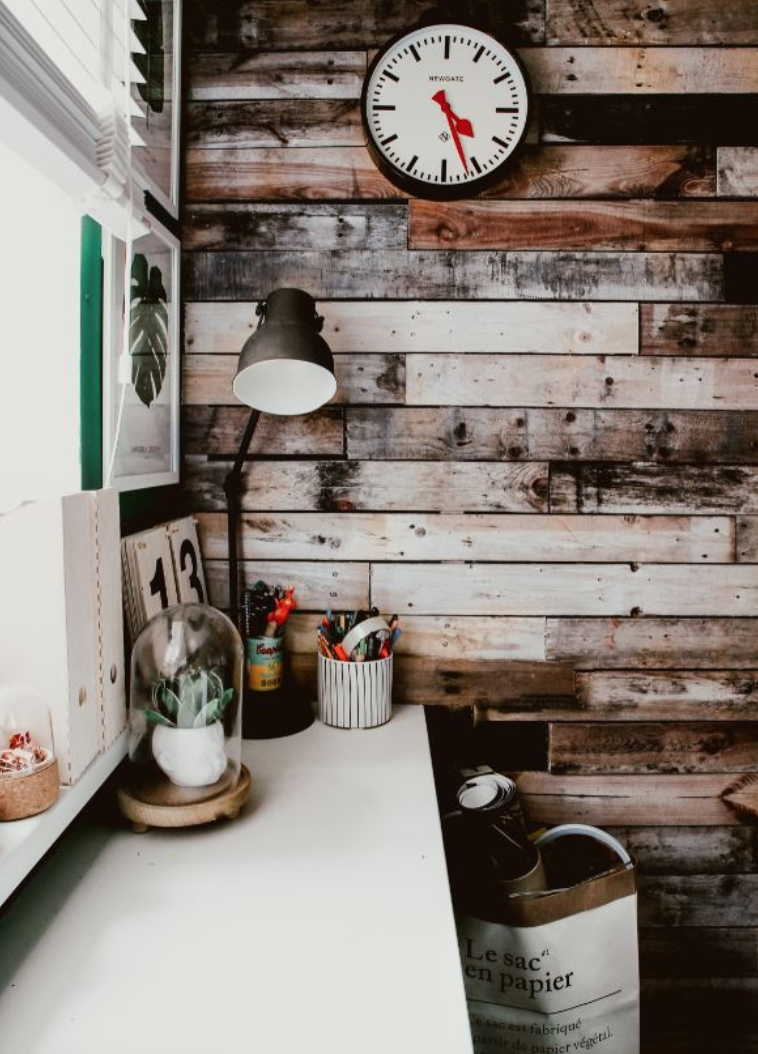 Congratulations once again to Pati at Style-Squeeze for winning our September Blog of the Month.
Are you a blogger? Or know a blogger who you think deserves our Blog of the Month? Get in contact and let us know!