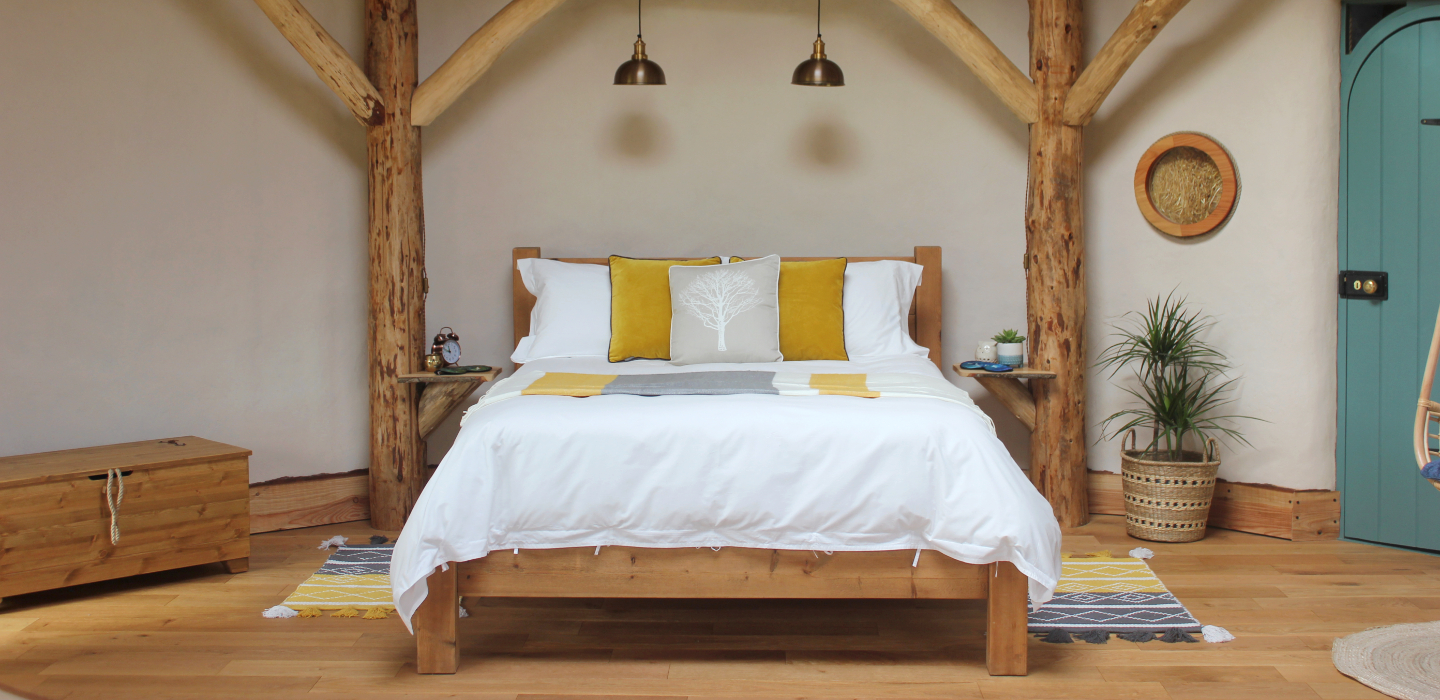 Creating a peaceful sleeping environment is one of the most important things you can do to improve your chances of a good night's sleep. Simply put, we sleep better when the environment we're in is quiet, dark, comfortable and cool. This is especially important if your everyday life is busy and full of stress – your bedroom can become a haven away from the the world to relax and cocoon yourself as you rest.
The best bedroom colours for sleep
Chromatics – or the science of colour – explains the way in which colours affect our mood. The two most calming colours are blue and green. Blue helps reduce tension and slows the pulse rate while green can evoke feelings of security, harmony and restfulness – both perfect for a calm and relaxing bedroom. In contrast, red is stimulating and exciting while yellow is creative and playful – neither of which are helpful if you're trying to get some shut-eye!
Choosing a muted colour palette also feels more relaxing and calming than bright colours or stark whites. Mix and match softer colours throughout the room. For example, a soft pink on the walls mixed with natural bed linen and sage green throw on the bed for a contemporary look and feel.
---
Creating ambience with lighting
The lighting in our bedrooms can help improve your chances of a good night's sleep. Happily, the kind of light that helps us sleep better is also the kind of lighting that feels cosy and inviting. That's because melatonin – a hormone responsible for helping us sleep – is produced in response to lower light levels. Using gentler lighting in our bedrooms tells our bodies we're heading to sleep and helps us settle down more easily. In contrast, bright light tells us that it's time to wake up.
With this in mind, use soft, inviting lighting in your bedroom. You may need a brighter pendant light in the room but mix it with bedside lights, either wall hung or as lamps, so you can dim the lighting when you get into bed. This will signal to your body that you are getting ready to sleep and help you slip into a state of calm.
Visit our blog to learn more about Sleep Schedules and what you can do to improve yours.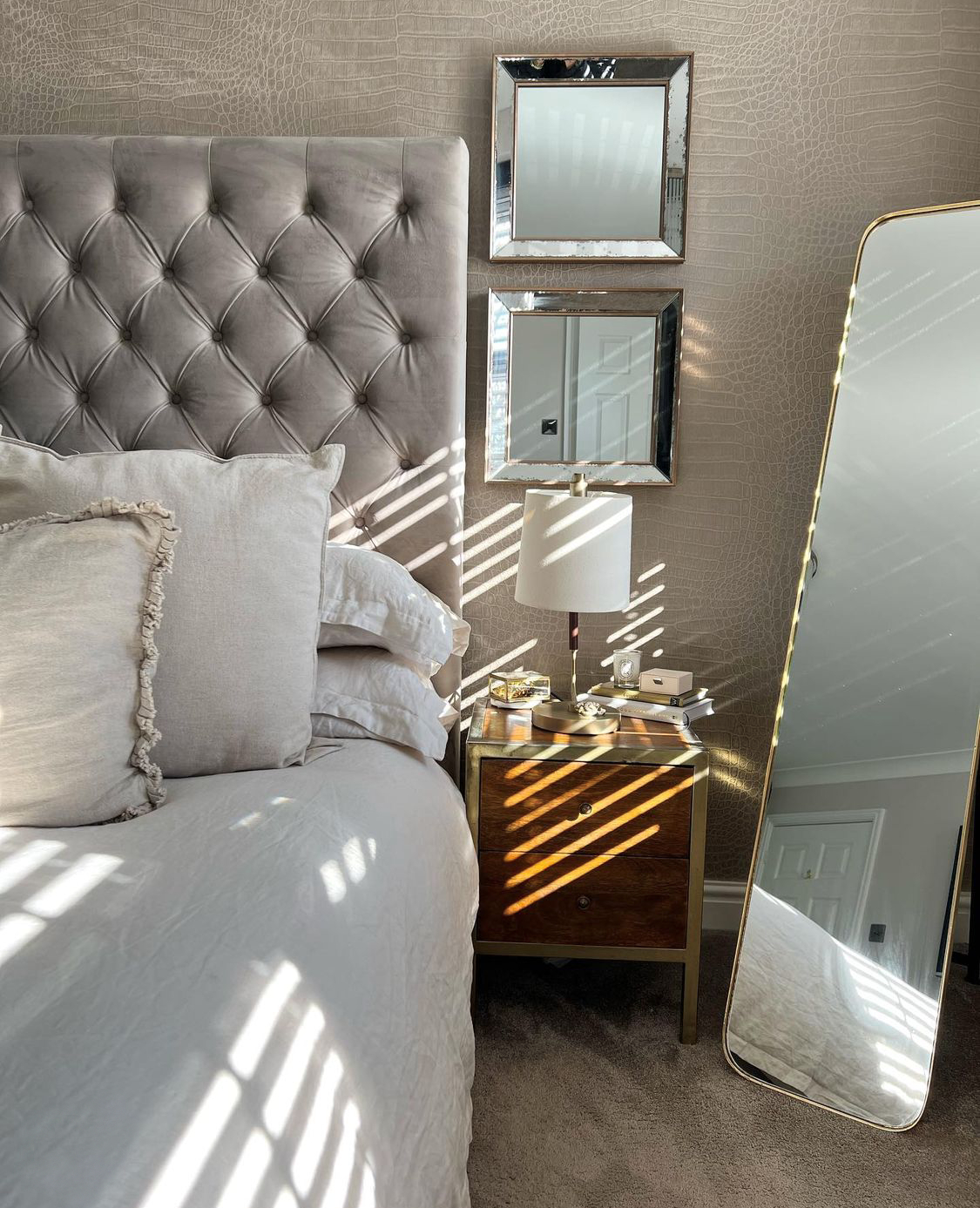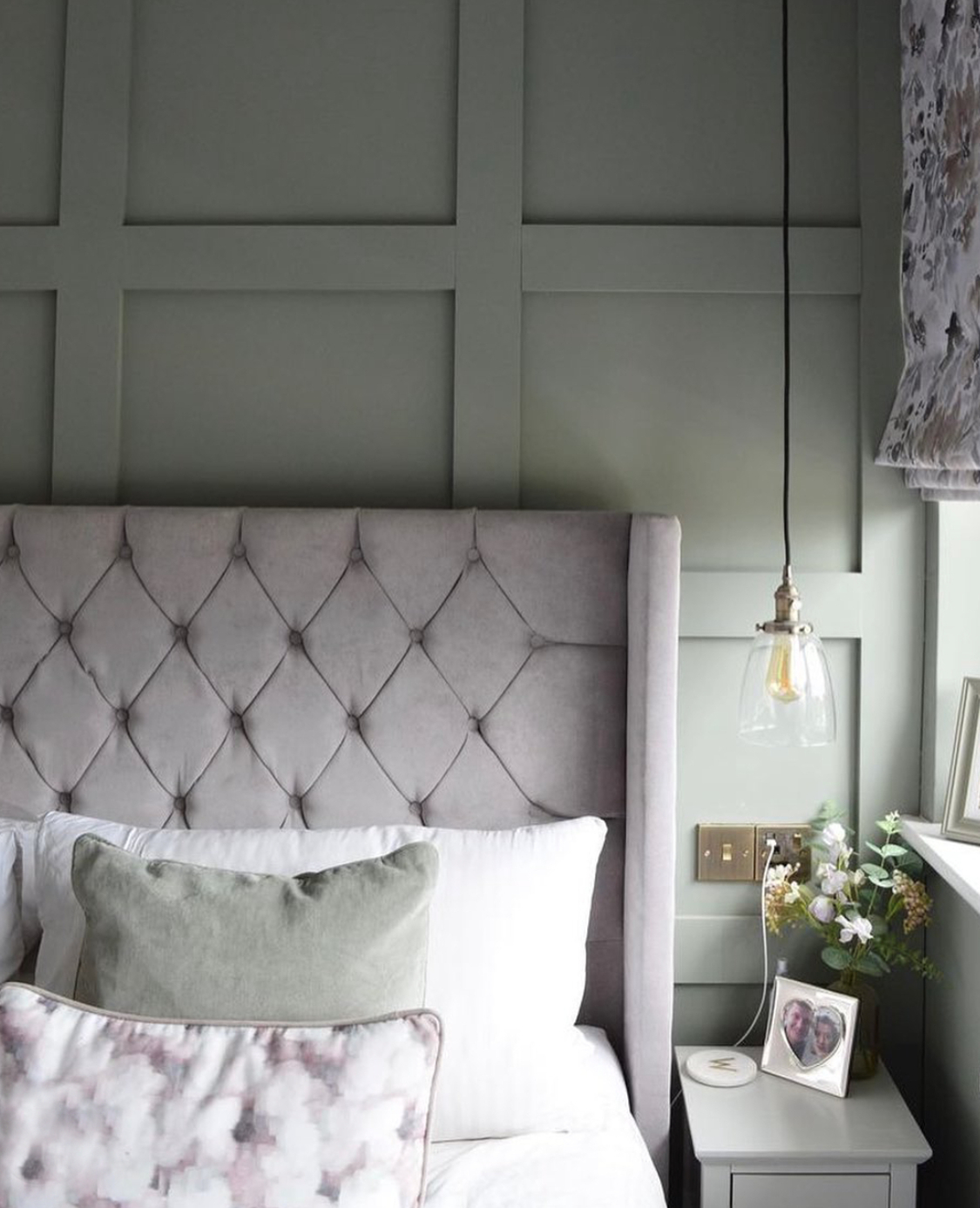 It is also important to limit the number of other light sources. Switching off lights outside your bedroom can help reduce the amount of light that comes into your room. If turning off lights in the hall is a non-negotiable because of young children, consider using a lightbulb or lampshade that casts less light. It will still help children feel secure but will be less likely to disturb your sleep.
Black-out blinds or heavy curtains are another way to help increase your bedroom's level of cosiness by blocking out the glare from streetlights and passing traffic. They'll also help you sleep for longer in the early summer when the sun rises bright and early! If new blinds are out of the question, an eye mask is a worthy alternative and has helped many a sleepyhead get a good night's sleep.
Upgrading to comfortable bedding
Having a bedroom that looks relaxing is all well and good, but for a truly good night's sleep, your bed needs to be comfortable too. Everyone has different needs and so what suits you may not suit someone else – it's important to choose bedding to fit the way you sleep.
Here are some of the things to think about when creating your perfect bedroom:
A comfortable and firm mattress
The best mattress is one that supports all of your body as you sleep and allows you to lie in your preferred sleeping position comfortably. If you sleep on your back or stomach, you'll benefit most from a firmer mattress. In contrast, side sleepers will sleep more comfortably on a medium firmness mattress that allows shoulders and hips to sink into the mattress for an overall aligned spine. You'll find natural fibres are a winner too – these help improve a mattress's breathability and will stop you from overheating, something that's very important if you share a bed or are a naturally warm sleeper. Finally, think about the size of your bed and mattress. It's best to go for as big a bed as your room reasonably allows for. The more space you have, the better you'll sleep!
Bed linen made with natural fibres
When it comes to bed linen, natural fibres reign supreme. That's because they help wick away excess moisture from around your body as you sleep to keep you feeling comfortable all night long. Synthetic fibres aren't as breathable and this can leave you feeling uncomfortably hot and sticky – not a recipe for a grand night's sleep! There are a lot of choices so far as bedding goes, so our advice is to be guided by what you like! We've got slouchy, casual French Linen in a range of beautiful hues, smart and chic Egyptian and Supima Cotton in thread counts ranging from 200 up to 1000 and a range of patterned and textured bed linen to complement any bedroom.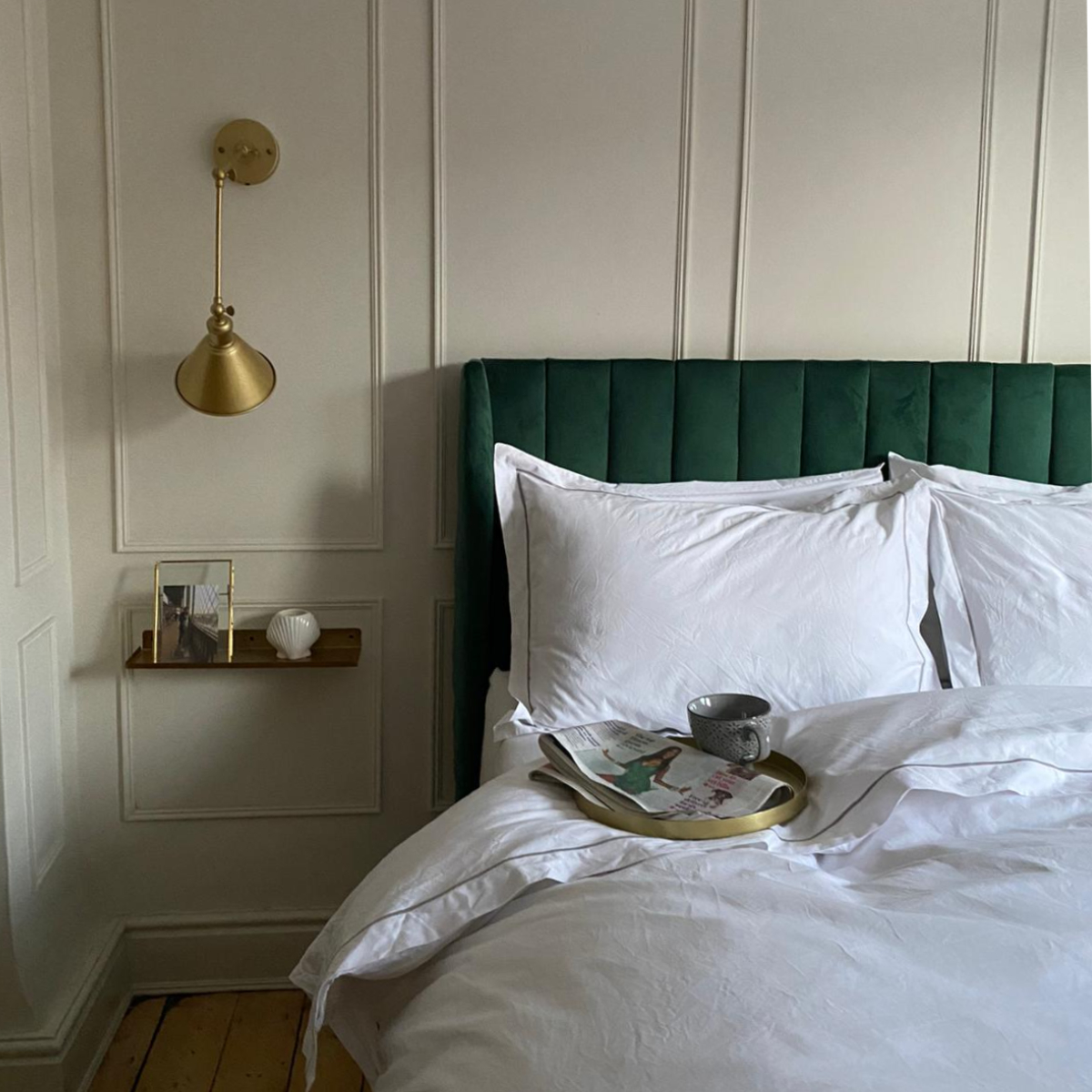 The right pillows
Choosing the right pillow will support your neck, head and spine as you sleep helping you wake up feeling bright and reducing tension that can cause muscle pain and headaches. Choose pillows that suit your sleeping style. Back and front sleepers will benefit from flatter softer pillows while side sleepers need a deeper pillow that helps prevent their head from drooping to the side as they sleep. Feather and down pillows are a lovely choice for a lofty, fluffy pillow while wool fill pillows provide a firmer surface with temperature regulating properties. If you prefer synthetic pillows, our Soft as Down pillows are a wonderful choice. These plump pillows are filled with a fluffy, lofty microfibre that's been designed to feel like down, but without the price tag!
An all-seasons duvet
Get one step ahead of the changeable British weather by investing in an all-seasons duvet. Made up of two individual duvets, one with a lighter tog and the other with a heavier tog, you can choose to sleep under the duvets individually during the summer, spring and autumn, and join them together when winter arrives and you need a warmer bed. Most of our duvets are available as all-seasons duvets. One of our most luxurious and most-loved is the Hungarian Goose Down all-seasons duvet. With comments from happy customers such as 'like sleeping under a cosy cloud', we can promise you it's worth every penny.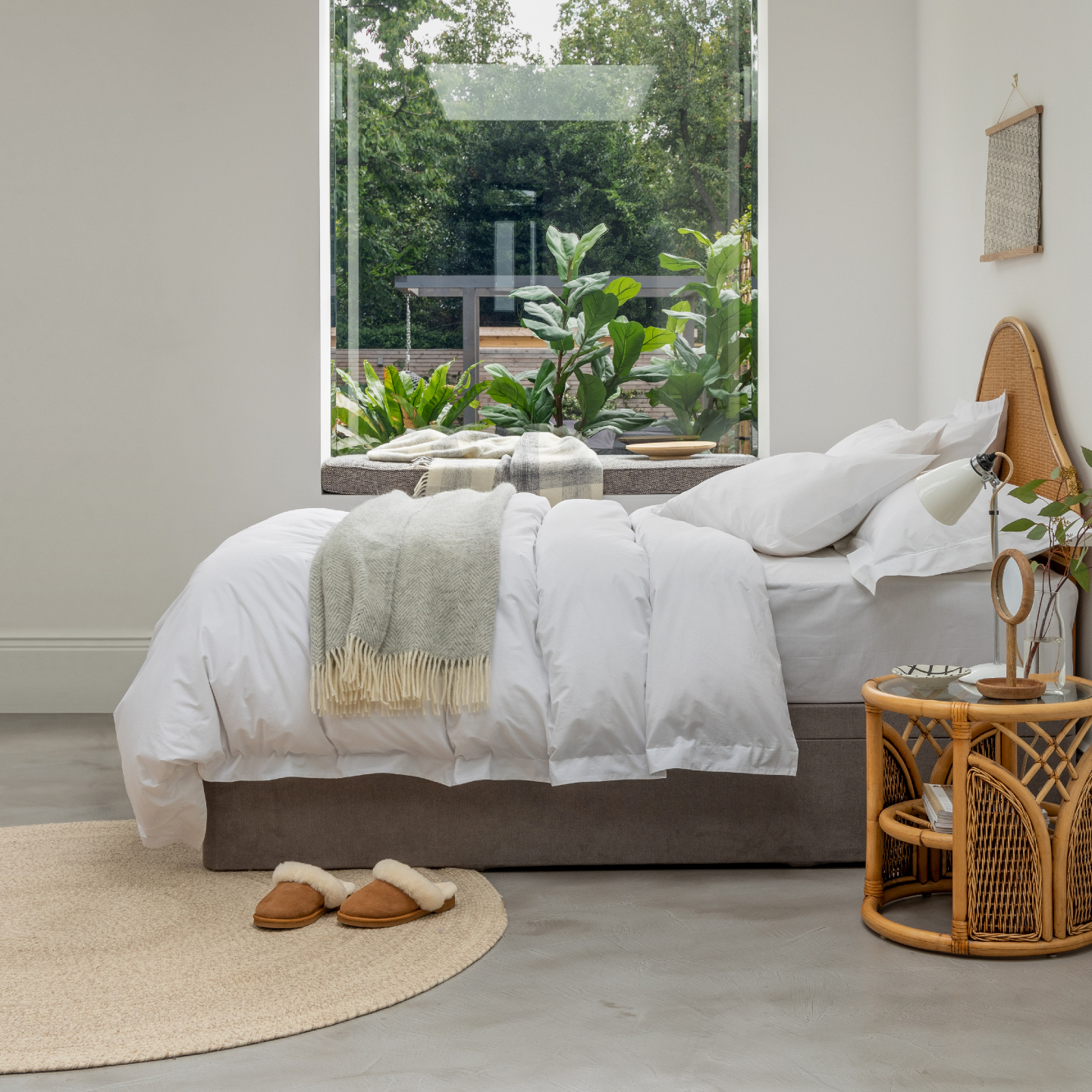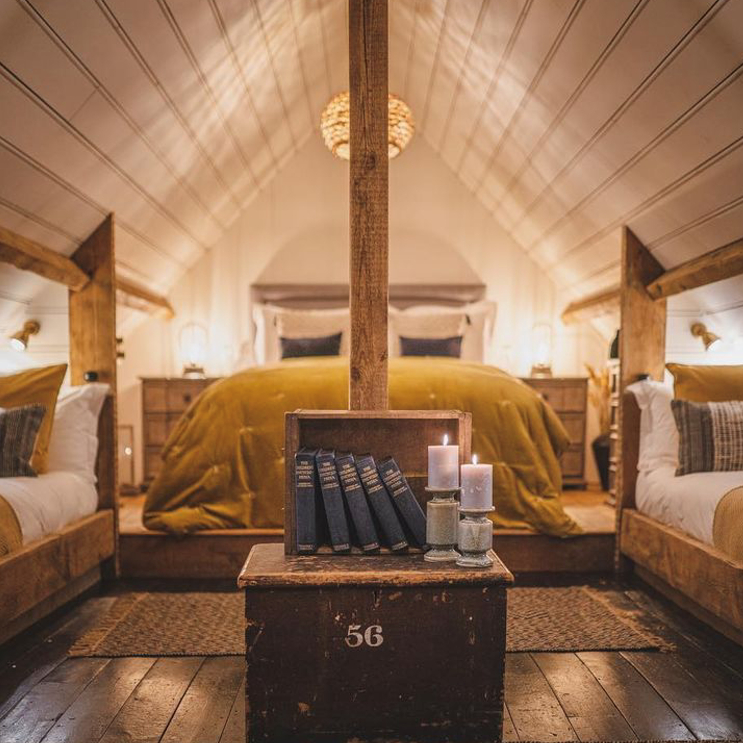 Cosy accessories
A snug bedroom isn't complete without a selection of cosy accessories. Choose throws, cushions & bedspreads to make your bed look and feel inviting. One of the nice things about accessories is that you can change your accessories with the season, opting for super-cosy accessories in the winter and switching up to lighter, more summery items when the weather warms up.
How to feng shui your bedroom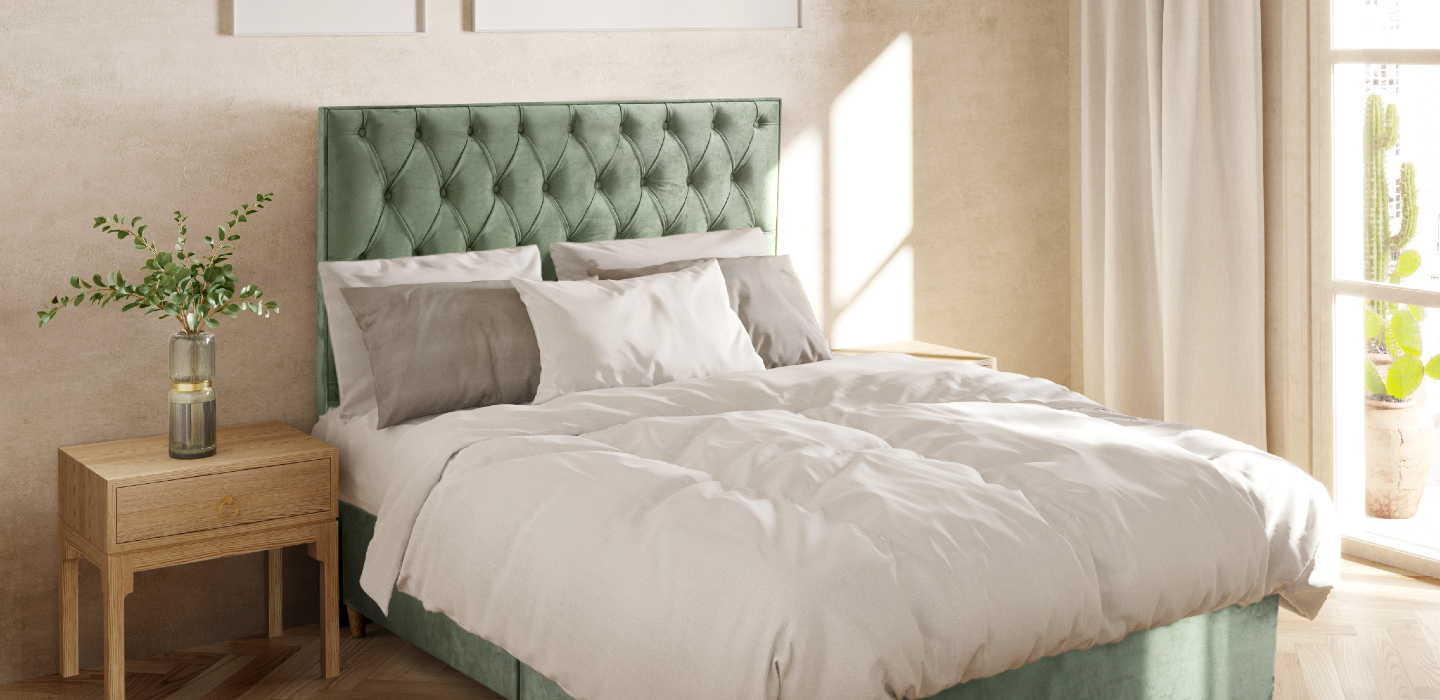 According to feng shui, your bedroom is one of the most important rooms in your home, because of the way you're affected by the energies around you as you sleep. To improve your bedroom's feng shui, here are some of the most important principles:
Place your bed in a suitable location. Your bed should 'command' the room by facing the door without being directly in line with the doorway. Your headboard should be against a solid wall and it's best to avoid placing your bed under low beams or sloped ceilings.
Declutter your room and clear out the space under your bed. Although feng shui recommends keeping the space under your bed completely clear, that's not possible for many of us. So, limit your under-bed storage to sleep-related items such as your spare throws and laundered bed linen.
Keep your bedroom clean. Feng shui considers a clean bedroom to be very important – something we can relate to, especially when considering the need to reduce the build-up of allergens. Keep things fresh by taking the time to regularly change your linens and dust, wipe down and hoover your bedroom.
There are so many more ways to make your bedroom feel inviting and cosy. Here are some more of our favourite ideas:
Add plants to inject vibrancy and a restful energy into your bedroom. Not sure what to go for? We'd recommend you choose a plant you like the look of, but is easy to care for. There are even plants that can help you sleep.
Create a soothingly scented bedroom by burning gently-scented candles or using a relaxing essential oil blend in a diffuser (remember to turn off appliances and blow out candles before going to sleep).
Layer up your pillows. Having several pillows on your bed or a padded headboard will provide you with a comfortable base to rest back against as you wind down for bedtime - perfect for reading a book or listening to a mindful podcast.
Place photos and pictures that remind you of happy times and favourite places around your bedroom. They'll help make your bedroom feel positive and comforting.
Make sure your room is at a comfortable temperature. You might need to turn down the radiator or open a window to ensure your room stays at the perfect sleeping temperature of around 18˚C.
Treat yourself to some comfortable nightwear that makes you feel special. Natural fibres are best and will help you sleep comfortably.