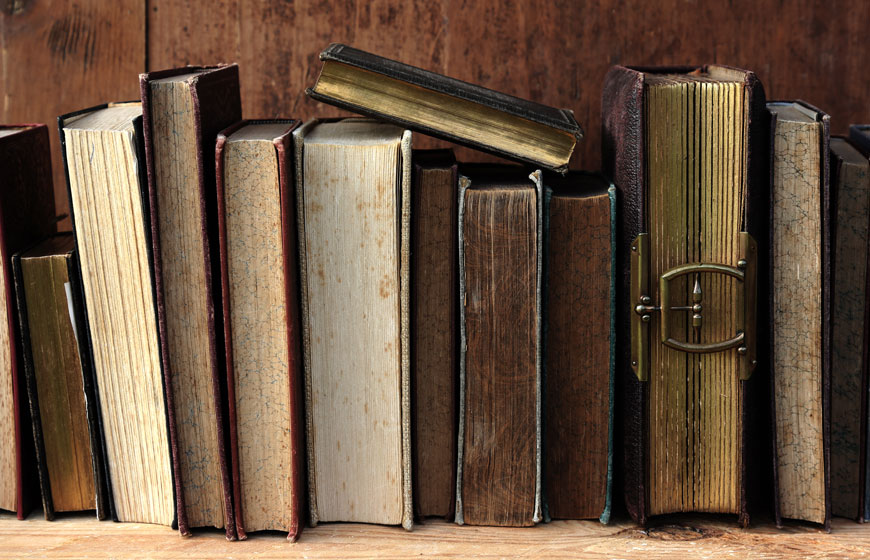 Beds feature to varying degrees in quite a lot of stories, particularly many fairytales, but we've chosen our top five famous beds in literature, from English children's books, to ancient Greek poetry.
The Princess and the Pea – Hans Christian Anderson

Image from Childhood Reading
This story by the much-loved Danish author of fairytales concerns a fairly remarkable bed formed from 20 mattresses and 20 feather duvets. It starts with a prince who is searching for his perfect princess, but hasn't yet found his match. One stormy night (of course) a beautiful young woman knocks at the door of the castle seeking shelter, claiming to be a princess. The prince takes a shine to her, but his mother decides to devise a plan to test the girl's claims by placing a dried pea underneath a mountain of mattresses. The theory is that only a princess would be sensitive enough to detect the pea beneath all that bedding. In the morning the girl does indeed complain of a sleepless night because of something hard under her bed, and so the prince can marry her. Naturally they kept the pea.
Poem for the Bed at Kelmscott – William Morris

Image from The Guardian
This poem concerns an early 17th century four poster bed at the house of the famous textile designer, William Morris. This is quite literally a bed in literature, as the poem is embroidered on the hangings of the bed itself! Morris rented Kelmscott Manor as a country retreat, something the designer had wanted for a long time, and much of the inspiration for his textile patterns came from the plants and flowers in the manor's garden. The poem is a love letter to this idyllic rural paradise, as well as being an ode to the pleasure of being tucked-up in bed when it's cold and windy outside. We happen to agree whole-heartedly with the final lines of the poem: 'Night treadeth on day, and for worst or best, right good is rest.' The bed is currently on display in Tate Britain as part of a temporary exhibition, and will return to its home at Kelmscott early next year.
The Sleeping Beauty – Charles Perrault/Brothers Grimm

Image from Wikipedia
Most of us like a lie-in, but the heroine of this story spent nearly a hundred years lounging about in bed. The Sleeping Beauty was first published by Charles Perrault, and later another version, Little Briar Rose, was written by the Brothers Grimm. The Grimm version is generally the most well known, and tells the story of a baby princess who is cursed by a wicked fairy, doomed to prick her finger on the spindle of a spinning wheel and die. However, a good fairy bestows a remedy for the curse by proclaiming that she will not die, but instead fall asleep for a hundred years, to be awoken by a prince. Most of us know how this story ends, but Perrault's version included a further narrative after the prince and princess are married, which includes a half-ogre mother-in-law who tries to eat the royal couple's children. Perhaps Sleeping Beauty was better off staying in bed.
The Odyssey – Homer

Image from Sacred Texts
This epic poem was written in the 8th century BCE by the ancient Greek writer Homer, and tells the story of Odysseus journeying home after the fall of Troy. The trip takes him a gruelling ten years, and once he finally gets home his own wife Penelope does not recognise him, and refuses to accept that he is her long-lost husband. However, there is one thing that convinces her that he actually has returned, and that is their bed. Odysseus made the bed himself, and no one else has ever seen it except for a single servant. The bed is also immovable (a symbol of the couple's love), so Penelope tests Odysseus by saying that she has moved the bed outside. Odysseus becomes angry, and proceeds to recount how he made the bed around a great olive tree, and so is physically impossible to move. This finally shows Penelope that he must really be her husband, and they are reunited at last. So there's a handy tip if you're planning to be away from home for 20 years or more.
Bedknobs and Broomsticks – Mary Norton

Image from Radio Times
This famous bed-related story, actually a combination of three books by the English author Mary Norton, sees three children evacuated from London during World War Two to a small village, where they are placed in the care of Eglantine Price. The children soon discover that Miss Price is actually an apprentice witch who wants to help the war effort with her magic. They agree to keep her magic abilities a secret from the village in return for something valuable, so she enchants a bedknob so that, when twisted, the bed will take the occupants wherever they want to go. A pretty useful design feature, we're sure you'll agree. The story eventually sees the children and the witch defeating a German raid on their village, and Miss Price retiring from witchcraft. Being able to go wherever you want whilst staying in bed certainly alters the concept of first-class travel.