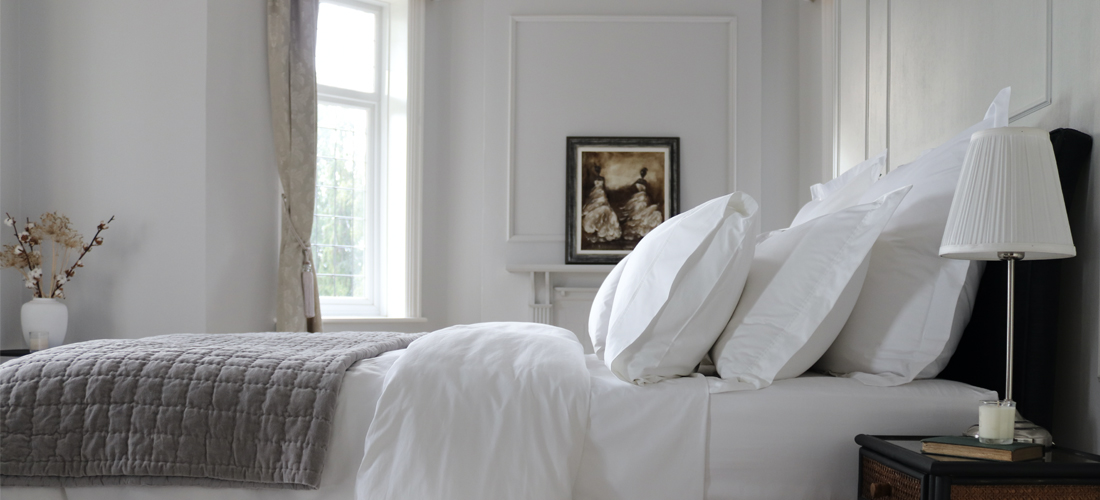 There is a reason why all the top hotel brochures and websites always feature a picture of a well-dressed bed. Not only does it show off the bedroom to best effect, but a well-dressed bed can also make all the difference in how well you sleep.
But what makes a well-dressed bed? And can it really improve your sleep?
What is a well dressed bed?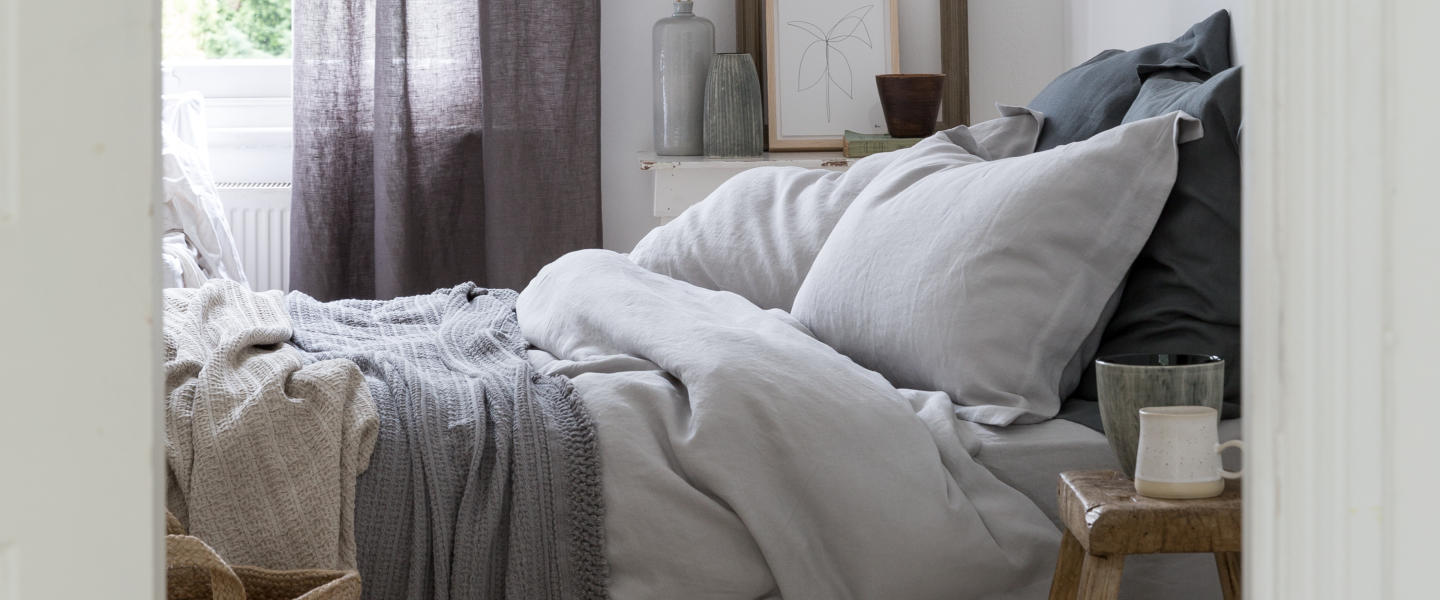 Our definition of a well-dressed bed is one that not only looks great in a bedroom but also has every element to ensure you have the best night's sleep possible. From the base right up to each cushion and throw on top, it is well thought through to deliver the perfect nighttime experience. Investing in these elements is an investment in your health.
In fact, even the making of your bed every day is a good exercise in positivity. Those that make their beds every morning are more likely to complete other tasks as they move through the day, leading to a sense of achievement and success.
---
How to dress a bedroom - Start at the beginning
The place to start, when you are aiming to create a well-dressed bed, is the bed itself. Think about its size - if you are a single person you may decide to sleep in a single bed, or prefer to spread out on a double. If you are in a couple, you may opt for a King size with plenty of space, or a more intimate double size bed. Getting this right is important because we all move around during the night, and so you want to be able to do this comfortably.
The kind of bed frame you choose will be more down to the aesthetic of your bedroom, but it's worth also thinking about whether storage space underneath could be utilised with a divan base.
Next, make sure you give plenty of thought to your headboard. These large pieces of furniture can become the focal point of your bedroom. Colourful choices can bring a space to life, sensual fabrics like velvet and silk add a feeling of luxury to your bedroom. And of course, if you like reading or watching TV in your bedroom, you may want to consider a padded headboard you can lean up against.
Choose the right foundation for good sleep

A good mattress is the bedrock of your bed and it is worth doing your research to find one which suits your needs.
The factors to think about are size, whether you need a firm, medium or soft mattress (this will depend on your sleeping position, your body weight, if you are pregnant or suffering joint pain), any allergy considerations and even whether you are a hot or cold sleeper. You can read more about choosing a mattress here.
Mattress toppers are also worth considering. They provide an extra layer of comfort or warmth to a mattress. You can choose from a range of fillings including feather and down, cotton, wool and man-made fibres. If you are thinking about adding one to your well-dressed bed, read more here.
Duvets and pillows
Duvets and pillows are key to a well-dressed bed. They provide the structure for whatever bed linen you dress the bed with, but they are also a vital ingredient in getting a good night's sleep.
When choosing a pillow, you should know how you sleep - on your side, back or front, or a mixture of all three. This will affect the kind of pillow you need. Your pillow is there to support your head and neck and if these are not aligned correctly they can lead to joint pain elsewhere. Pillows come in a range of depths and support levels and it is worth looking into which type you need - if you need help read more here.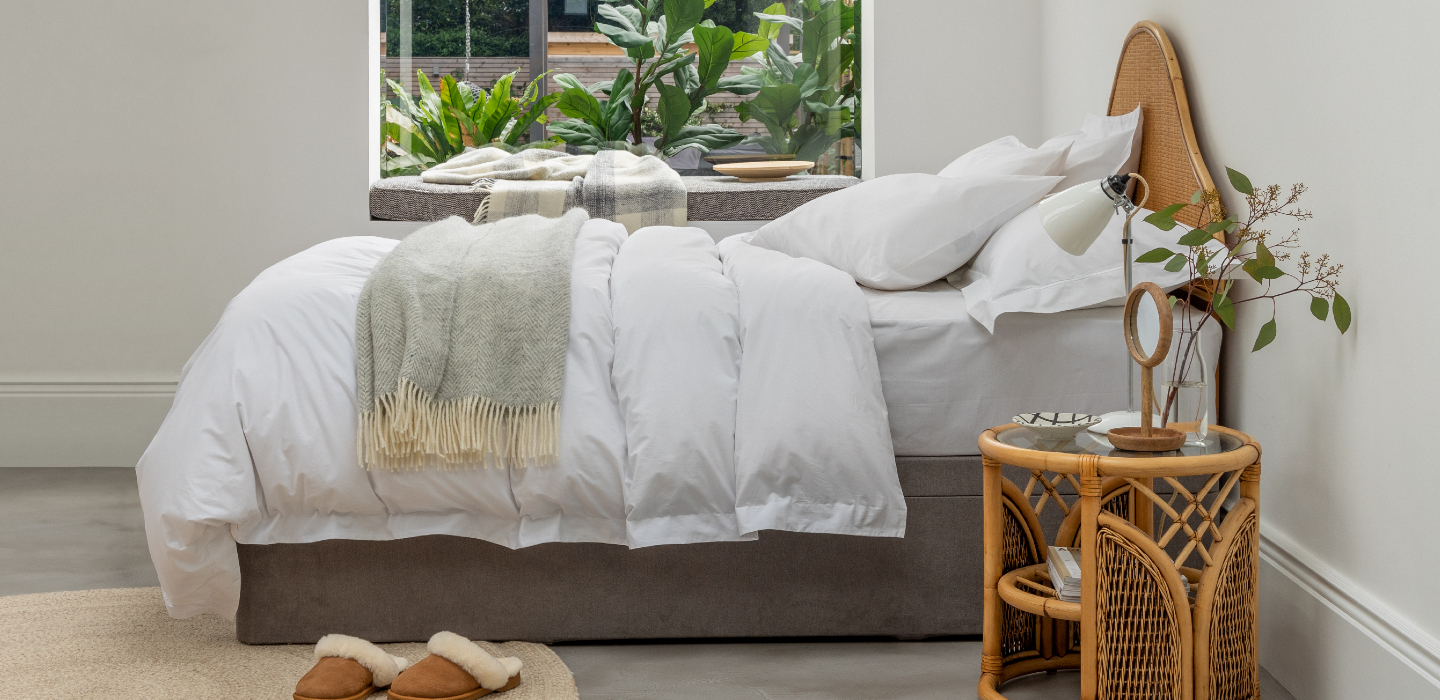 How to dress a bed with pillows
In terms of the number of pillows for a well-dressed bed, we would always suggest a double bed would have at least four pillows to give that hotel quality feel.
When it comes to duvets, a well-dressed bed should have a duvet which maintains its shape because the filling is well distributed throughout. It should look invitingly soft, downy and cosy when spread out on the bed. Filling wise there are plenty of options depending on your budget and preference - feather and down is great if you like a lofty, natural filling which keeps you warm in winter and cooler in Summer, synthetic fillings like hollowfibre and microfibre can be good if you suffer from allergies and wool is a great insulator and is naturally hypoallergenic.
You should also consider the tog of duvet you sleep under as this will affect your sleep during the night. In the summer you really only need a duvet of 1-4 togs, in the autumn (or if you sleep in a centrally heated house) 7-10.5 togs is best and in winter, 12-15 togs are great for colder nights.
---
Beautiful bed linen
Bed linen is what most people think about when referring to the term 'well-dressed bed' and it is certainly an important factor. Not only does great bed linen make a bed look beautiful but, believe it or not, it also plays a part in helping you sleep well.
Crisp white bed linen is a popular choice and is what luxury hotels use to make their beds look clean, fresh and inviting. However, using colour on your bed can really make it into a feature and bring the room to life.
Fabric choice is also important for the aesthetic - Egyptian cotton is a classic fabric for bed linen, but if you prefer a more natural and relaxed look, French linen works well. If you favour something more luxurious, consider silk or Supima cotton. And nowadays there are lots of eco-friendly fabrics available too such as organic cotton and hemp.
These fabrics all have properties which can impact how well you sleep as well. Natural fibres are temperature regulating, for example, keeping you cool in the Summer and warm in the Winter. Supima cotton is moisture-wicking, which also means it keeps you cool and dry in the Summer, by removing any moisture from your skin. For more information on the benefits of bed linen for your sleep, read here.
Throws, blankets, bedspreads and cushions

The final touch to your well-dressed bed is the accessories you layer onto the top. These can add accents of colour to your room, depth to the visual of your bed, and interest to the overall look. Blankets and bedspreads are also useful in Winter for keeping you cool and lightweight cotton throws, like these waffle ones, can be used in the Summer to keep you cool if your duvet is too warm.
---
Protect your investment
If you have built up all the elements of a well-dressed bed, it is worth thinking about mattress protectors, pillow protectors and duvet protectors. These can significantly extend the life of these products and make it easy to keep your bed clean and free of allergens, which may affect how well you sleep.
So now you have all the information to make yourself a well-dressed bed, so your bedroom looks fit for a king, and is primed to help you sleep like one too. Wanting to keep your look up to date? Find out about the 8 bedding trends not to miss in 2021. Treat yourself and browse our bed linen department to find your ultimate sleeping kit.