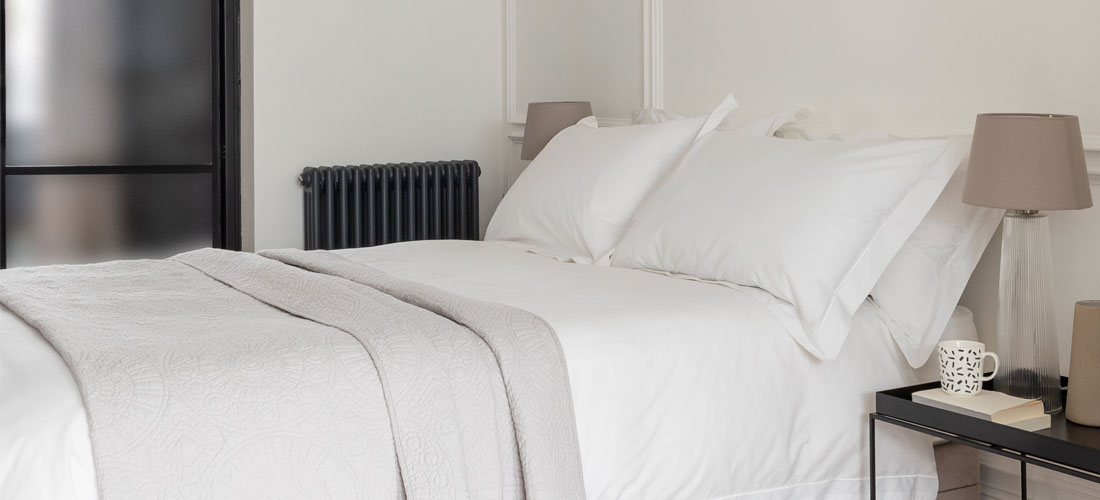 Egyptian cotton is one of the finest materials in the world for making bed linen, and the finest materials deserve the very best care to make them feel amazing night after night, wash after wash.
Loving that hotel luxury feeling in your very own home? Let's keep it that way. When caring for your bedding, consider these factors to get the very best results.
Can Egyptian cotton be easy to care for?
Yes, but this either requires polyester being blended into the yarns, or a chemical finish put on it that lasts only a handful of washes – neither of which we do because we like to keep things pure and simple.

Does the weave of your bed linen make a difference to the care?
The weave of your bed linen makes quite a large difference to the care. Let's take the main two found in bed linen; percale weaves are smooth and crisp which need a bit more steam than normal, while sateen weaves are soft and silky with a supple drape, making them slightly easier to iron.
How should I iron Egyptian cotton to get the best results?
Because Egyptian cotton is stronger and more durable than regular cotton, creases tend to set in a bit more, but it's nothing that a little bit of steam can't fix.
So, if you find ironing Egyptian cotton bed linen a little on the tricky side, consider the following tips:

1. Wash on a cooler wash
30 degrees will do (which is not only better for the environment but will help to not set creases in). What's more, modern detergents are very good at what they do so there's no need to boil wash.
2. Remove your bedding from the washing machine promptly
Either tumble dry or line dry until ever-so-slightly damp – it shouldn't be wet, but just shy of bone dry.
3. Iron out the remaining moisture on the appropriate heat setting
The moisture will help to lift out creases. Always check the wash care label, but in general, a medium-high heat will do the best job in making your bedding beautifully smooth again.
4. Use more steam
Especially for slightly more stubborn areas and if you need more moisture use the spray function on your iron if you've got one.
Soak&Sleep expert Top Tip

If you don't have a spray function on your iron, save the spray bottles from your kitchen rather than throwing them away. Make sure they are completely washed out before using on your bedding, and it's probably best to avoid any that held bleaching agents previously.
If you prefer not to iron and you're okay with a little creasing, then allow bedding to dry thoroughly on a washing line to let some of the creases drop out, then fold neatly and put away in the laundry cupboard.