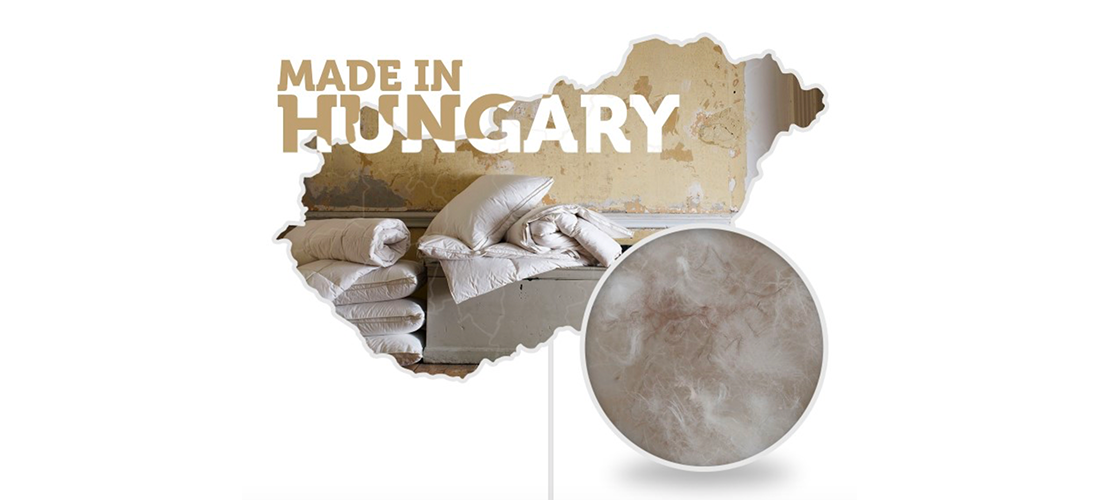 Duvets and pillows may appear to look the same, but it's the ingredients and construction that matter most. Here at Soak&Sleep, we've travelled breadth and depth across many continents of the world in search of the very best materials, to produce a range of top-quality products just for you. One of our personal favourites and our long-standing best-selling is our Hungarian range.
This range is made from naturally large, super-insulative down clusters from a family-run business who take enormous pride in the quality of their down. There's no reason why you won't want to snuggle up to these authentic Hungarian goose down products.
Historically known for their authentic thermal baths and warm springs, the Hungarian goose down and feather is washed in natural spring waters that are unlike any other across the globe. This is to relieve the goose down feathers of any harsh chemicals, and will also retain natural loft and quality for a very long time. With a 15 year guarantee, these naturally cleansed down products are approved by Oeko-Tex, EDFA and No-mite. So you can be sure you're sleeping under real quality.
Ultimate 90% Hungarian Goose Down Pillows:
Ultimate 90% Hungarian Goose Down Duvets:

Made with love, Made to last.
To give you a bit more insight into why we chose Hungarian goose down as one of our favourites, here's a story snippet of our best-selling, authentic Hungarian range.
Chapter 1 - Ethically sourced Hungarian Down:
To begin with, our expert team scoured down the very best Hungarian fill, to ensure that we only ever buy feather and down from fully traceable, accredited and reputable sources.
Chapter 2 - Wooden Sorting Machine:
Quaint and old fashioned? Perhaps, but our little factory uses wooden sorting machines to grade our down. Wood is anti-static, so the down is separated with more precision, preserving the naturally large down clusters.
Chapter 3 - Thermal Spring Waters:
Thermal spas are synonymous with luxury and purity, and because we love to create the best, our Hungarian down is washed in geothermally heated spring water from a natural spring. The 48° water helps to open up the loft of the down, (better than in cold water) resulting in good quality down-clusters that will recover well when cared for correctly.
Chapter 4 - Certified Guarantee of Authenticity:
Every one of our Hungarian duvets and pillows come with an individual certificate of authenticity, with a traceable serial number for 100% confidence you've bought the real thing.
Chapter 5 - Hand Finished:
Finally, our duvets and pillows are encased in a 280 thread count cotton casing and boxed stitched, to ensure the filling remains evenly spread when it arrives at your door.
People also ask...
Why should I buy Hungarian Goose Down filled bedding?
If you are looking for a cosy, insulating duvet that is breathable and has a comforting, satisfying weight to it, then a feather and down duvet is for you. Our Hungarian goose down duvet is renowned for it's large, super insulative clusters and is produced by one of the country's best family-run businesses who take pride in the quality of their down.
Are feather and down duvets warm?
Goose Down Duvets are extremely insulative and will keep you warm all night long. The Down clusters provide the insulation in a duvet - the more down that's inside, the lighter the duvet will feel. Feathers add bulk and substance to the duvet whilst keeping it breathable. Our Hungarian Goose Down duvets are available in a variety of togs from a 3.0 Tog summer duvet to a cosy 13.5 winter duvet. For extra warmth, you can combine two of our Hungarian Goose Down duvets to create a personal all-seasons duvet, up to a toasty 18.0 Tog Rating.
How long does a feather and down duvet last?
We provide a guarantee of 15 years on duvets and 5 years on pillows from our Hungarian range. We recommend using duvet and pillow protectors to help keep your bedding in the best condition and giving them a good wash every 6-12 months (a professional wash and dry is always best for large items).
Are Hungarian Goose Down duvets good for allergy sufferers?
Yes, our Hungarian Goose Down range is a wonderful choice for allergy sufferers - fewer chemicals are used to wash and prepare our down, it is washed in naturally warmed spring water at a temperature of 48°. Due to excellent oxygen and turbidity ratings, it is also considered super-clean or hypoallergenic. What's more, this duvet is cased in No-mite certified fabric, ideal for sleepers that suffer from a house dust mite allergy.
Please note: Our Hungarian Goose Down range is allergy-friendly but not for specific feather and down allergies.
Is Soak&Sleep's Hungarian Goose Down ethically sourced?
Here at Soak&Sleep, we are committed to our company values of being authentic, open, focused and engaged, whilst giving brilliant quality at unbeatable prices.
Therefore, throughout the buying process our expert team will never buy feather and down products from suppliers who condone the practice of live plucking, animal mistreatment, intensive rearing, or force feeding (foie gras).
All our feather and down is a by-product of the food industry.
Our strict policy is applicable to all feather and down products that we sell, and we pride ourselves on ensuring that the animals whose-by products we use have the best possible conditions.
Soak&Sleep do not tolerate any forms of animal cruelty, and will continue to adhere to these standards during development, always keeping animal welfare at the front of our minds.
---
Also, feel free to leave a comment below and check out our social media to let us know how you feel about our Hungarian bedding products.