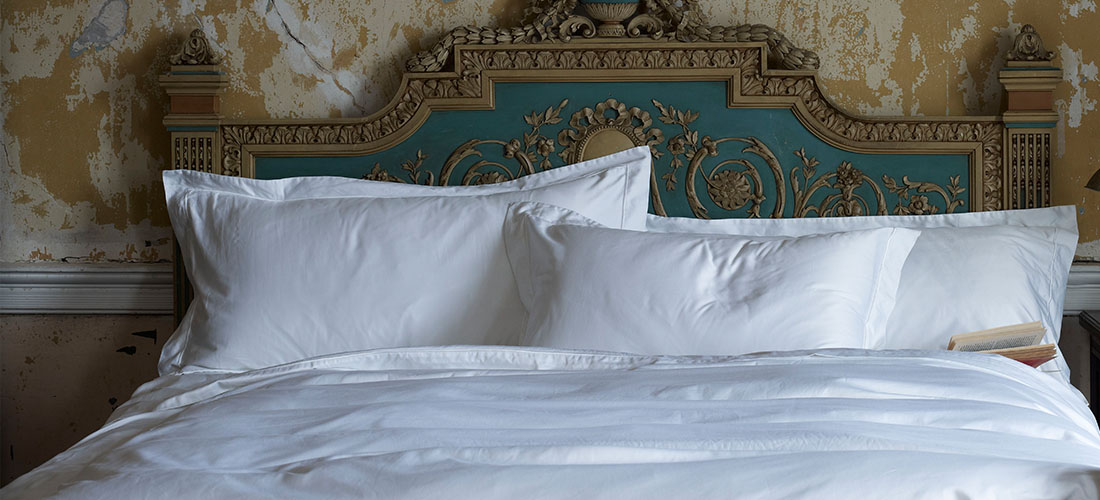 One of the best things about travelling, whether for work or for leisure, is sleeping in a hotel bed.
So how can you create that same feeling in your own bedroom? You can probably ditch the turndown service and the mini chocolate under your pillow - but here are our five must-haves for creating that luxurious hotel bed feeling in your own home.
Invest in a good mattress

The first priority is to invest in a quality mattress. Hotels spend money on mattresses because they know this is the bedrock of the sleep experience. Lumpy, sagging mattresses do not entice customers to book a return trip. Hotel mattresses tend to be of medium firmness, are pocket-sprung like this Wool 2000 Pocket Sprung Mattress which is also temperature regulating. They also often have a mattress topper such as Luxury New Zealand Wool Topper which adds to the comfort and can be easily laundered.
Hotels regularly turn their mattresses and replace them frequently and these are things you should also consider too. Turning your mattress by 180 degrees helps preserve the springs and ensures you don't create a dip by sleeping in the same place every night. And if your mattress is over 7 years old you should think about replacing it too.
Fabrics and fillings

Do not underestimate the importance of fine fabrics and fillings. Crisp white sheets feel wonderful to lie on, partly because they are cleanly laundered, but also because they are made from a quality fabric in the first place. A cotton bed linen or a Tencel blend like our 300 Thread Count Soft & Cool bed linen have a silky luxurious feel. These do not have to be expensive and it is best to buy two sets so you can wash them at least once a week to maintain that fresh bed feeling you get when staying away from home.
For pillows and duvets, we suggest a feather and down filling or synthetic filling which mimics the feel of feather and down such as Supremely Soft As Down duvet and pillows. The lofty weight of these items will help encourage you to sink into your bed each night, replicating that hotel bed feeling.
How many pillows should you use?

… The more the merrier. Hotels like to dress their beds with multiple pillows, which you never end up sleeping on, but you might just recline on to read a book or enjoy your breakfast in bed. Tempting you to relax in the hotel's holy grail and pillows are a key tool in getting you to do this. We suggest at least four Oxford pillows for a double bed, but if you can manage six, go for it.
And you don't have to buy all six pillows the same, you could mix up the fillings so that some pillows are for sleeping on, some are for reclining on and some are just for show. We would suggest at least one set of feather and down pillows such as our Ultimate 90% Hungarian Down Pillow and one set of hypoallergenic pillows such as Supremely Soft as Down Pillow.
All White on the Night
Hotels usually choose white bed linen because it conveys cleanliness, which is probably one of the most important factors when sleeping in a bed that's not your own. This is easy to recreate at home and you should plan to choose white linen for everything from sheets, to pillowcases, to the duvet cover.
Channel your inner chambermaid

Learn how to make your bed properly. Your bed needs to be smooth and wrinkle-free to feel like a hotel bed. Choose linen which does not require ironing, like Easycare or French Linen and if there are wrinkles once you've made the bed, spray lightly with water and shake out the folds. When the bedding dries it will dry flat.
Opt for flat sheets instead of fitted sheets as this is what hotels do too. They are called flat sheets because you are able to get them totally flat on your bed, in a way that's much easier than with a fitted sheet. Use a hospital fold to put the sheet on your bed – lay the sheet on your mattress, tuck the four corners under the mattress and with the leftover material sticking out at the corners, create a 45-degree angle and tuck them back under across each other.
You can even consider folding a corner down on your duvet to show off your pillows and beautiful sheets like the hotels do.
And once you've made up your bed to five star standards, it's important to keep your bed in tip-top condition, read about how to maintain your bedding.
Trust Soak&Sleep to provide beautiful bedding at an affordable price, it's time to slip beneath the sheets and enjoy some five-star sleep.