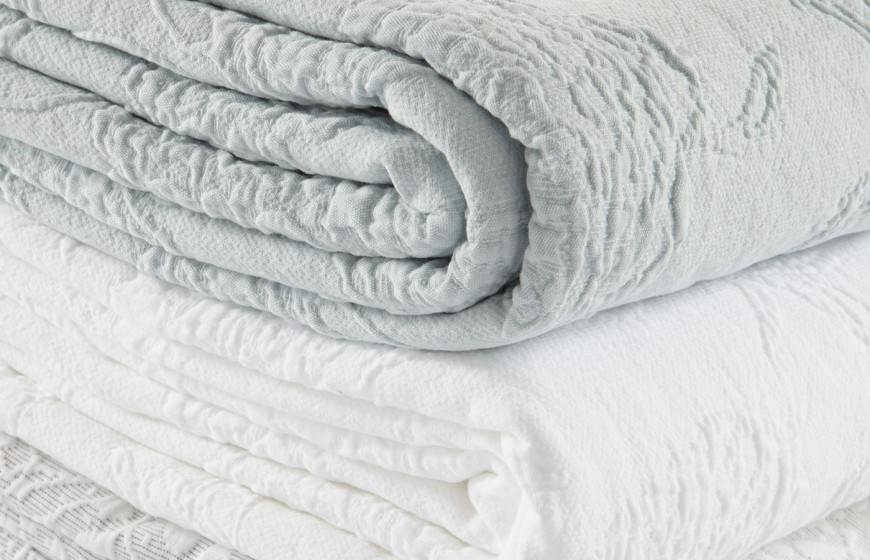 If you've been thinking of giving your bedroom a Springtime overhaul, then look no further than Soak&Sleep. We've travelled all the way to Portugal and bought a whole new range of bedspreads to the menu for you to feast your eyes upon...knives and forks at the ready, these are delicious! Check out these classic handmade pieces - plus we've chosen three lush designs.
Handmade and originating from the historic town of Guimaraes (famous for its textiles), these pieces feature a beautiful Matelasse woven technique. What is Matelasse you ask? Well, it's designed to mimic traditional French hand quilting, and is achieved using different types of yarn (some which shrink), creating a gorgeous puffed up quilted appearance. This method has been used for over 200 years...that's a long time of lovingly creating these gorgeous bedspreads and accessories.
Now we've got the introductions out the way, let's go meet the three newbies to the team...
Spring bouquet
First in this collection is our Floral design.
This truly elegant bedspread is available in three fancy colours, and features a beautiful design of full blooms, perfect for bringing touches of lush Spring to your bedroom. Also available in a cushion cover, and great for teaming up with a gorgeous flat sheet when the sun finally decides to come out. Great for achieving the perfect white on white bed look, or mix and match with other designs for the layered approach.
Leaves Cotton Textured Bedspreads
We are really proud of how the intricate fern design has come out in our Leaves bedspread. Sumptuous, stylish and classic, this is a brilliant look for any bedroom. Botanicals in all shapes and sizes are in this season, and this print is ideal at bringing touches of lush foliage to your bedroom.
Tribal Matelasse
Make yourself at home this Spring with our strikingly designed new Tribal bedspread range. Not only is it gorgeously tactile, but it's contemporary, and brings textural dimensions to your look... ooo! Team it up with our reversible Tribal bed linen, and cushion cover. Both loved for its rich textures and simple stylishness you will fall head over heels for your new look - the perfect place to unwind.
So there you have it! What do you think of our new bedspreads? If you've treated yourself to one already, share with us your new look :)