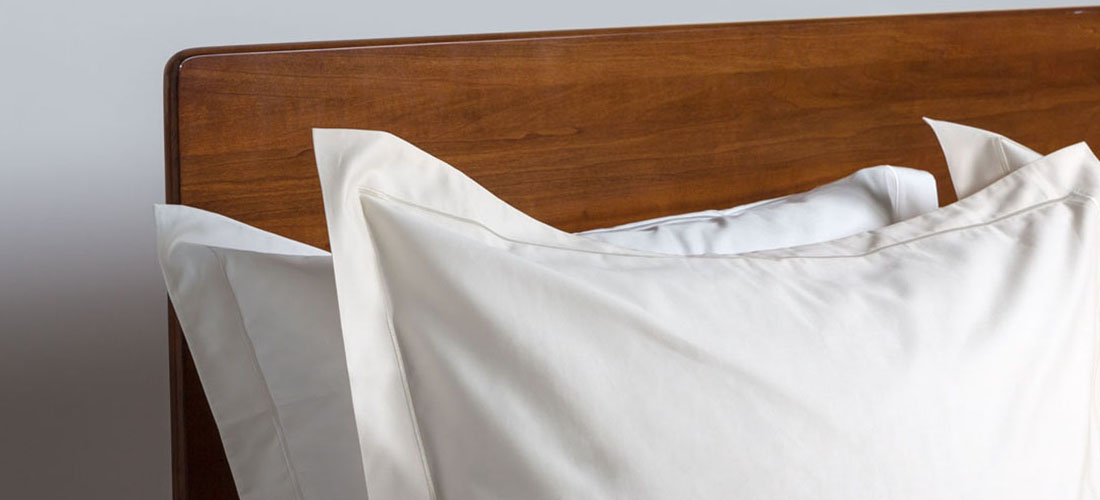 Bedding jargon can be a minefield, but there's no reason to panic. With many options on the menu, and various ways to describe different ranges, sizes and also fabric type it's no wonder that shopping can be confusing. We're here to help, so follow our guide on what to know about pillow shams and pillowcases.
What is a pillowcase?

A pillowcase is a piece of bedding that covers the whole pillow and usually has an open end (such as an envelope). Available in housewife design (with no additional border) or an oxford design (with an additional border around the pillow). Learn more about the different styles here.
What is a pillow sham?
A pillow sham is best described as a decorative addition to a bed, as they're usually made of fancier materials or interesting designs that complement your duvet cover and other bedding. They come in a variety of sizes to suit most standard pillows and have a slit in the back of the case for the pillow to be slotted in at ease. Shams can also have zips, ribbons or ties to secure the pillow inside.
Can you sleep on a pillow sham?
Depending on the finished look that you want to achieve, a pillow sham can be of various designs and feel. A pillow sham is best used as a support pillow or 'feature' pillow, to put in front or on top of your sleeping pillow. They're also great for using when reading or relaxing in bed as a prop and additional comfort.
What are the benefits of a pillow sham?
There are several benefits of including a pillow sham in your home decor, these include:
Keep your bedding looking fresh and clean
Washing your whole bedding set daily would be a massive chore! And, during the night you sweat, shed dust and may also rub creams or lotions into your sheets. Stains on bedding can be unsightly, but a pillow sham can be placed in front of a made bed to cover this up until your next wash day. To ensure your pillow filling stays fresh, invest in a pillow protector.
A low value bedroom remodel
Pillow shams and accessories are a fantastic way to create the look and feel that you want to relax in night after night, but they're also an easy and cost-effective way to change up your decor. Bedroom remodels can cost a lot of money, and with trends changing regularly, pillow shams and accessories are a great way to change up your look without calling the decorator.
Create a home for guests
By bringing in accessories such as pillow shams, you can customise the look of the room and add some personality for the guests you have staying over. Adding these small little details will make your guest room a much more relaxed and comfortable place for people to stay.

Pillow shams are a great way to change up your look and add texture, height and also (along with your standard pillows) support when you hit the hay. Wondering what type of fabric to sleep on? Find out the benefits of sleeping on cotton vs silk, and what to look out for when you're making your decision.
Stock up your sleep wardrobe with pillowcases in all shapes, thread counts and sizes.