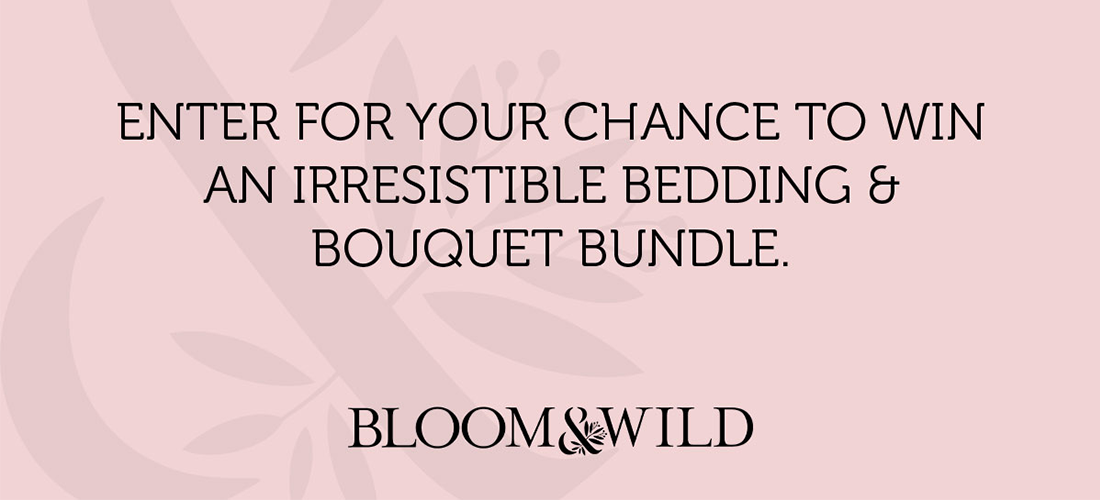 Have you got a 'Spring in your step'? To fit within the season of 're-birth' this March, we couldn't have gone to anyone else other than the one and only Bloom & Wild, to give one lucky winner the chance to receive a delightful 'Bedding & Bouquet Bundle'.
Bloom & Wild have redefined the flower delivery experience, making the giving and receiving of beautiful fresh flowers the joy it has always meant to be. Creating beautiful bouquets weekly from bud to bloom, Bloom & Wild are able to change with the styles and seasons, to ensure that only the best flowers are sent to your door.
Spring is in the air! So if you're looking to freshen up your life this Spring, then be ready to brush away the cold weather with these cheerful and seasonal bunches.
The Bedding & Bouquet Bundle - Competition Prize:
Bloom & Wild: 3 months of flowers

Soak&Sleep: Digital Flower Print - Double Bed Set
Celebrate the season of 're-birth' with Soak&Sleep's bouquet of bedtime loveliness. Made with pure cotton and printed with a unique design, this bed set is a beautiful way to wake up every morning...
We also had the pleasure to speak to Bloom & Wild, to hear a little bit more about all their dreamy, signature competition products…
Bloom&Wild x Soak&Sleep - Q&A:
1. Early riser or night owl?
I'm definitely a night owl, transitioning to early riser! After nearly four years of getting up early to go to the flower market, I'm pretty good at getting up to kick-off the day. Sometimes it's hard to find a balance when start-up life means late nights, but we work with the best people around and burning the midnight oil is always easier with friends around.
2. My morning 'wake-up' essentials are...
Shower, Jazz FM and an oat-milk chai from the little cafe by our house called Perks and White.
3. My must-have for the best night's sleep is...
Really great linen bed sheets and pillow spray are a must. A podcast is also the best way to lull me to sleep. I'm listening to Dirty John at the moment from the LA Times. It's not as scandalous as it sounds!
4. If I could sleep anywhere it would be...
In my bed - it's the best.
5. What was the inspiration behind starting Bloom & Wild?
When our Co-Founders Aron and Ben started Bloom & Wild, nearly five years ago, they were on a mission to create a floristry brand that people loved and could have access to anywhere. It was once really tricky to order flowers from a mobile phone and you'd be a little uncertain of when the flowers that might arrive and how they'd look.
We solved this problem with beautifully designed bouquets that are cleverly shipped and delivered through the letterbox. Our letterbox flowers take inspiration from the latest trends and even prints like Liberty London and Mother of Pearl. We try to have fun with flowers and create something new each month. Flowers are such a creative medium that we have endless ideas...
6. Do you have a favourite flower arrangement?
I love our Wild at Heart Collection that we have on for Valentine's Day. We've been so lucky to work with acclaimed florist Nikki Tibbles Wild at Heart to design a magical collection of bouquets for Valentine's Day and Mother's Day. We've used stems like wintry hellebore and waxflower in the hand-tied bouquet which is just divine.
7. Flowers are such a lovely feature to have in the home, are there specific flowers best suited to the bedroom?
For the bedroom, stick to calming scents like lavender and eucalyptus and make sure to keep the flowers away from a radiator and too much light. I love putting dried stems in the bedroom for a low-hassle design feature.
8. Which Bloom & Wild bouquet is best for Spring?
The Spring Tulips bouquet is really cheerful and seasonal. It's one of our most-popular bunches as it seems to help banish the cold weather away!
So if you would like to get a good 'Spring in your step' to freshen up your life with these cheerful, seasonal gifts, then enter yourself into our 'Spring Treat' competition, for your chance to win the ultimate 'Bedding & Bouquet Bundle': ENTER
Please ensure you read the T&C's before you enter. Competition ends Thursday 14th March 2019.
Good luck!