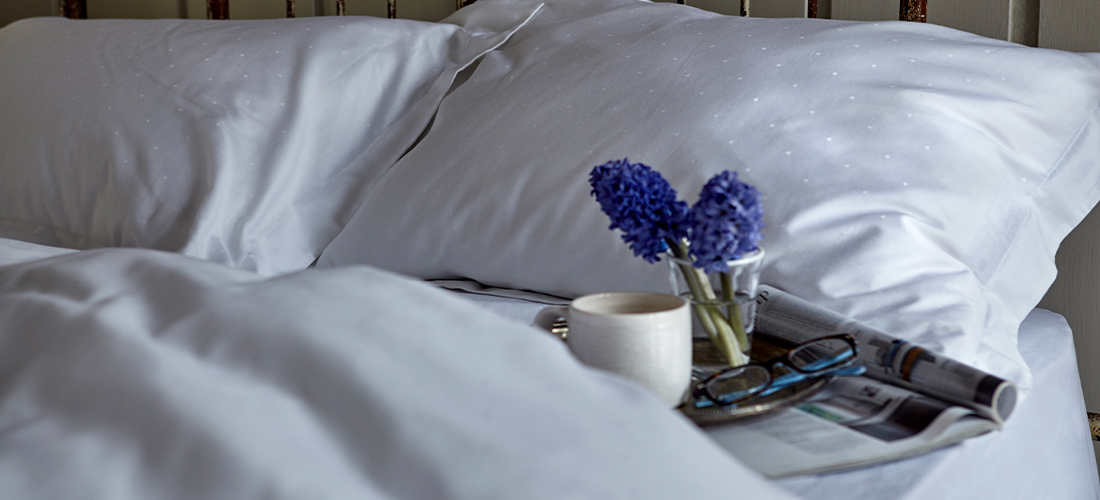 Advancements in technology have meant that the products we sleep on really are designed to help us slumber better. We know that specific products suit different types of sleepers better than others, for example, a medium down-filled pillow will suit a back sleeper far better than a firmer type or a synthetic-filled pillow.
What does luxury sleep mean?
Luxury sleep means investing in the highest quality products that you can afford to help you sleep. Fortunately, this no longer means you have to spend the earth as luxury sleep products have become more affordable in recent years. When buying lookout for industry marks of distinction such as 'Downmark' on products which guarantee their quality. Seek out products that have added benefits like temperature regulation and breathability and always buy from reputable retailers who have a robust returns policy. Here are some of our favourite products:
Luxury bed sheets

There used to be a time when Egyptian cotton was a byword for luxury bed sheets, but there's a new kid in town. 1000 thread count Supima cotton is our pick when it comes to the best bed sheets. Supima cotton is extra-long-staple cotton that creates fabrics with supreme softness, amazing durability and good colour retention. It's so special that it represents only 1% of the world's cotton production and is exclusively grown in States in the West and Southwest of America by farmers within the Supima Organisation. The fact that these sheets use Supima cotton and have been woven into a rich 1000 thread count fabric makes them extra soft, deliciously smooth and pleasingly weighty for incredible indulgence.
Luxury pillows

For the ultimate pillow, you don't get much more luxurious than a 100% Canadian Goose Down Chamber Pillow. This pillow is filled with 100% down (the higher the down content in a feather and down pillow or duvet, the lighter, better quality and more durable the product). This product has the Downmark seal of approval which only gets applied to Canadian products filled with down of the highest quality. This pillow also has a supportive central chamber which helps if you're a side or back sleeper. Wrapped in a 320 thread count cambric cotton cover which is double stitched for durability, these luxury pillows will help you sink into a deep sleep night after night.
Luxury duvets

When it comes to luxury duvets, the Hungarians know best. This Ultimate Hungarian duvet comes filled with 90% down. The Goose Down in this duvet is also washed in thermal water from an exclusive, certified spring. The 48° water opens up the loft of the down clusters making this duvet extra fluffy and lofty. Wrapped in a luxurious 280 thread count cotton casing, this duvet will keep you warm in winter and cool in summer, is great for allergy sufferers and will ensure you sleep like a (Hungarian) baby.
Luxury bed linen

Silk is still thought of as the ultimate luxury bed linen and for good reason. It is lightweight, super soft and sumptuous to the touch but it is also great at temperature regulation, it's antibacterial and hypoallergenic, plus it can keep your hair and skin hydrated and reportedly less wrinkled. It's no wonder it's the choice of supermodels and celebrities.
This Luxury Mulberry Silk bed linen made with a 19mm silk satin that feels fluid and looks lustrous but is incredibly durable despite its delicate appearance.
If silk isn't for you, there are some other great choices available such as this 100% French linen set which is sourced from Normandy and provides a quality, substantial look to your bed or this 600 thread count Egyptian Cotton set which has a soft, smooth satin weave and remains the first choice of luxury hotels around the world.
Another tip to remember when you are buying bed linen is to choose Oxford pillowcases (rather than the Housewife style) as they have a more elegant and luxurious look. They are the pillowcases loved by interior designers and hoteliers alike.
Luxury mattress toppers

Mattress toppers provide an extra layer of comfort or support to your bed, helping to give you the best chance of a great night's sleep. This luxury New Zealand Wool mattress topper is filled with pure, soft Mitchell wool from New Zealand which is proven to improve your REM sleep by 25%. Sleeping with wool helps regulate your body temperature so this mattress topper is great for anyone who gets too hot at night or is suffering from hot flushes.
Luxury blankets and throws

There is a reason why hotel beds are dressed in blankets and throws - it gives the impression of luxury whilst being practical for a good night's sleep. A lightweight cotton waffle throw draped over the end of the bed, is fantastic for the summer months, when you can add it to your duvet if the evenings get cold or simply use it to sleep under if the nights are particularly hot. In winter a great choice for a throw is this Tweedmill pure wool blanket which adds an extra layer of warmth if needed.
So for the ultimate in luxury sleep seek out the best products you can afford and build your luxury bed in stages if necessary. Good quality products from Soak&Sleep will last so you can sleep in luxury for a lifetime.
Looking for inspiration on how to create a desirable bedroom look? Head over to find out the 'Worlds most Instagrammed bedroom' for tips.