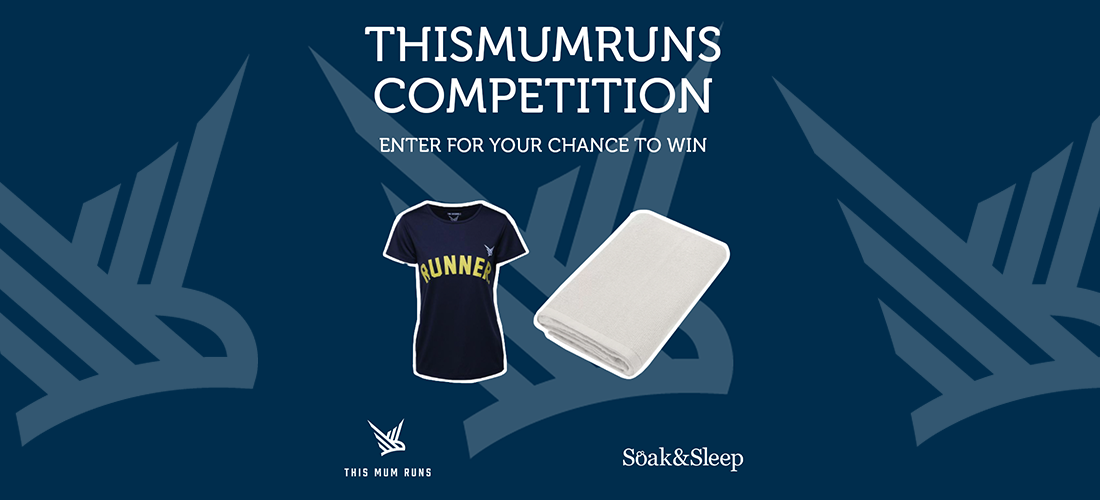 Are you wanting to feel more energised in the day and ready for bed at the right time at night?
This May we've teamed up with ThisMumRuns, a group that started because of a Facebook post by a mum shouting out for a running buddy. Now with hundreds turning up to join in every week, they have empowered Mums all over the nation to enjoy running and the benefits it brings.
We will be offering not just one, but two prizes this time!
The winner will get a Soak&Sleep voucher worth £150!

The runner-up will receive two Soak&Sleep gym towels & a TMR Tee!
To help us discover more about ThisMumRuns, we had the great pleasure to hear a little bit more about where it all began…
1. What is your motivation to get out of bed every morning to go for a run?
I'd be lying if I said that I always spring out of bed and into my gear ready for a run! There are times when you are energised and raring to go and there are times when you feel sluggish and would rather spend the extra half hour in bed, but there's something to be said for pushing past that and getting out of the door. The important thing is to listen to your body and, if you're still not feeling it after 20 minutes or so, make it a short one - but some of my best runs have been on days when I really, really didn't want to run. It helps to remember that, too!
2. Do you feel more able to run if you have had a good night's sleep?
Definitely. Sleep and food are fuel for running and a poor night's sleep can make you feel sluggish and unmotivated.
3. Do you sleep better after you have done a run? Why do you think that is?
Usually. Sometimes after a big event or a particularly significant run, the adrenaline can make it difficult to switch off, but other times those post-run endorphins hit and you sleep like a baby. In both situations, I think what really helps is trying to wind slowly down and stick to a bit of a sleep routine.
4. My morning 'wake up' running essentials are…
A cup of tea! And a big glass of water, one of the problems with early morning runs is that it's difficult to hydrate and nourish your body first - this is one of the reasons why I actually prefer an evening run!
5. What's the next step forward for ThisMumRuns?
Things at TMR are moving at a sprint right now, and we have loads of exciting plans for the rest of 2019. We want to bring our social runs to more communities across the UK, and help more and more mums to feel happier and healthier!
So if you would like to get into shape this summer to earn back the sleep that you truly deserve, then enter yourself into our 'ThisMumRuns' competition, for your chance to win the ultimate 'Keep Fit to Kickstart your Sleep' prize bundle: ENTER
Please ensure you read the T&C's before you enter. Competition ends Tuesday 14th May 2019.