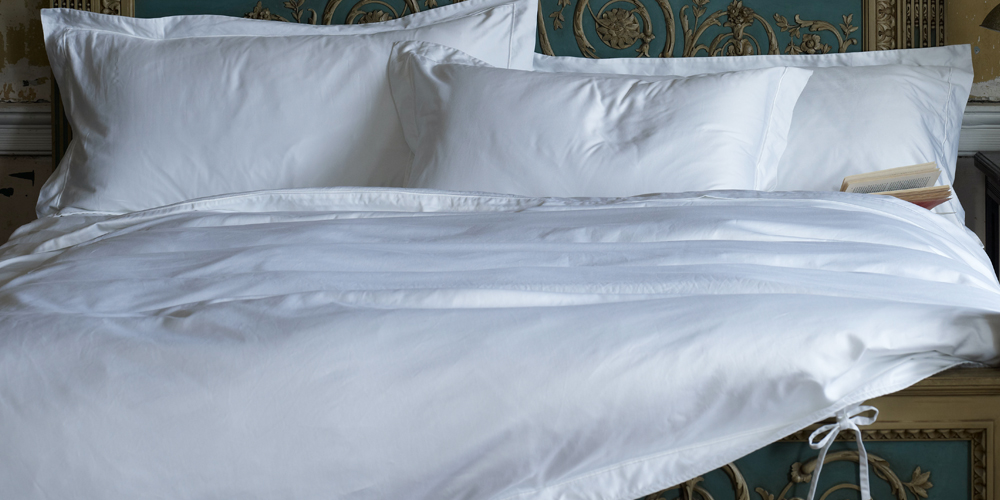 Changing a duvet cover can feel like a lot of effort. Yes, removing a duvet cover is easy enough, but putting a new one on? You need strength, stamina and – it has to be said - a certain degree of cunning.
If you've got children helping you out you just know they'll end up inside the duvet cover, uttering a frantic "Help! I can't get out!" In fact, we know a few adults have found themselves in this situation too.
But, there are easy ways of putting on a duvet cover. Here are two options to save you the sweat and confusion you might otherwise find yourself dealing with.
Step 1: Identify the top edge of your duvet
Before you go any further you need to work out which are the top and bottom edges of your duvet and which edges are the sides. It's easy enough with a single duvet, but if you're making up a bed that's double, king sized, super king sized or even emperor, you might need a bit more help.
If you're making up your bed with a Soak&Sleep duvet, you'll find the care labels are on the side edges. If using a different brand duvet, you'll need to check with the manufacturer. Alternatively, lay your duvet out on your bed to identify the top/bottom and side edges and then discreetly mark the top edge using a stitch or a light pen mark.
Step 2: Put your duvet cover onto your duvet
You have two options here. The traditional 'shake it out' method and the clever 'swiss roll' method, also known as the 'burrito' method.
Unless you're making up a single bed or cot bed, both of these options are easier if you have a willing assistant. But they also work out fine if you're doing them on your own.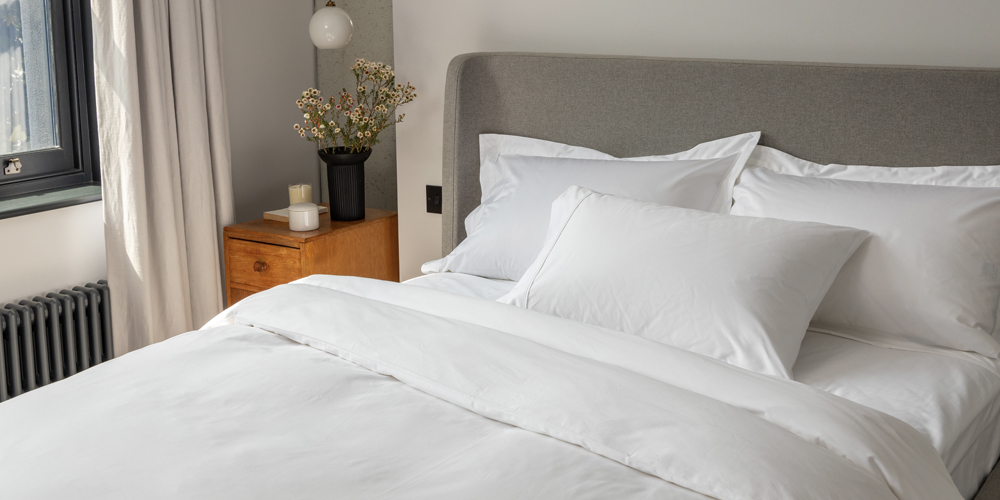 The traditional 'shake it out' method
Lay your duvet out so you can easily grab hold of the top edge when you need it.

Turn your duvet cover inside out.

Put your hands inside the duvet cover, right to the two corners at the opposite end of your duvet cover.

Keep your body and head outside of the duvet!

Keeping your hands in place, grab hold of the two corners of the top edge of your duvet.

Lift the duvet up and, keeping hold of both the cover and the duvet, shake your duvet so that the cover falls down over the cover.

If you have a helper, they could pull the duvet down for you at this stage to save you some effort.

If you're on your own, you may find this job easier if you stand at the top of the stairs and let gravity help you pull the duvet cover over your duvet.

Now turn your duvet round and place the bottom corners into your cover, before shaking out the duvet in the opposite direction to make sure it lies flat within the duvet cover.

Once your duvet cover covers all of the duvet, lay it on your bed and do up your fastenings, smoothing out any bumps or creases.

If you have any stubborn bumps, an extra shake from one of the sides usually helps smooth things out.
Bonus! This method is great for lofty duvets such as microfibre or feather and down because of the way it helps plump up the fill.
This clip is a great example of how to put a duvet cover onto a duvet using the traditional method.
The Swiss roll or 'Burrito' method
Turn your duvet cover inside out and lay it flat on your bed.

Lay your duvet cover directly over the top of your duvet cover with the top/bottom edges and side edges matching the duvet cover beneath.

Starting from the end furthest from the duvet cover opening, roll your duvet and duvet cover together as if you're rolling a giant, fluffy swiss roll.

Roll your duvet and duvet cover up completely.

Using the duvet cover opening, turn your duvet swiss roll into itself so that the duvet cover is now the right way round. Fasten up your buttons or ties.

Now you'll be able to unroll your duvet, smoothing out any bumps or creases as you do so.