NEW Personalisation Service - Only £5.95!
Give your luxury bedding or towels a customised makeover with our monogramming service. Personalise your Soak&Sleep favourites (up to 12 characters) in beautiful embroidery. Choose your favourite font and what you want to say, then contact our customer service team on 01483 616 616 to place your order.
Currently we are unable to offer personalisation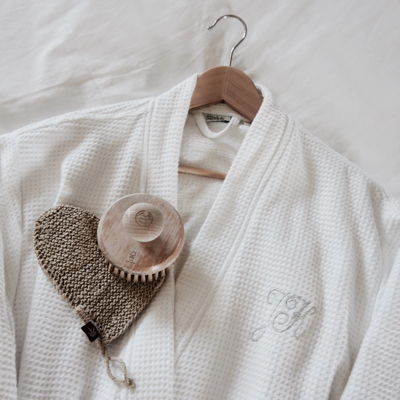 Thought your plush new towels couldn't get any better?
Think again! Our fabulous towels, pillowcases, and even sheets can now be totally unique to you. That's right: the same great quality Soak&Sleep products that you know and love… Now with a monogrammed finish. Just give the word and we'll stitch it up!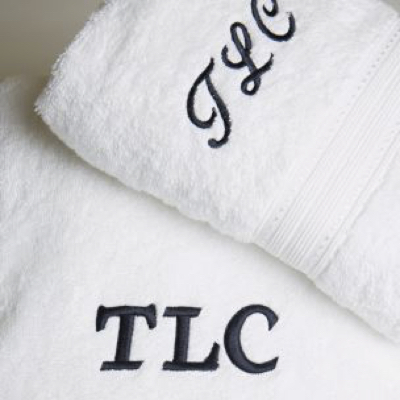 Make your belongings bespoke.
You've spent all this time choosing between our luxurious ranges; now make them uniquely yours! Monogramming is a distinguished finishing touch for towels, duvet covers, pillowcases, and sheets. Choose from our range of classic and modern fonts, all beautifully picked out in satin stitch. Simply perfect.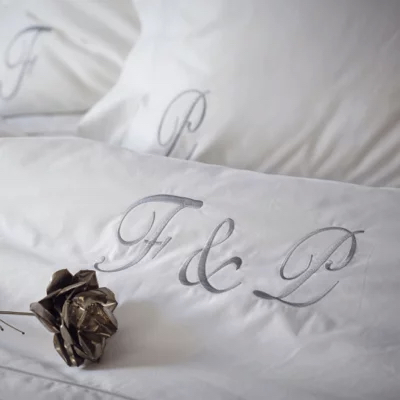 Let's hear it for doing things the old-fashioned way!
We'll start with luxurious egyptian cotton sheets, and a breakfast tray bearing a proper teapot. And shouldn't your fabulous linens be elegantly monogrammed? Add your initials to each pillow with a flourish – our new monogramming service starts at £5.95. Perhaps her Ladyship would like another slice of buttered toast?
Looking for the perfect present...
Whatever the occasion we're sure we can help! Wedding gifts, birthday presents, house warming, or maybe treat yourself with a personalised set of bed linen or a custom embroidered towels. Once your order has been placed, you can expect delivery within 5-10 working days.
Personalisation Font options
* Please note: Da Vinci and Copperplate fonts are only available in upper case.







Personalisation Colour options
Your choice of name or initials is beautifully sewn in satin stitch (a snip at just £5.95!).
Order it today, and you know it's a present that will last for years.




Get in touch to order your personalised products!
Hooray! We'd love to hear from you today. Call our very friendly UK personalisation specialist team today!
Please note, you will need to get in touch with us to request personalisation before you place your order
Personalisation orders can take between 5 - 10 working days for delivery. Please allow longer for large orders.
...or give us a call on
01483 616 616
our email
personalise@soakandsleep.com
we're open from
Monday to Friday 9am - 5pm