Over time, it's easy for our bedrooms to be transformed into a busy space that's everything but calm and relaxing. We all have that one chair in the corner that seems to collect, well, anything and everything, or a dressing table that's been turned into a work-from-home desk.
We say it's time to get your bedroom back! We've created a simple guide to help you re-create that well deserved serene sanctuary.
1. Have a good tidy up
It may sound simple, but a tidy space makes for a tidy mind. Start by tidying your room - stick on a good playlist and set yourself a time limit to put away your clothes and do some de-cluttering. Clear the surfaces and bed-side tables from any thing you don't need to create a stress-free zone.
2. Separate your work space
With working from home becoming the norm, it can be difficult to shut off at the end of the day, especially if your bedroom and office have merged over time. Try to find another room to work in, other than your bedroom (if you have the space), if not, create a small work area in your room that you can block off - keep this separate from your dressing table.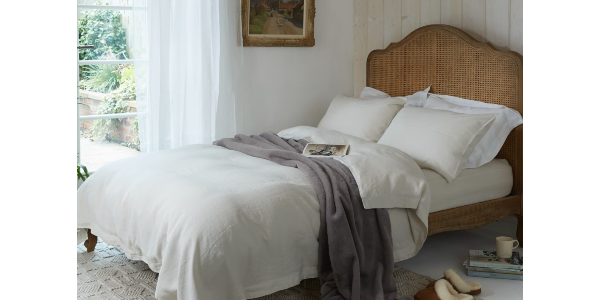 3. Find the perfect bedding
Invest in bedding that makes you look forward to diving into bed at the end of the day. Whether you prefer Egyptian Cotton, French Linen or Pure Mulberry Silk, good bedding which perfectly suits your sleep style is imperative for creating your own serene sanctury. Your bed should be your ultimate relaxation station!
Considering how much time we spend in bed, don't foget to take the time to ensure you are using the right duvet for you. If you're not sure where to start, we have put together 7 top tips when deciding on your perfect duvet.
4. Luxury nightwear
Who said you had to choose between glamour and comfort? Going to bed in the most comfortable, silky smooth nightwear is the ultimate bedtime luxury. Here are some of our favourites...
Silk Collection
Made with 19 momme pure silk, with natural temperature-regulating properties, silk helps you sleep at the perfect temperature all night long, so you wake up rested for a more rejuvenated start to your day.
Brushed Cotton Collection
Classically stylish and oh-so comfortable, there's everything to love about this collection. From the softest brushed cotton to pretty mother of pearl buttons, it's the little details which make this nightwear so special.
Turkish Robe Collection
The ultra smooth Turkish cotton and terry weave makes this bathrobe feel indulgently soft against your skin. The unisex kimono styling means these bathrobes are perfect for anyone.
5. Keep it fresh
We spend 1/3 of our lives in bed so it's no surprise that our bedroom can get sometimes get a little musty. Be sure to wash your duvet cover, pillowcases and bedsheets every one to two weeks to keep them feeling as fresh as possible. Pull back the duvet in the mornings allowing excess moisture to evaporate and prop open the door or open a window to increase the air flow around the room.
6. Find the perfect light
Create a calming atmosphere by opting for warm, dimmable lights as these will help you to relax when it comes to settling down. Investing in some blackout curtains will be great for helping with that lie in you have been waiting for; they also help to keep in the heat when the weather takes a turn.
7. Light your favourite candle
Finally, candles are great for helping you feel calm and relaxed. Lavender, Jasmine, Chamomile and Sandlewood are popular scents for evening candles. Find a scent that you love and light it just as you are unwinding ready for bed.

(Don't forget to blow out the candle before you sleep and keep them away from curtains that can flow in the wind. If you're worried about the safety, room diffusers are also a great option!)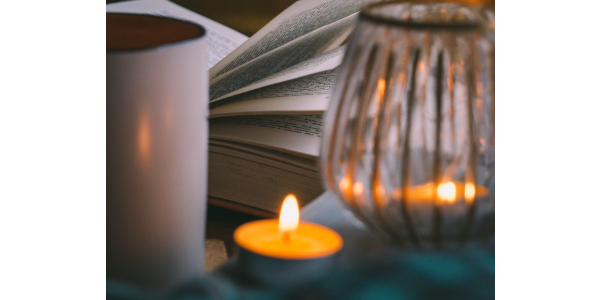 So, there you have it, 7 simple ways to create the ultimate serene sanctuary in your bedroom. Do you have any more ideas and tips? Please leave a comment below, we'd love to hear them!