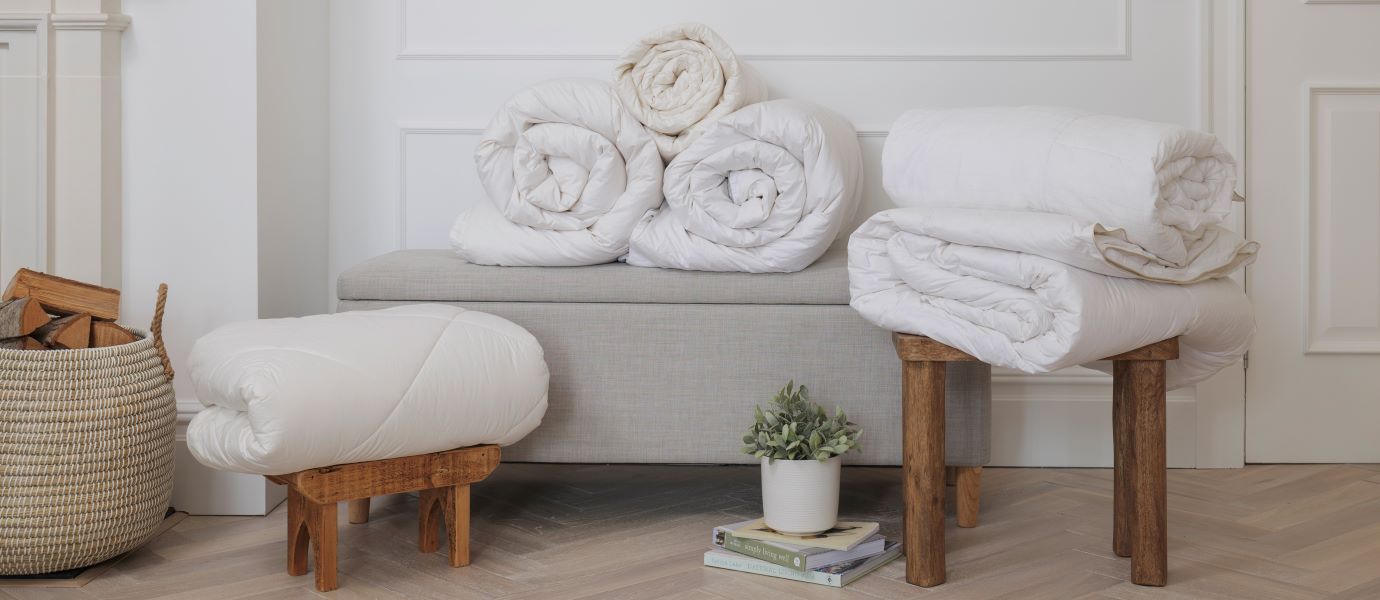 What is the best filling for a duvet? What is the best duvet tog? Which is the best anti-allergy duvet?
With so much information out there, choosing a duvet can be tricky. We have outlined the important bits to consider to help you find your perfect duvet.
What is a duvet tog?
A tog is a measurement of insulation. All duvet's come with a 'tog rating' - simply put, the higher the tog, the warmer the duvet. A low tog rating is ideal for warm weather while a higher tog duvet will keep you warm during chilly winter nights.
We sell a variety of tog ratings. Our lowest tog duvet is a light and cool 3.0 tog, and our warmest is a super cosy 13.5 tog. With our helpful build-a-tog system you can create the following tog sizes:
18 tog (4.5 + 13.5 tog)
15 tog (4.5 + 10.5 tog)
13.5 tog (4.5 + 9.0 tog)
7.5 tog (3.0 + 4.5 tog)
Use our all seasons page to find your perfect tog. Our new build-a-tog system helps you to build the perfect warmth for you using our 3, 4.5, 9, 10.5 and 13.5 tog duvets.

Which tog duvet should I buy?
Many people find that different duvet togs are suited to different seasons and weathers.
When choosing which duvet tog to buy, consider the temperature of your bedroom, if you are a hot sleeper or a cold, the temperature outside and whether you share a bed. Also think about which duvet filling you prefer and the type of mattress you have.
Try mixing and matching different togs to create an all-season duvet bundle personalised to your sleep needs.
What is a natural duvet and what are the benefits?
Natural-filled duvets such as silk, cotton or wool duvets have naturally temperature regulating properties that will help keep your body temperature cool in those warmer months. The fills are moisture-wicking and breathable, and also a great option for allergy sufferers. They're also washable and super easy to care and maintain for a restful night's sleep.
What are the benefits of a silk duvet?
Breathable
With their breathable, cooling features, silk duvets are a luxurious choice of natural-filled duvets.
Temperature Regulating
They are thermo-regulating and wick away moisture from the body, making them a practical choice for hot sleepers all year-round.
Cosy
With a more dense feel than our other low tog duvets, silk-filled duvets drape easily leaving you feeling cosy and comforted while you sleep.
Machine Washable
These duvets are machine washable and although it may sound delicate, silk is a super-strong fibre so it can last you for years.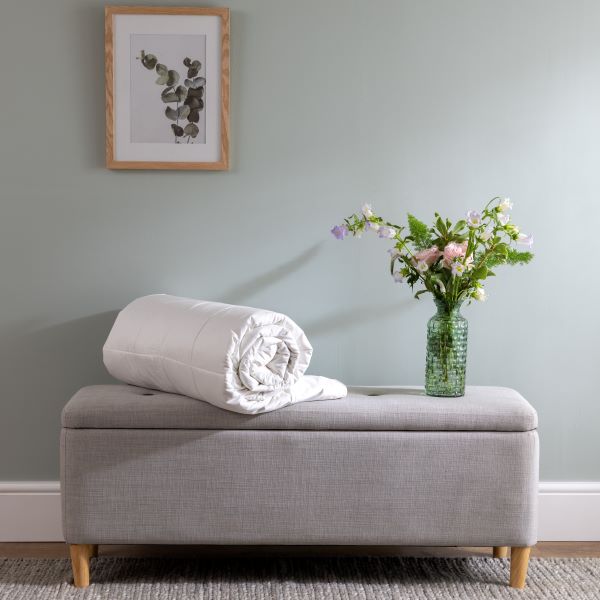 What are the benefits of a cotton duvet?
Quilted
Available in a 2.5 tog, our cotton fill duvets are quilted and are thinner and flatter than other duvets with natural fillings.
Cooling
They zap away moisture and help keep you cool at night, making them a great choice for a summer duvet.
Easy Care
Our high-quality, cotton fill duvets are machine washable and easy to care for.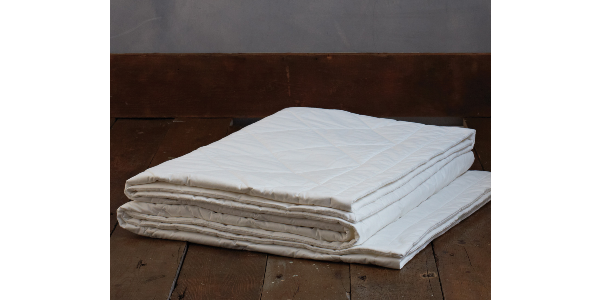 What are the benefits of a wool duvet?
Temperature Regulating
Wool-filled duvets are naturally temperature regulating - they absorb moisture and release it back into the atmosphere to keep you cool at night, great if you suffer with hot flushes or night sweats.
We highly recommend wool duvets to those sharing a bed; the wool is able to adapt to two different body temperatures in the same bed to keep you both feeling just right.
Increase REM Sleep
Scientifically proven to help you sleep longer and deeper, research shows wool duvets help to increase REM sleep and, in turn, boost your heath and wellbeing.
Hypoallergenic
They are hypoallergenic and machine washable, making them a ideal for children and allergy sufferers.
What is a feather and down duvet?
Duck and goose feather and down-filled duvets are light, puffy and lofty. Goose down clusters provide insulation and the feathers add bulk and substance. These duvets are highly popular in winter months as the down traps in the air, giving you with the ultimate warm and comforting night's sleep.
What are the benefits of a feather and down duvet?
Insulative
Made with duck or goose Feather & Down, these high-end duvets are extremely insulative and will keep you warm all night long. The Down clusters provide the insulation in a duvet - the more down that's inside, the lighter the duvet will feel. Feathers add bulk and substance to the duvet whilst keeping it breathable.
Lofty
We use a lot of Hungarian and Scandinavian down because the climate and conditions in these countries produce excellent, lofty down. The cold weather means native ducks and geese have extra-warm down, perfect for cosy duvets. We source some of our best down from Canada, where the very cold climate creates wonderfully warm down.
Long-Lasting
Feather & Down duvets can last a long time if they are well looked after. We provide a 15-year guarantee but we know they can last much longer if well-treated.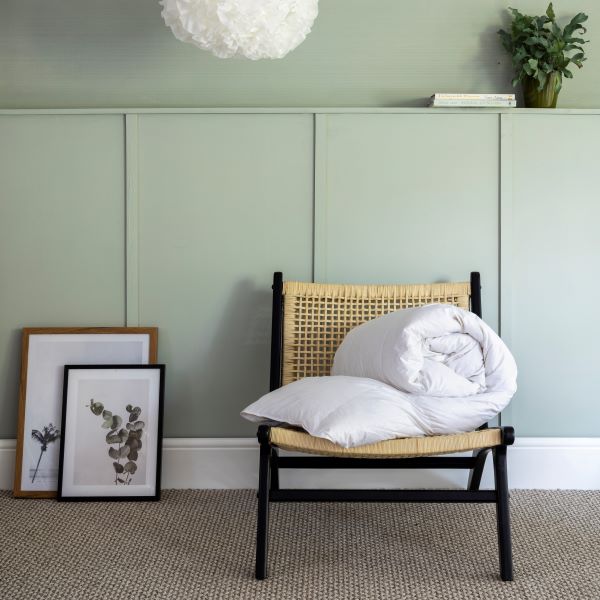 What is a synthetic duvet?
Synthetic duvets are made from either Microfibre or Hollowfibre and are designed to give you the softness of a feather & down duvet but at a lower price. They are hypoallergenic and easy to care for making them the ideal choice for allergy-sufferers.
What are the benefits of a Synthetic fill duvet?
Affordable
Made with either Microfibre or Hollowfibre, Synthetic duvets are known to be the most practical and affordable duvet fillings.
Machine Washable
Synthetic duvets are a great choice for allergy sufferers as they are machine washable and can be washed along with your usual bedding cycle.
Lightweight
These duvets are a perfect alternative for those looking for something that is lightweight but can't sleep under duvets with natural fillings. Microfibre has a soft, squishy and silky feel, whereas Hollowfibre feels loftier.
Similar to polyester clothing, synthetic duvets are not breathable so if you are a hot sleeper, you may prefer a more natural duvet filling.