A Soak&Sleep classic & a favourite among our customers, our luxurious French Linen bedding is the perfect addition to any bedroom. With its rumpled texture and casual charm, it's a wonderful way to get the great night's sleep you deserve.
5 Reasons to love our French Linen
1 - Temperature regulating
Linen has superb temperature-regulating abilities. Its hollowfibre structure is stronger and more absorbent than cotton and helps to regulate your body temperature as you sleep. Our French linen works wonders for those who suffer from night sweats; it will help you keep cool during summer nights but also feeling comforted and warm during the extra cold months.
2 - Soft, smooth & beautifully textured
Made with deliciously soft, pure French Linen, woven from flax grown in Normandy. This bed linen is made with yarns that are ring-spun to make the fabric stronger and smoother. The long staple lengths of quality linen create a beautifully textured, speckled fabric that just gets better with age.
Styling Tip: Don't iron your French linen. Let it fall naturally for a relaxed and cosy feel for your sleep sanctuary. (If you prefer a slightly smarter look then iron whilst slightly damp).
4 - Simply stylish
The duvet covers are fastened with tie closures for a modern touch to your bedroom design (plus, you won't need to worry about ironing around fiddly buttons!). Our pillowcases are finished with a neat envelope closure and the duvet cover and Oxford pillowcases have an elegant 5cm border. The fitted sheets are elasticated around the full edge of the sheet for a perfect fit.
5 - Available in a range of colours
The beauty of our French linen is that it can be simply styled or dressed-up to suit your bedroom decor. Available in an extensive range of colours, from white, to midnight grey, blush pink, lavender & denim blue, there is something to suit every sleep sanctuary.
Styling Tip: Layering colours of French Linen, bedspreads & throws can be the perfect way to create soft contrasts on your bed, or to make a statement when choosing bold colours.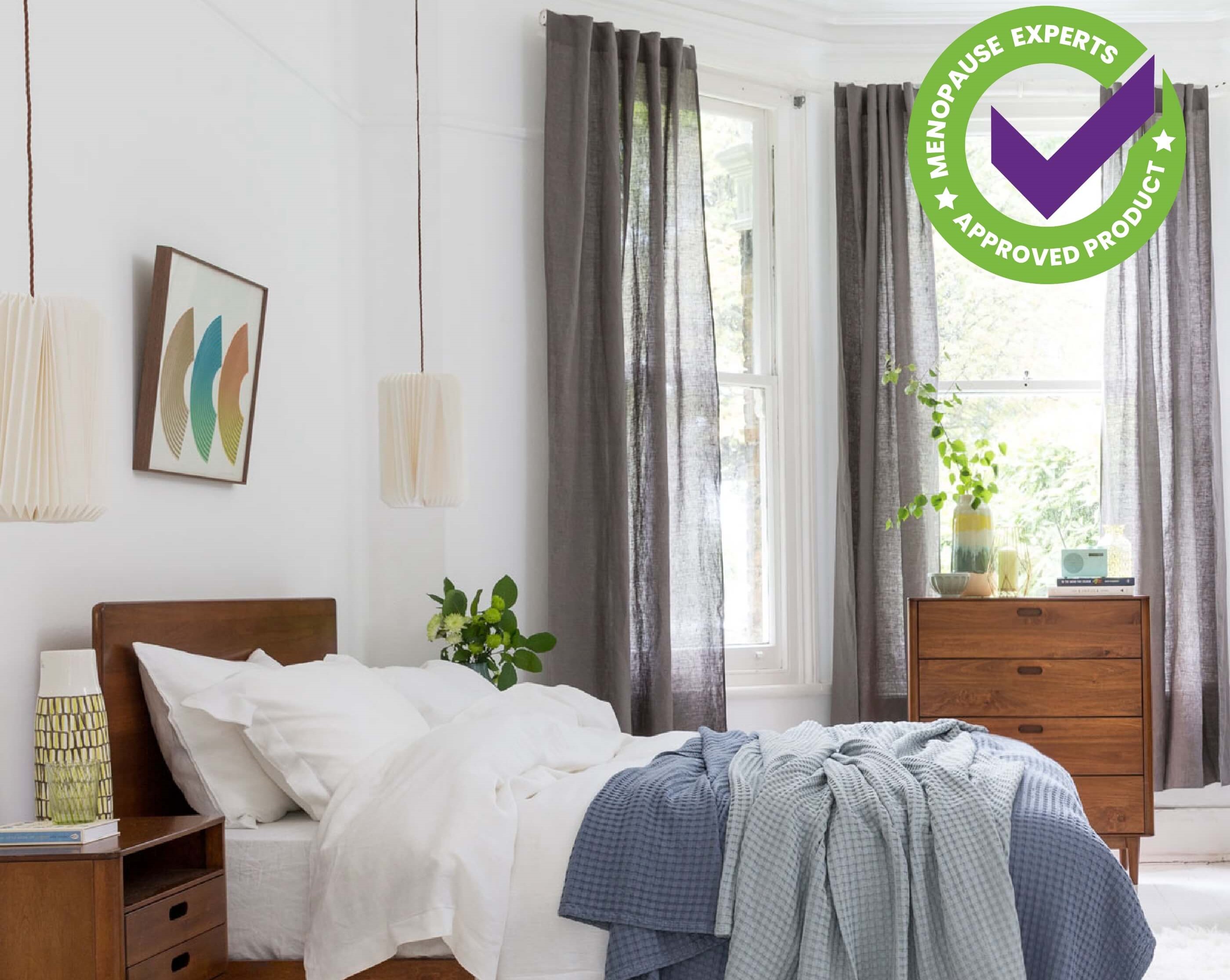 "A well-dressed bed has been a game changer for me, and I've had plenty of nights where I didn't even wake up to go to the bathroom. Don't hesitate to treat yourself to these amazing products." - Our French Linen is tried, tested, and loved by Dee Murray, Founder of Menopause Experts Group. As life changes, your bedding should too. Soak&Sleep will be with you on every step of that journey for lasting better sleep.
Love sleep. Love Life.