Incredibly, over 60% of women report sleep disturbances during the menopause. Although it's good to know you're not suffering alone, regular sleep interruption plays havoc with health and wellbeing at a time when you're already busy juggling the demands of family and career. With problems ranging from restless legs to anxiety, two of the most commonly experienced sleep problems during the menopause are night sweats and hot flushes.
Fortunately, there are things you can do to minimise the impact of night sweats on your day-to-day life and reduce the sense of trial and error you might experience when dealing with this menopausal symptom. In this specialist blog, we cover some of the reasons you may be sweating at night, tips to reduce sweating and what you should look for in anti-sweat bedding.
---
Are you a sweaty sleeper?
Night sweats happen for a whole range of reasons. They may be related to something that's easy to change such as the temperature of your room or choice of bedding. Sometimes night sweats happen for medical reasons such as medication or illnesses. The menopause and perimenopause are a particular cause of night sweats for women in their late thirties and beyond.
During the perimenopause and menopause, women experience fluctuations in progesterone and oestrogen. Amongst other things, this can impact the body's ability to control heat. This in turn leads to sudden flashes of extreme heat which may be followed by chills and shivering. No surprise, this feels very uncomfortable and can be incredibly disruptive. In many cases, hormonal fluctuations are worse at night meaning these hot flushes are more intense or more frequent while trying to sleep.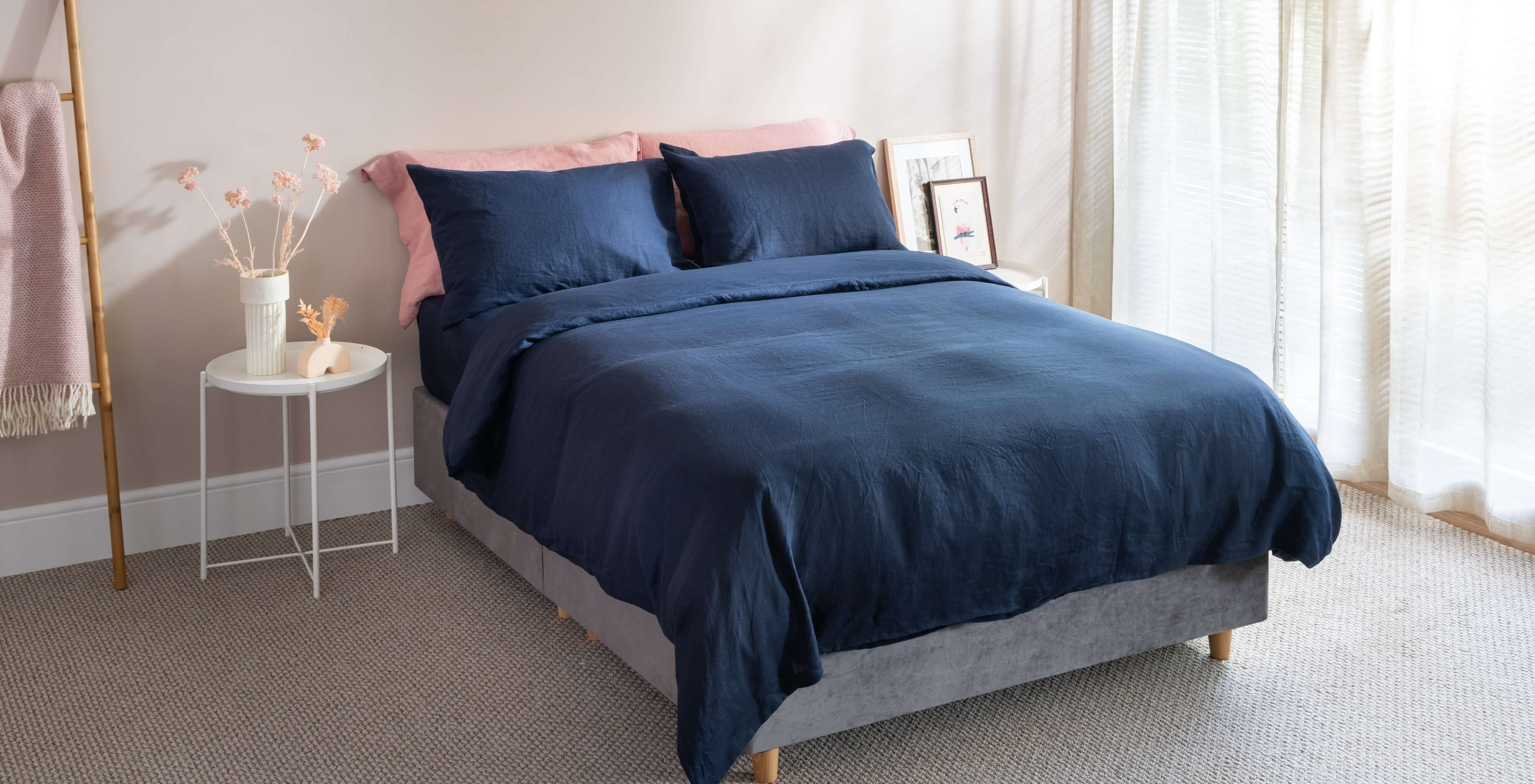 ---
What is the best bedding for night sweats?
For many women, hot flushes are an unavoidable fact of the perimenopause and menopause. Changing your bedding won't fix hot flushes or night sweats, but there are many products which can help reduce the discomfort and disruption they cause.
With years of experience in developing high quality bedding, plus real-life examples of how choosing the right bedding can help minimise night sweats, Soak&Sleep has plenty of advice on what to think about when choosing anti-sweat bedding.
Best sheets for night sweats
The best sheets for menopausal night sweats are those which are made with breathable fabrics. This means choosing natural fibres such as cotton, viscose, linen or silk. These fibres allow moisture to evaporate through the fabric, helping you stay cooler while you sleep and wake-up feeling fresher.
Linen is a great choice for managing night sweats. Linen fibres are hollow, which makes them more absorbent than cotton. This in turn means they help regulate your body temperature as you sleep. Avoid fabrics which are made with polyester. Synthetic fibres can trap the heat, making night sweats worse.
Because having night sweats may mean you wish to launder your sheets more often, choosing lightweight sheets with a lower thread count will make it easier to wash and dry your sheets.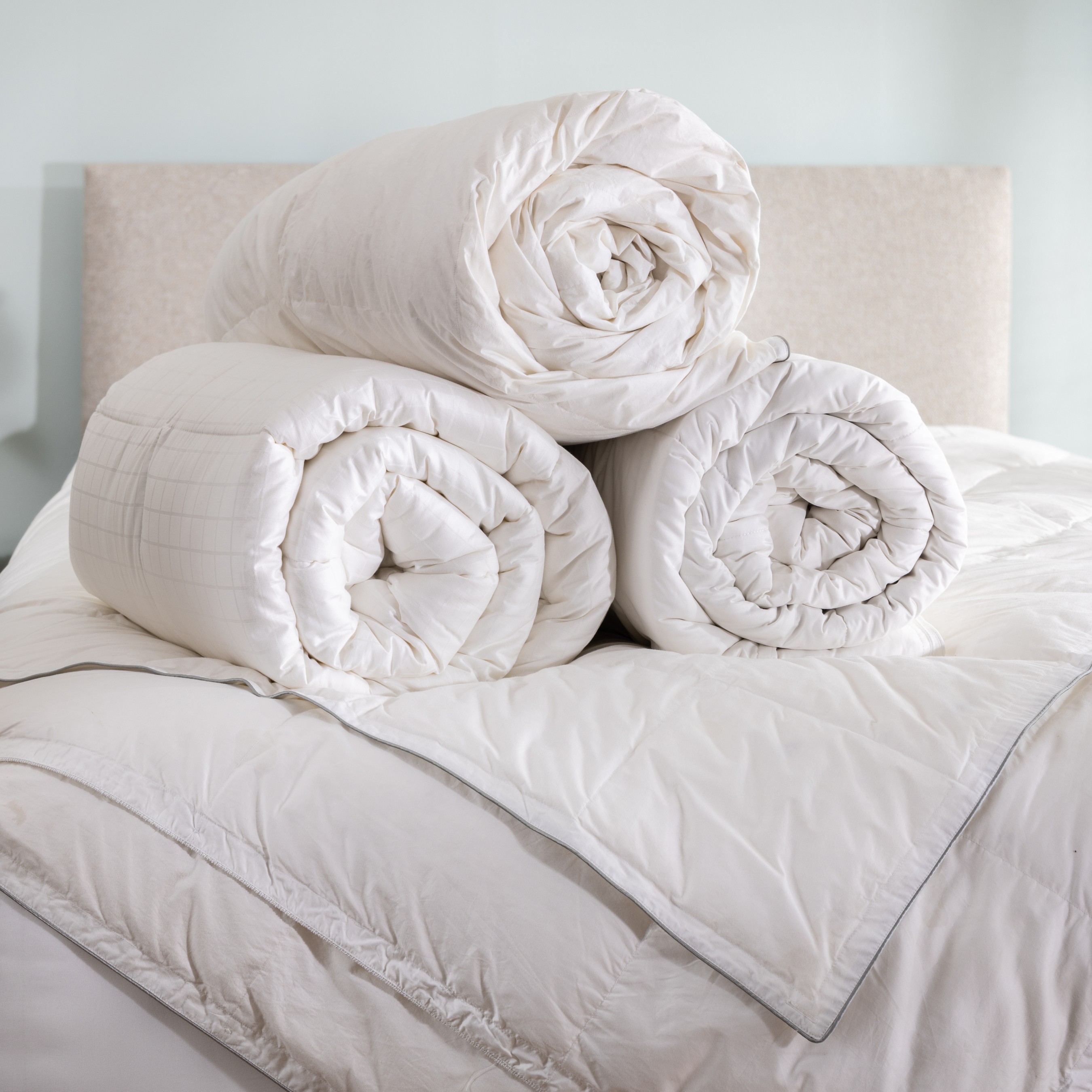 Best duvets for night sweats
The best duvets for coping with night sweats are those made with natural fibres. Wool is one of the best options thanks to the way it helps with temperature regulation as you sleep. The wonder of a wool duvet is that not only will it help you sleep cooler, but it can also help sleeping partners feel warmer thanks to the way that the wool fill creates a microclimate around our sleeping bodies – it's a win-win! Other natural fibre duvets such as linen, cotton and silk fills are good options too.
Don't just think about the duvet fill – the duvet tog is important too. If you're sleeping under a 13tog duvet all year round, then it might be time to opt for a lighter duvet. Tog ratings range from 2.5 tog (very light, suitable for the height of summer) all the way up to 18 tog (very cosy, suitable for draughty homes in the middle of winter). Investing in an all-seasons duvet is the perfect way to sleep comfortably all year round. An all-seasons duvet is a bundle of two duvets with two different togs. You join them together when you want extra warmth, such as in the middle of winter, and use them individually for warmer months of the year.
If you and your sleeping partner can't agree on the perfect tog, you could do what the Scandinavians do and have two single duvets – that way you both get the perfect level of warmth to suit your needs.
Best mattress for night sweats
When it comes to choosing the best mattress for avoiding night sweats, natural is best. Look out for mattresses which contain wool, cashmere, silk, cotton, linen and viscose.
Foam mattresses can get especially warm while you're sleeping which means they're best avoided. Memory foam works by softening in response to your body's heat and holds onto the heat to help it respond to changes in your body's position.
If a new mattress is out of the question, you could cool things down by using a mattress topper designed to help regulate sleeping temperature. A wool fill mattress topper can help things stay cooler.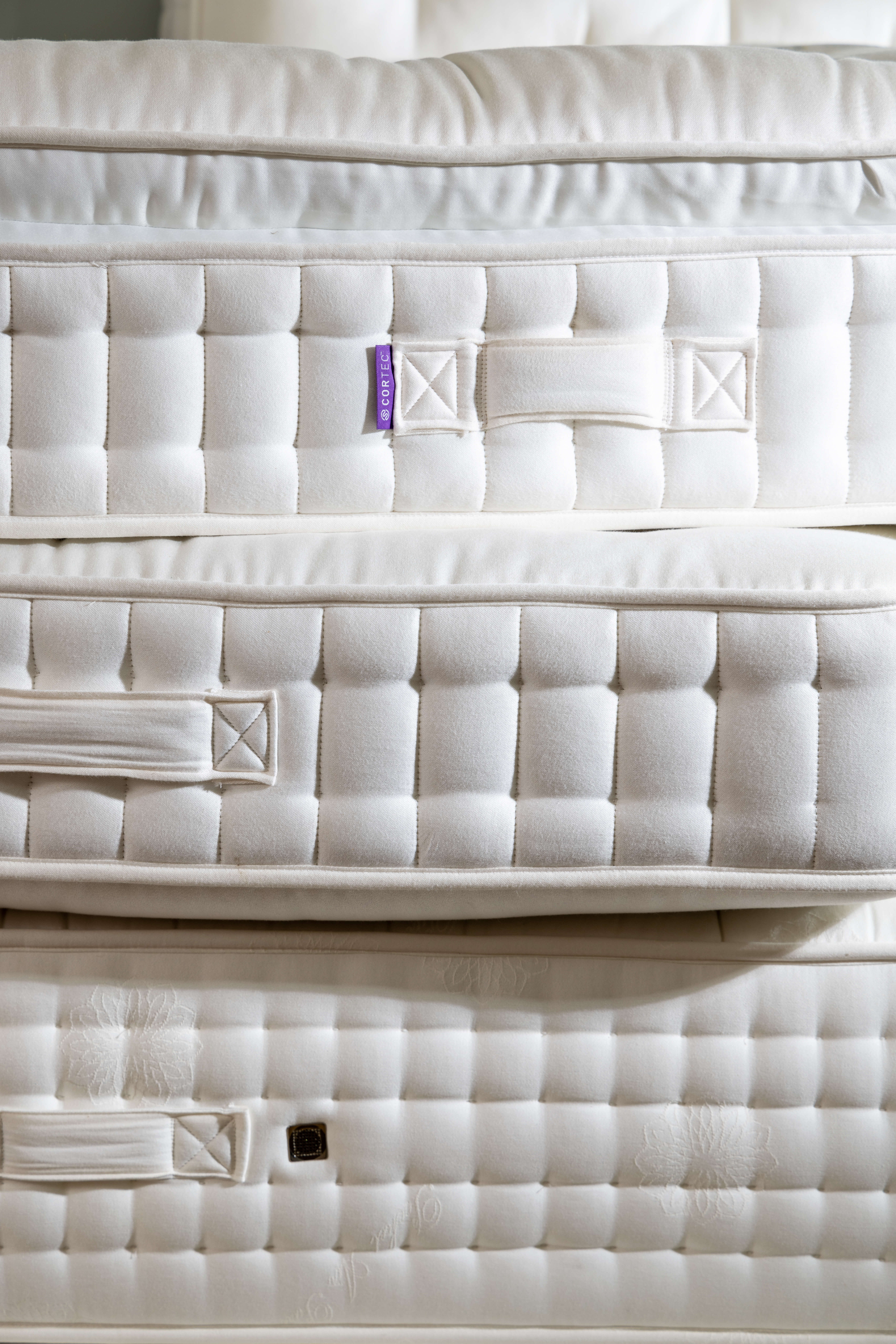 If your night sweats are especially bad, you may worry about your mattress getting damaged by the extra moisture. Using a waterproof mattress protector can help protect your mattress but should be chosen with care because the waterproof lining can trap heat and exacerbate night sweats. Using a specialist mattress protector such as our Waterproof CoolMax protectors can help reduce the chances of night sweats while also protecting your mattress.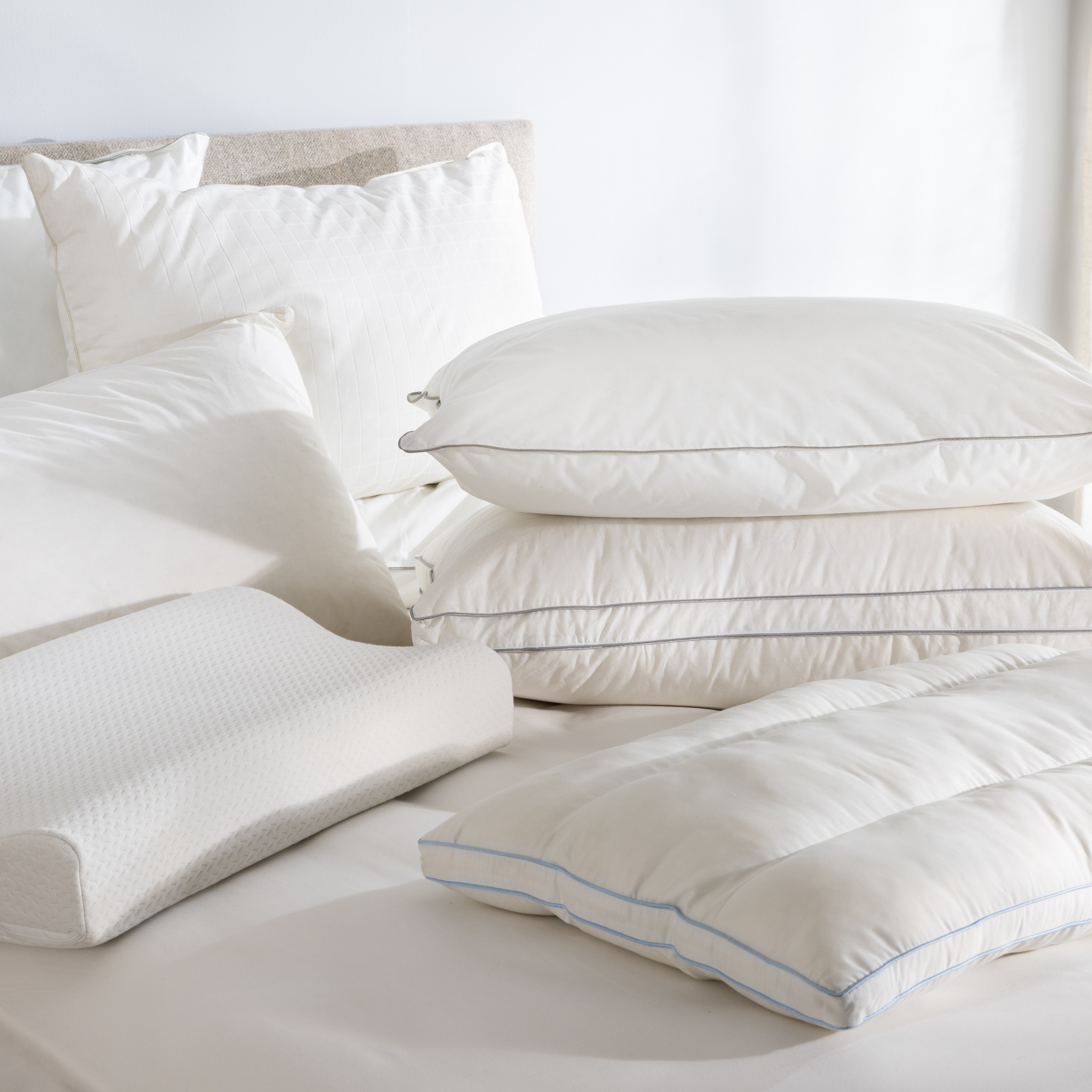 Best pillows for night sweats
There are a few options when it comes to finding the best pillow for night sweats. Pillows made with natural fills such as wool or silk will help draw moisture away from your head and face as you sleep and keep you cooler.
However, natural fill pillows aren't right for everyone and this is where cooling pillows are a great choice. Made with synthetic fills but covered with a technical cooling fabric – similar to the fabrics seen in high-performance sportswear. The fabric draws heat away from your head and face for a cooler night's sleep.
More solutions for menopausal night sweat relief
Choosing the right bedding will help you cope with menopausal night sweats, but there are a few other ways to help you sleep more easily:
Cool down your bedroom. We sleep most comfortably at around 17˚C so make sure your bedroom is at the right temperature. Turn down radiators in your bedroom or switch them off completely, open the windows to let some fresh air into the bedroom and use a fan to create a cooler environment to sleep in. "Ensure your bedroom has a restful feel. Ideally the room should be cool but not cold" recommends Dr. Heather Currie, Menopause Matters.
Wear the right PJs. Choosing nightwear that's made with light, breathable fabrics will help you keep your cool more easily. Woven cotton or linen nightwear is ideal. Silk is especially good at helping you stay cool at night. Avoid nightwear made with synthetic fabrics – check the label if you're unsure.
Cool down with a shower. Taking a cool shower before bed will help reduce your body temperature before hitting the hay. Don't be tempted to sleep with damp hair or skin as this can damage your mattress or pillow over time.
---
Menopause night sweat FAQs
How do you stop night sweats in bedding?
Use natural fibres to improve breathability and avoid using too many layers or choosing a duvet that's too heavy. Choose the lightest tog for the time of year – you can always layer up with extra throws or blankets if you or your partner are feeling especially chilly.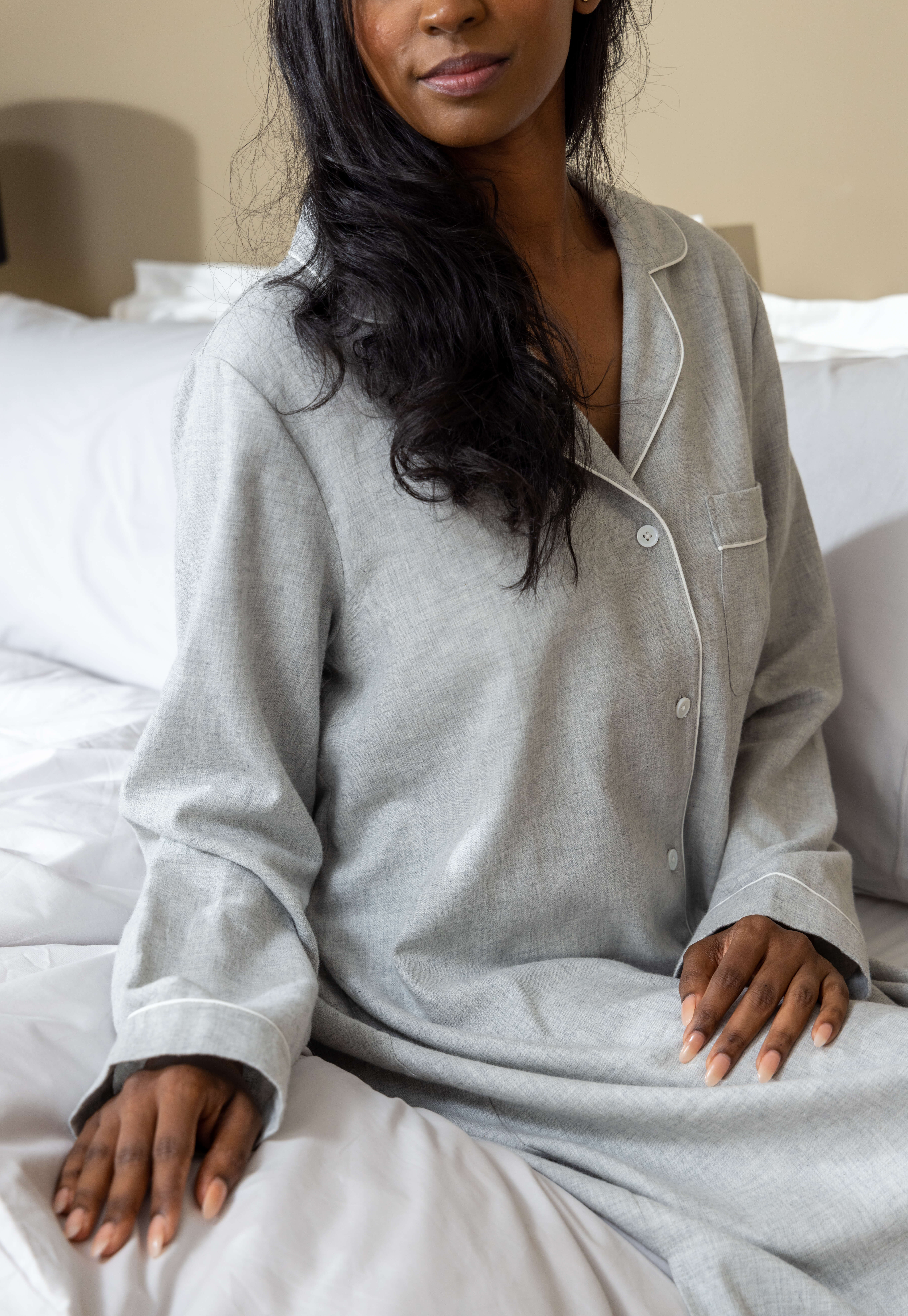 What should I wear to bed during menopause?
Wear nightwear made with light fabrics made from natural fibres. Cotton and viscose are both perfect options. Linen and silk are more luxurious options which will help you sleep comfortably while feeling pampered.
Some women swear by sleeping naked at night – it's certainly a way of helping lower your body temperature. However, having a moisture-wicking fabric next to the skin can help you sleep better because of the way the fabric helps move the sweat away from the body.
Can certain sheets cause night sweats?
Yes. Sheets made with synthetic fibres will trap heat and moisture, making night sweats more likely. Avoid sheets and duvet covers made with polyester and acrylic – you may need to check the label or product description before buying.
Polycotton bedding may also trigger night sweats – if you're looking for an easycare bedding option which will help you manage night sweats, consider low thread count cotton sheets or our easycare bedding made with cotton and Tencel.
What is the best mattress for menopause?
The best mattress for the menopause is one made with natural fills. Natural fills such as wool, cashmere, cotton and latex are breathable and it's this breathability which allows moisture to escape as you sleep and prevent overheating at night.
Our Cashmere 4000 Pocket-Air Spring Pillow Top mattress is a heavenly way to reduce the chances of night sweats. The cashmere and wool help regulate your body temperature as you sleep, while the soft yet supportive construction of the mattress helps keep you comfortable for better sleep. The pocket-sprung construction means movements that you or your partner make are less likely to disturb one another - yet another great reason to invest in this mattress.