Buying new pillows can seem like a simple task but actually there is a lot more to what you put under your head at night than meets the eye. The first step is working out what type of sleeper you are - do you prefer to sleep on your back, front or side? Most of us toss and turn during the night, often switching positions, but generally, you can work out your preferred position by the way you choose to go to sleep. If you settle down on your side, there's a high chance you'll spend a large part of the night like this too.

Getting this right is important because your pillow should support your head, neck and spine so that you don't wake up feeling stiff or uncomfortable.

Once you've identified which type of sleeper you are, you can then start shopping around for the kind of pillow you prefer. So if you are a side sleeper, what should you be looking for?According to our sleep survey, 63% of our customer base sleep on their side, so we've picked our Top 5 pillows for side sleepers – goodbye sore necks!

What is a side sleeper pillow?
When you sleep on your side, it is important to keep your head in line with your spine, as not doing this will cause discomfort and could even cause long term issues for your neck and back. The average human head weighs about 5kg which is the same as a bowling ball or average pumpkin! So if you don't align your head correctly as a side sleeper, just think of the pressure the weight of your head would put on your neck.

First and foremost then, it's vital to look for support and, in some cases, firmness. Good pillows can offer this, as well as all-important comfort.

A good side sleeper pillow should keep your spine straight and relieve pressure points. An easy way to shop for this is to choose a thickness that matches the depth of your shoulder. This can be done through one pillow or a variation of two so you can test out which works for you (also great for propping yourself up reading a book in bed), but it's best to take cues from your body, and what feels best for you. If you are shopping online, good websites should show you the 'sleeping depth' and the 'resting depth' of your pillow so you can measure the distance between your shoulder and head and then look for a pillow with a 'sleeping depth' which will match this best. A pillow with an internal chamber is also a good option to ensure that it offers the optimum support.
---
What is a chambered pillow and what are their benefits?
A chambered pillow is constructed of different zones of various densities to support different sleeping positions. It will usually have a neck support zone which is firmer and two side zones which are softer. Each of the chambers is usually filled with a different amount of filling depending on the firmness required. This cleverly engineered product can really help you if you are a side sleeper because it provides the support required with comfort levels remaining high.

These products come with feather and down fillings or microfibre. Our Supremely Soft as Down has been designed to mimic the sensation of down, without the price tag. The medium-firm pillow has a chambered middle so cradles your head and neck when you sleep on your side and feels light, soft and snuggly.
---
Our top 4 best pillows for side sleepers
1. Canadian Goose Down
Filled with down sourced from a small Hutterite community in Canada, these pillows are an ideal option for side sleepers. The medium firm option has an encased internal support structure that is perfect for side sleeping as it cradles your head, whilst surrounding it with soft down for added comfort. You could also add a second pillow on top with a softer filling which would add to the comfort. Our Canadian fill is also classed as super clean so it's perfect for those who can suffer from allergies.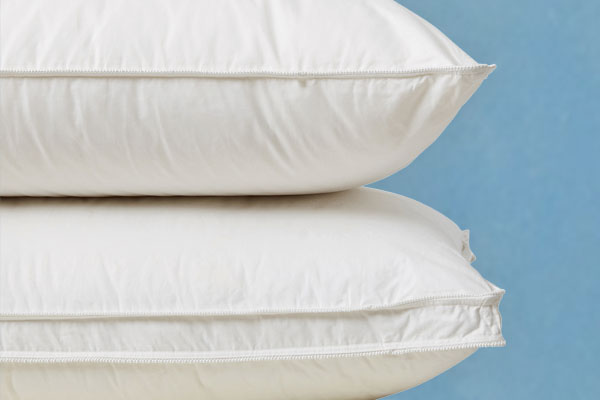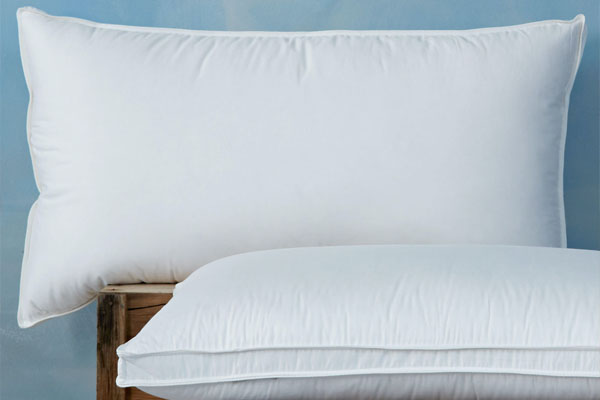 ---
2. Ultimate Hungarian Goose Down
Our Hungarian Goose down pillow is one of our bestsellers – with the Daily Mail giving them a 5/5 and coining the term 'The Golden Goose'.

Designed as a chamber pillow, coming in 2 firmness levels, we would recommend the medium firm option. Filled with large generous down clusters all the way from a family run farm in Hungary, the inner chamber is filled with feathers to keep the pillow lovely and plump, but also to offer support to the neck, and a fuller fill – whilst retaining a little softness and snuggliness for comfort whilst you sleep.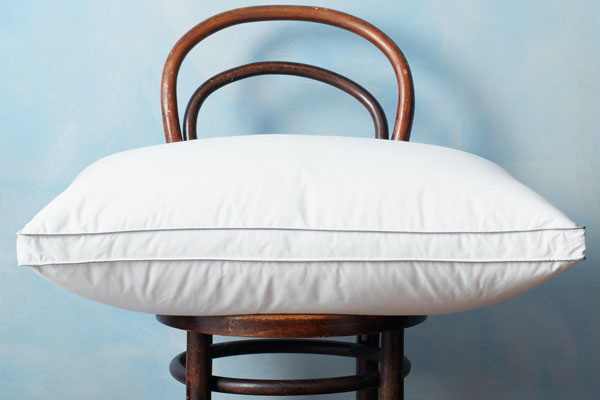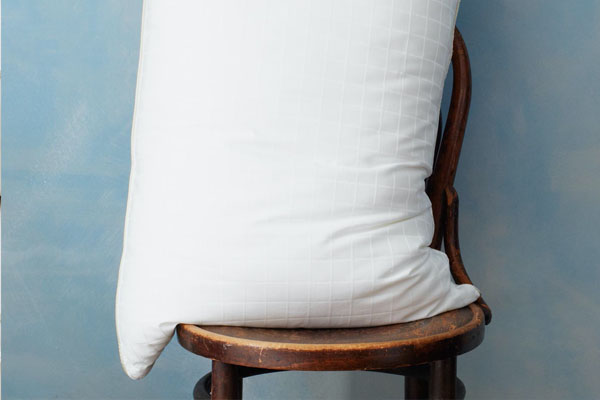 ---
3. Ultimate Microfibre with Silk Pillow
Not only is this pillow filled with pure fine microfibre, but we have added a touch of 10% silk; It is a plump, snuggly and super luxurious choice, p. Perfect for those of you who love to cuddle into your pillow on your side.
---
4. Soft as down pillow
Filled with our finest microfibre, this medium firm pillow offers brilliant resistance, whilst staying plump and light. Perfect for side sleepers due to its supportive central chamber of 3D Hollowfibre.
---
There we have it…we hope that this has helped. Once you've found your perfect match, it's important to keep them in tip-top condition, read how to care for your pillows here.
Browse our pillow department for various firmness, fillings and size, or contact our friendly customer service team who are available to give any further advice.