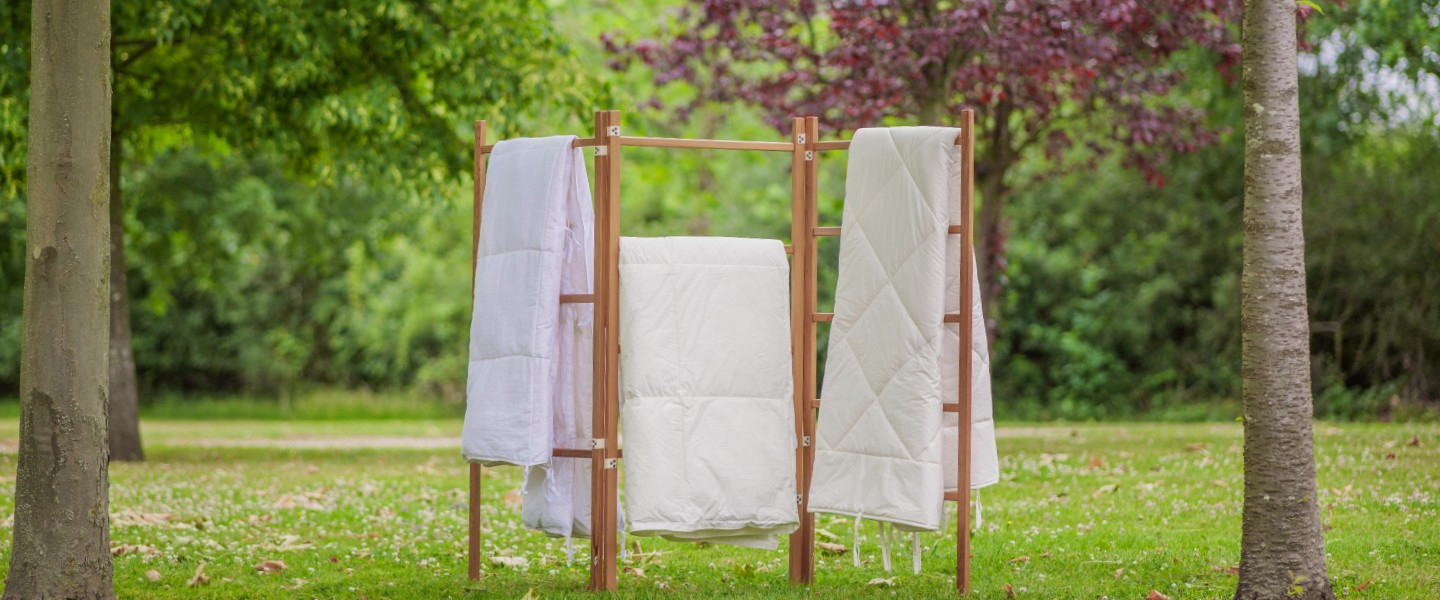 There are many factors to consider when choosing a duvet, including size, tog rating, type of filling, and so on. We have outlined some of the features of wool-filled duvets to help you on your journey to better sleep.
Are wool duvets good?
Simply put, yes! Wool filled duvets are something of a wonder. They are breathable, hypoallergenic, moisture-wicking, and incredibly temperature regulating and have the power to transform your sleep.
Is a wool duvet better than down?
Wool duvets are traditionally more of a quilted style compared to feather & down and synthetic duvets, but still very soft. If you like a very fluffy duvet you may prefer a down-rich filling.

If you are a cold sleeper, a feather & down duvet will keep you warm all night long - they are lofty and highly insulative and make great winter duvets. If you get hot at night or suffer from night-sweats, the natural properties of a wool duvet will help regulate your body temperature and keep you cool during the night.
Are wool duvets temperature-regulating?
Many natural filled duvets have temperature regulating properties, however wool filled duvets are quite unique. They are able to create a personal micro-climate, meaning one duvet can adapt to two different body temperatures, perfect for couples who share a bed. They work by absorbing and releasing moisture into the atmosphere, keeping you at the perfect temperature all night-long. They are also great if you're prone to night-sweats as the moisture moves freely between the wool fibres, cooling you down as you sleep.
Are wool duvets good for allergy-sufferers?
Duvets with natural fillings such as wool, silk and organic cotton have natural anti-allergenic properties making them a great choice for children and allergy-sufferers, especially those who suffer from asthma. Due to the naturally hypoallergenic material, wool filled duvets effectively repel dust mites so you can rest easy knowing these allergens are being whisked away as you sleep.
Can I wash a wool duvet?
Yes, wool duvets are washable but ensure you read and follow the care labels beforehand as each duvet is different. We recommend washing at 30°C using a specialist wool detergent - every 6-12 months will help to keep your duvet at its best.
A professional wash and dry is always recommended for large items as most of our washing machines can only support a smaller wash load.
Caring for your wool duvet
Air out your bed each morning by folding back the duvet and allowing the excess moisture to evaporate - this will help keep your bed healthy and fresh. A vigorous shake and a plump in the mornings will even out and redistribute any fillings that have moved during the night.
Once washed, dry completely before use as the smallest amount of moisture can damage the filling and cause the wool to clump.
If you have different tog duvets for the summer and winter, store them somewhere dry and away from dust; using the bag your duvet came in or one of our specially-made storage bags will do nicely.
Make sure to refer to the care label on your duvet as they are not all created the same therefore, they need to be cared for differently.
Is a wool duvet heavy?
A wool duvet is weightier than most other fillings. They have a reassuringly weighty feel, giving you a comforting and calming feeling, similar to being tucked up under several blankets.
Because of the way the wool fill is needled it has a flat profile, just like an extra cosy bedspread. This means it drapes beautifully over your body for a restful night's sleep.
Are wool duvets worth the money?
We offer a 5 year guarantee on our wool fill duvets but with the proper love and care, you'll find they can last much longer. They are scientifically proven to improve help you sleep longer and deeper, making them a real boost to your health and wellbeing. Plus, with the added bonus that wool is proven to improve your REM sleep by up to 25%, you can rest assured that you're making a sound investment.
Where can I buy a wool duvet?
At Soak&Sleep, we don't just source any old wool. The filling stuffed into our lovely wool duvets are sourced from New Zealand. We ensure that they are the genuine article made with the finest, high quality, natural wool fillings.
100% New Zealand Mitchell Wool Duvet
Made with New Zealand Mitchell Wool, this pure wool duvet will keep you cool in the summer and super cosy in the colder months. You will benefit from its breathable, moisture wicking, anti-allergenic properties, giving you the best night's sleep all year round.
This wool duvet is available in a variety of different togs and made with handy tie fastenings - combine duvets with different tog ratings to create the perfect personalised, all-seasons solution.