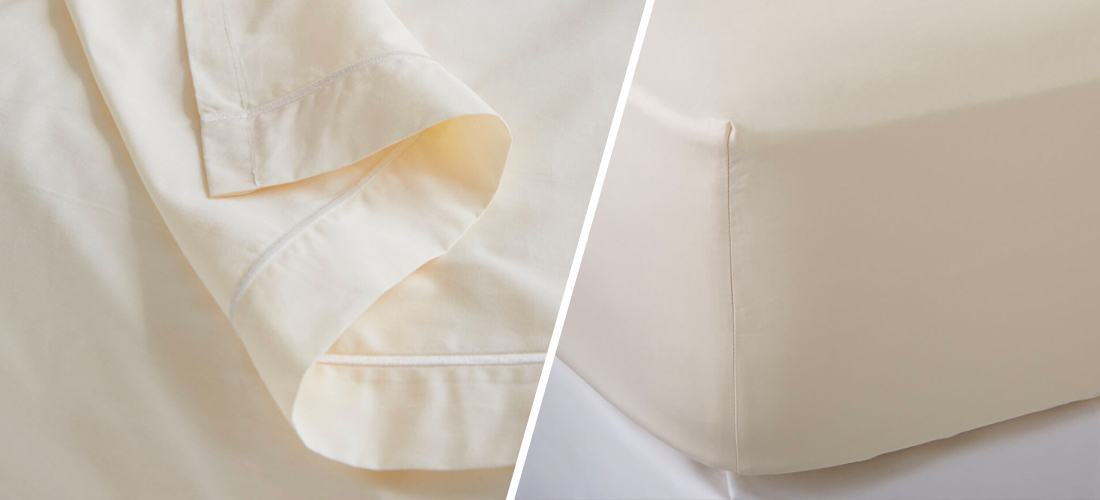 Oooh, the thought of snuggling into a bed made up with brand-new bed sheets is enough to make us look forward to bed on even the most fun-packed of days!
But for such a simple product, choosing the perfect bed sheet isn't as straightforward as it seems... Here are five things to consider before investing in some new bed sheets.
1. What size do you need?
It might seem obvious, but make sure you know what size bed you are buying for. The different size bed sheets you might need:
Single

Double

King

Super-king

Emperor
Or is it a more unusual size? If you're not sure, measure up before adding to your basket. Some beds have more unusual dimensions such as small single beds or European double beds and it pays to get the correct size. Take account of the depth of your mattress too. If you have an extra deep mattress or a topper on your mattress, you will need a bed sheet made with "deep" mattresses in mind.
Remember that choosing the wrong size bed sheet really does make a difference. A bed sheet that's too small won't fit properly so you'll be constantly tucking it back in. Bedsheets that are too large can easily look messy and become difficult to manage, making your bed uncomfortable to sleep in.
2. Fitted or flat?
Fitted sheets are designed specifically for covering mattresses. They have an elasticated edge which makes them much easier to fit around your mattress and helps them stay in place. Flat sheets are more adaptable – they can be used as a sleeping surface on your mattress or as a layer to sleep under. What's more, a well-fitted flat sheet can look neater than a fitted sheet – which might be exactly the sort of detail you want in your home.
Even if you prefer the ease of a fitted sheet, it's a good idea to keep a couple of flat sheets on hand to sleep under on hot summer nights when a duvet is too much.
3. Fabric
Cotton

An enduringly popular choice thanks to its softness, durability and hypoallergenic properties.
If you're looking for something a bit more special, then Egyptian Cotton is a wonderful choice. Egyptian Cotton bed sheets are woven from a superior type of cotton grown on the banks of the river Nile. It's noticeably smoother and more durable than regular cotton for extra bedtime comfort.
Linen

Another luxurious choice for bed sheets. These soft sheets tend to crease easily so are perfect for a laidback, rustic appearance. Linen is excellent at temperature-regulation and especially comfortable during warm weather thanks to the way the linen fibres wick away excess moisture as you sleep.
Silk

Want to go for all-out luxe? Then invest in silk bed sheets. Made with pure mulberry silk, our 19-momme silk sheets are sensuously smooth and feel cool against the skin. They'll help you sleep blissfully, no matter how warm the weather.
Easycare

For a more practical approach, choose easycare bed sheets, either made with a poly-cotton blend or a light viscose fabric. Both options are easy to wash and quick to dry, making them ideal for homes with limited drying space or lots of beds to organise.
4. Thread count & weave
As much as the fabric of your bed sheet is important, the thread count and weave matter too. Higher thread count fabrics are smoother, denser and more hard-wearing, but also take longer to dry and iron.
In comparison, lower thread count fabrics are lighter and easier to launder, so are ideal for busy people.
It's also worth considering your potential bed sheet's weave. A percale weave is crisp and fresh, whilst a sateen weave feels smoother but is less hard-wearing. A twill weave is heavier and has a pleasing drape which might be important to you if your bed sheet is to be used as a layer to sleep under.
5. Patterned or plain
So you've chosen the size, type, fabric and weave of your bed sheet, all that's left now are to decide whether to go for a patterned or plain bed sheet. Patterned bed sheets suit plain bedroom schemes by adding a little extra interest to the room. Some patterns, such as checks or prints are bolder, while others such as self-woven stripes are more subtle. Plain bed sheets are adaptable and work with any bedding scheme or bedroom design. Plain bed sheets add an elegant finish to a bedroom when paired with a patterned bed set.