Cool Bedding for Menopause
Support your sleep during the Menopause
Over 60% of women report their sleep worsens during the menopause. Our specialist bedding products can help alleviate the symptoms, allowing you to get the quality sleep you need, night after night.
Menopause and sleep
The menopause is a natural process that every woman goes through. With fluctuating hormone levels, women suffer from a range of symptoms including hot flushes, insomnia, anxiety and headaches, all of which can seriously disrupt your chances of getting a good night's sleep.
In particular, it's the time leading up to the menopause - known as the perimenopause - that causes so much trouble. Once you've gone through the menopause - that's 12 consecutive months without a period – you'll often find your symptoms improve.
We've partnered with Menopause Experts Group, an award-winning leading source of educational information and support. MEG (as they are affectionately known), provides solutions and guidance for everyone affected by negative symptoms like brain fog, joint pain, and sleep disorders.
"There is no doubt that having the right bedding aids sleep, making it more comfortable when experiencing troublesome menopausal symptoms like; hot flushes or night sweats. A well-dressed bed is a game-changer for me personally. I road-tested all the products that I've recommended. Soak&Sleep has helped me achieve a deeper and more comfortable sleep, and after testing, we awarded them Menopause Approved status on certain products in their range." Dee Murray, CEO & Founder, Menopause Experts Group.

Workplaces need to create an open, inclusive and supportive culture towards menopause. Through participating in the Menopause Experts Champion programme, we are able to support women in our workplace and also provide customers with advice tailored to their specific needs.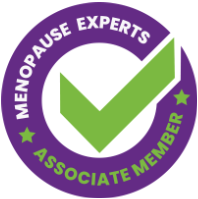 Menopause sweats at night
Hot flushes and the associated night sweats can wreak havoc on your sleep quality, leaving you exhausted during the day. Choosing cool bedding can help make things easier. Choosing natural fill bedding, lower togs and bed linen with temperature-regulating properties can, especially for women suffering from hot flushes, help because of the way they wick moisture away and control humidity in the area around your body. A temperature-regulating topper will also provide a cooling sleep surface, designed to keep the body at a steady temperature, helping to reduce the effects of night sweating.
Choosing breathable, fast-drying nightwear will also help you get the sleep you need. If you suffer from night sweats, a silk scrunchie is a great way to keep your hair up and away from your face and to keep you cool and comfortable.
Anxiety
Changing hormone levels can mean anxiety affects your sleep during perimenopause menopause. Avoiding caffeine and indulging in a warm shower or bath, followed by drying off with a fluffy, soft towel will get you in the mood for a good night's sleep. Using a weighted blanket may help. They are designed to increase your levels of serotonin (happy hormone), melatonin (sleepy hormone) and decrease stress hormones by applying pressure stimulation over the body. Perfect to use when winding down after a stressful day.
Menopause Insomnia
According to the Sleep Charity, "changes in hormone levels as we age can cause sleep disturbances, and sleep disturbances can alter hormone levels, turning into a vicious cycle...many people will experience bouts of insomnia from time to time, but menopause-related insomnia can stretch on for weeks and months if not properly treated".
In addition to having difficulty falling asleep, or staying asleep, sufferers of insomnia can have increased feelings of anxiety, problems with focusing and memory loss.
We'd always recommend using an eye mask to block out the light, they also encourage a calming effect to help you drift off to sleep more quickly. A weighted blanket is proven to help with insomnia. It applies gentle pressure to help your body relax and unwind. Read more about the benefits of weighted blankets here.
How to sleep better when on your period
In the lead-up to the menopause, it's common to suffer with abnormally heavy bleeding during your period. Add the disruption and discomfort of night sweats and it's a wonder that women get any sleep at all. Using a protector over your mattress, pillow, duvet and topper will keep your bed safe without feeling or sounding plasticky. In fact, the new generation of mattress protectors are as good as invisible, acting like an invisible shield as you sleep.