Bathroom Towels & Bath Mats
If luxurious bathtimes and showers are what you live for, then you need these towels. Browse through our extensive collection of styles and sizes. Bathroom Towels & Bath Mats
Shop By
Categories

Shop by Size

Shop by Style

Shop by Colour

FULL TOWEL RANGE
1
Save up to 35%
Never pay more – we are up to 35% OFF RRP
2
5 Star Reviews
Fabulous quality towels. Highly recommend - Mrs Miller 2019.
3
1 Year Guarantee
Well made, built to last and guaranteed up to 1 year.
4
Soft & Absorbent
Absorbent, soft and easy care; towels for all sizes.
Sale Top Picks TOWEL STYLES
Shop Towels by Style
Towel Sets
Pool Towels
Bath Mats
Bathrobes
Soft, rich and weighty; all our towels are so good that you'll soon be indulging yourself after every bath, shower and handwash. TOWEL COLOURS
Shop Towels by Colour
White Towels
Grey Towels
Natural Towels
Versatile and Luxurious. These towels are available in a variety of shades and stylish finished borders for added durability.
Customer Reviews
Towel Size Guide
Towel Size Guide
TOWELS
(W x L)
Face Cloth
30cm x 30cm
12" x 12"
Hand Towel
50cm x 100cm
20" x 39"
Bath Towel
70cm x 140cm
28" x 56"
Bath Sheet
100cm x 160cm
39" x 63"
Pool Towel
100cm x 160cm
39" x 63"
Jumbo Bath Sheet
100cm x 200cm
39" x 79"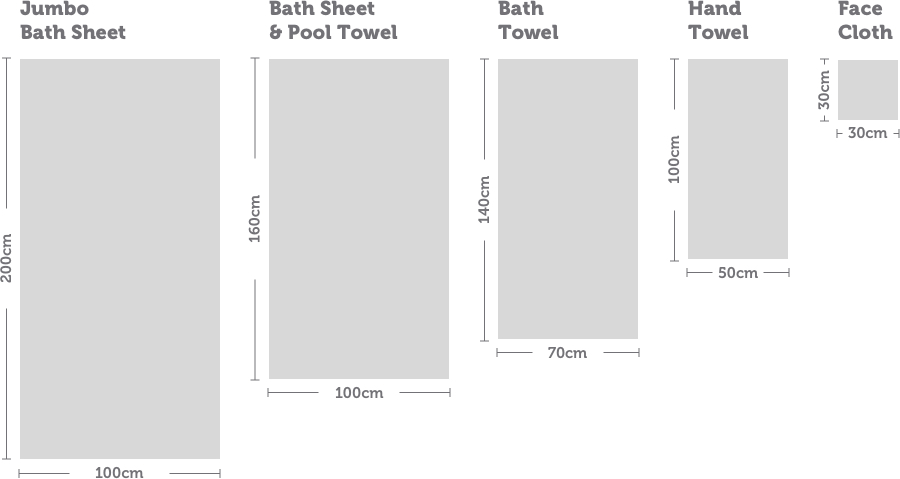 How often should I wash my towel?
Wash your towel when it's dirty. If it's a hand-towel in a busy bathroom, you'll probably want to change it every day or so.
Tumble Dry vs Line-Drying, will it make a difference?
Tumble drying will make your towel look and feel fluffier than drying your towel on the line. If you're line-drying your towels, give them a good shake out before folding.
At Your Service
Our team of Sleep Experts are here to help you with any problem or query you might have.
Please feel free to contact us.
So you want towels? You're in the right place! With a choice of weights and styles we have towels that range from contemporary to timeless. There are big-enough-for-two-kids-at-once bath sheets, perfect-after-a-soak bathroom towels, super-stripy beach towels, good-enough-for-a-pharaoh Egyptian cotton towels, super-easy-to-buy bath towel sets, next-to-the-guest-sink hand towels, oodles-of-super-soft towel bales and even made-to-order personalised towels. Phew! We would go on, but we think you've got the picture.
Bathroom Towels & Bath Mats
Shop By
Categories

Shop by Size

Shop by Style

Shop by Colour

FULL TOWEL RANGE