Sleep insights. How do you sleep?
Lindsay Blair is Editor of Kitchens Bedrooms & Bathrooms magazine and she has a wealth of knowledge in her industry. Although she rarely struggles getting to sleep, she has to be out of bed, up bright and early at 6am each day. Read on to find out more about Lindsay's story.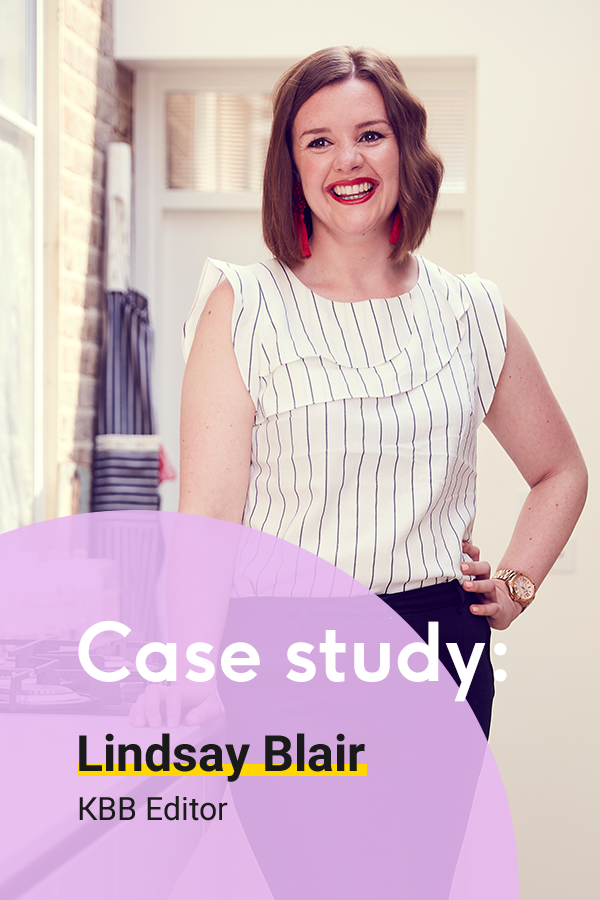 How do you wind down after a day's work?
While some may think it's not quite 'winding down', I love running and am often in the midst of a training schedule for an event. So, you'll often find me running after work. Time on the road helps my mind compute what's happened that day, relieve any stress and gives me some time to myself, too. I'll listen to music, an audiobook or a podcast and by the time I am back home, I feel revived and like I have definitely earned some time lazing on the sofa before bed.
How important is good sleep to being effective in the day?
Getting a good night's sleep is absolutely essential to me and I really notice if I have slept poorly or had too many late nights. I am most productive and creative when I am well rested, so I make effort to ensure I factor in downtime in my busy schedule.
How many hours do you need to feel refreshed?
I'm definitely a believer in the eight-hour rule. I usually aim to be in bed by around 10:30pm during the week and my alarm goes off at 6am. When I have a free evening, getting into bed early and reading a book always makes me feel relaxed.
What gives you sleepless nights?
I am one of those people who rarely struggles to sleep, so it is rare that I have a sleepless night. However, when I do lay awake for what seems like hours before nodding off, it's usually when my mind can't switch off and I am thinking about deadlines at work, or if it's too hot. Luckily, this doesn't happen very often.
Do you feel looking at a screen all day has an impact on your sleep pattern?
While my base for work is in the office, I am lucky to be out and about regularly, meeting clients, visiting showrooms, attending events and going the launches of new collections, so this helps to break up my screen time and gets me moving. Plus, I often read features on a physical page, such as proofs for the latest issue. I do think it is important to take time out from looking at a computer, even if it is looking at out the window into the distance for a minute to adjust the eyes. I have a nice hillside view from my desk which is nice to look at.
Do tight deadlines impact your sleep pattern?
Like many journalists, there's nothing like a deadline to get the old adrenaline going. I like to think of myself as very organised, but there's something about the thrill of working close to a deadline that's enjoyable and exciting. Usually, after a big deadline, I am so tired that I fall asleep as soon as my head hits the pillow.
What is a normal working day like at KBB?
As mentioned, my days are varied, which is one of the best bits about my job. I love the creative process of putting a magazine together – from the planning, bouncing ideas around, thinking about how something might look on page and writing features and researching imagery, to final magazine coming back from the printers. This is always an exciting day in the office. My typical day will see me get into the office around 8:30am and start with a coffee before opening my emails. I'll check my to-do list and add any things that need to be done that day and do any final preparations for meetings, too. The team and I will catch up on what's what, or some of us may be out at events or client meetings, and then I will get on with my tasks for the day. One day I might be reading piles of proofs and signing off layouts, working with a designer on visuals and filming videos for social media, and the next I can be in a planning meeting, hosting an event or attending a new launch. It's a cliché, but there really isn't such a thing as a 'normal' day, but that's the best bit about it.
Where do you get your interiors inspiration from?
I see so many beautiful homes, designs and pieces of homeware every day, so I am terrible at changing my mind about the things I like and what inspires me ­– there's so much choice! Right now, I am really drawn to the warmer neutrals that are growing in popularity. It's about creating calming spaces that feel warm and inviting. One of my favourite shades is a rich terracotta, which works wonderfully against a soft base and dark grey or navy accessories. It's great to see homeowners being much braver with their colour choices and experimenting with bold accents whether that be through a piece of furniture or wall décor. I'm inspired by homeowners being individual with their choices to create rooms that reflect their personalities with an attitude of "I like it, so I am having it". It's a refreshing time in interiors right now where there are no rules.
What's your favourite part of your bed? Your must have?
All of it. I love bed. I prefer a firm mattress, so have an orthopaedic memory foam one, but with a thick, soft duvet and two pillows stacked. I style my linen bedding with some throw cushions – currently some palm-print and shaggy grey ones – and a woven throw at the foot.