Bed Linen Jargon
What is an oxford pillowcase?
An Oxford pillowcase has a decorative edge, typically around 5cm deep. Although they have a larger appearance than regular housewife pillowcases they fit the same size pillows as housewife pillowcases. Our Oxford pillowcases have an envelope fastening with a flap that tucks over the pillow to keep it securely in place. Choose between standard or superking sizes options for your oxford pillowcases.
What is a housewife pillowcase?
A housewife pillowcase is a plain pillowcase without a border, flange or border. It fits the pillow snuggly with a close sewn edge and helps create a clean line hiding your pillow. Our housewife pillowcases have an envelope fastening with a flap that tucks over the pillow itself to keep it securely in place. Choose between standard and superking size options for your housewife pillowcases.
What is a deep (40cm) fitted sheet?
A deep fitted sheet is the same length and width as a regular fitted sheet, but has a deeper drop to accommodate a deep mattress or if you are using a topper with a mattress.
Your deep fitted sheet means you don't need to spend time perfecting your hospital corners, you simply pop it on your mattress and you're done. Soak&Sleep fitted sheets have elastic all the way around, instead of just at the corners, for a lovely snug fit that you won't need to readjust every morning. They've also got a handy label telling you what mattress size they fit, so you won't find yourself struggling to fit a double sheet onto a king-size bed! That handy label also helps you get your fitted sheet on your bed the right way round - it's positioned on the bottom right-hand corner, so you save time rotating the sheet trying to work out which way round it should go!
P.S. As you're looking for deep-fitting sheets, you might be pleased to know we also stock protectors in deep drops.
What is a valance?
Use a valance to hide a bulky divan base and create a neat hotel-style look. Our box pleat valance looks stylishly modern and keeps your bedroom looking tidy and coordinated.
Soak&Sleep valances are placed under the mattress directly onto the bed base and use a different fabric to hold it in place to the visible box pleats. For example, on our 600TC Valance, we use a 190 thread count fabric on the divan base and a luxurious 600 thread count for the box pleats.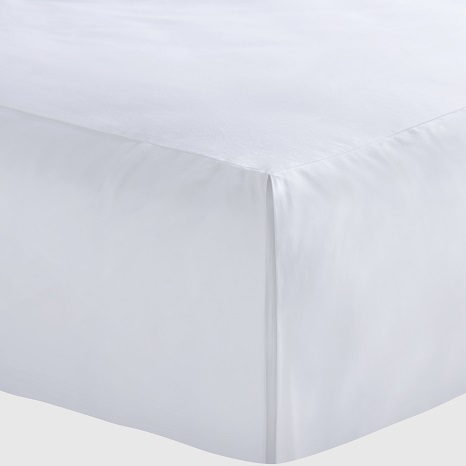 What is thread count?
Thread count is most relevant when describing cotton and cotton-blend fabrics. Although you can measure the thread count of linen and silk they are measured differently. Silk is measured by "momme" which is a measurement of weight and thread diameter. Linen is measured by "lea" which is a measure of the fibre length.
All woven fabric is made up of vertical threads (warp threads) and horizontal threads (weft threads). It is the combined number of these warp and weft threads woven into a square inch of woven fabric that determines its thread count. The more threads are woven into a square inch of fabric, the higher the thread count.
What are ply yarns and how do they affect the quality of the fabric?
If you've ever knitted or crocheted, you'll know most woollen threads are ply yarns. In the context of bed linen, ply yarn is two or more individual threads that are twisted together as they are woven on the loom to make a thicker, stronger, smoother thread.
Ply yarns are an interesting subject as they are widely perceived as just a way to 'bulk out' thread count and rarely are the benefits of ply-ing yarns at the forefront of discussion. Because a ply yarn is made up of multiple threads, fabrics made with ply yarn tend to be stronger than those made without. They are often also smoother thanks to the way the individual fibres lie within the yarn.
If a ply yarn has been used in a fabric, the fineness of the yarn used is paramount. Fine yarns used to create a ply yarn will still result in a smooth, supple luxurious fabric. Ply yarns that use thicker yarns will result in a more starchy finished feel. At Soak&Sleep, we flag any fabrics that use ply yarns in the product content and we can guide you as to the fineness of the yarn used in the ply-ing process so you know what to expect from your fabric of choice.
Look for accreditation on the materials used; this means the fibres are traceable and certified by governing associations such as Supima or the Egyptian Cotton Association.
---
Fabric
What are the benefits of French Linen, and where is it sourced from?
We source our linen flax from the French side of the French and Belgium border; a location renowned for its superior flax production. Flax thrives in the mild European climate making French flax perfect for the high-quality linen we use in our bed linen.
Our linen is beautifully soft and feels incredible to sleep under. With a casual, tousled appearance, it's perfect for creating a chic, rustic look in your bedroom. Occasional slubs in the fabric enhance the natural beauty of this fabric and mean that each piece is subtly unique. Linen's softness is a delight and it increases with age and use. The softness of our French linen is a result of the staple (or fibre) lengths. Our linen has very long staple lengths which means a very fine and soft fabric. Shorter staple lengths mean a coarser fabric, often associated with cheaper linen.
French linen is a dream for bedtime. Its absorbent properties wick moisture away from your sleeping body to help you sleep more easily and wake up feeling fresher. Linen absorbs more moisture than cotton without feeling damp and is naturally hypoallergenic, which is why it's our go-to choice for warm summer nights. French linen doesn't need to be limited to the summertime though. Its soft and cosy texture makes it an excellent choice for winter months as well.
Linen is 2-3 times stronger than cotton, so given the right care, it lasts much longer than cotton bed linens and gets softer with each wash - making it something you'll want to enjoy for years to come.
What type of cotton do we use and what are the benefits?
Supremely soft and durable, Pima and Supima cottons are a guarantee of quality. Known as the "cashmere of cotton" they are grown to have incredibly long staple lengths for very high quality and durability. Supima is a registered trademark for Pima cotton that's grown in the US and is very tightly regulated to ensure its purity. If you buy Supima cotton you know you're buying a product of the very highest quality.
Pure cotton is just that - fabric made with nothing but cotton. Renowned for its cool and fresh feeling, it's a very popular choice for a good night's sleep.
As an entirely natural fabric, pure cotton helps you regulate your body temperature. It does this by wicking excess moisture away from your skin preventing you from overheating while you sleep. The breathable nature of pure cotton also helps us stay cool and fresh while we sleep, so we wake up feeling fresh and ready to take on the day.
There is a variety of pure cotton weaves available such as percale, sateen and brushed cotton all of which have their distinct features. Pure cotton is also available in a range of thread counts which determine the density and smoothness of the fabric.
Not all cotton is created equal. Premium cotton fibres such as Egyptian and Pima cottons are grown in tightly controlled environments and result in a smoother, stronger fabric that lasts longer and feels more luxurious.
Pure cotton is easy to care for. Make sure you read the care label first though. Most pure cotton fabrics need nothing more than a machine wash at 30°C. They dry well in a tumble-dryer, or when left to air-dry. Lower thread-count cotton is especially good if you need to dry your bed linens inside. Able to withstand a hot iron, pure cotton can be ironed to a crisp, smooth finish for a pristine bedroom look.
Cotton Types
1. What does chambray weave mean?
Chambray is a plain weave fabric which uses 2 ply yarns in both the warp and weft, making it slightly denser than a normal plain weave fabric but still smooth and lightweight. In chambray fabrics, the weft (vertical) thread is white while the warp (horizontal) thread is marled or fibre dyed. Chambray is typically blue, but can be any colour, and is commonly used in men's shirts. Chambray doesn't indicate a level of fabric quality but is a reflection of the fabric's appearance.
2. What does twill weave mean?
Twill weave creates a diagonal pattern and has a distinctively textured herringbone appearance. There's a good chance you have some twill fabric in your wardrobe - denim is a twill. The lighter twill fabrics used in bed linen drape beautifully and feel beautifully light and soft.
3. What does sateen weave mean?
Soft and silky, as the name suggests, sateen feels luxuriously smooth and is often used in high-quality bed linens. Sateen feels softer than percale because of the way it's woven. Instead of the classic "basket" type weave, you get with percale - where one thread is woven above and under consecutive weft yarns, the thread is carried over several weft yarns at a time - perhaps four - and then under one weft yarn. This creates a smoother feeling as the woven thread is interrupted by the weft yarn less often. Sateen feels indulgent but needs to be treated with a bit more care than a percale fabric due to the floating yarns in the weave which may catch.
4. What does percale weave mean?
Percale is the name of a very simple weave that's frequently used in bed linen. It's a type of tightly woven plain weave - with the weft (horizontal thread) alternately passing over and under the warp (vertical thread). Percale refers specifically to a plain weave fabric with a thread count of 180 or over. It's a favourite for people who like the feeling of fresh, cool, crisp bed sheets. Percale fabric can be woven with pure cotton or with a blend of cotton and polyester.
What materials are used to make our poly-cotton bed linen and what are their benefits?
Poly cotton is crisp, cool, easy to look after and affordable. Made from a blend of cotton and polyester, it's a more affordable option than most pure cotton bed linens and can be much easier to launder and dry. It's faster-drying than cotton or linen so is ideal if you can't line- or tumble-dry your washing. It's perfect for busy households and for a quick turnaround between house guests. You might be pleased to hear that if dried carefully, you can avoid the need for ironing polycotton bedding - hooray!
What materials are used to make our Silk bed linen and what are their benefits?
Surely the most luxurious way to sleep, silk sheets have an undeniably indulgent appeal. Cocoons of silk are spun by silkworms fed on mulberry leaves, this is collected, reeled and spun into the fibres that make up our luxurious silk bed linen.
Silk feels incredibly smooth and sensuous; the fluid, supple nature of silk feels beautifully light against your body resulting in a truly luxurious night's sleep.
But Silk is about more than just a luxury feel - it has very practical benefits as well. As with other natural fibres, silk is breathable and wicks moisture away from your skin to help keep you cool as you sleep. Silk is also antibacterial, and naturally repels dust mites and other bacteria, making it an excellent choice for allergy sufferers. It's also renowned for its beauty benefits; the naturally occurring proteins and oils help care for skin, while the smoothness of the fabric means very little friction to pull at the skin and hair while you sleep.
Silk is surprisingly strong - much more hard-wearing than many people would believe it to be, and at 17momme, our silk bed linen will give you many indulgent nights to come.
We recommend you hand wash your silk bed linen, but know this isn't always practical, so your washing machine's gentle hand wash cycle with a specialist silk detergent, will give your bed linen the care it needs. Always air- or line-dry your silk, avoiding direct sunlight. Your silk bed linen will look best if you iron it - use the silk setting to protect your beautiful new bed linen.
---
Bed Linen for every season
What bed linen material is best for Spring?
When spring is springing, it's tempting to think warm weather is just around the corner. But this isn't always the case, so make sure you keep your bed cosy enough to stave off occasional cold feet. Cotton is light and breathable and looks lovely and fresh - perfect for spring. Or you could embrace a French country look and tuck yourself in with indulgently soft French linen. Both help you regulate your body temperature while you sleep so you'll stay warm, but won't overheat.
During this transitional season, we would recommend teaming up your bed linen with a duvet in the region of 7.5 to 10.5 togs.
What bed linen material is best for Winter?
Natural fabrics help you regulate your body temperature and keep you warm but not too hot - ideal for nippy winter months. Cotton may be an automatic choice, but French linen can feel like a real treat on a cold winter's night. With a very soft touch and a luxurious drape, you'll feel indulgently wrapped up and warm when sleeping between French linen sheets in the winter.
And of course, make sure you choose a suitable tog duvet to stay toasty all night long. You can either switch up to a warmer duvet or put your all seasons duvet to good use (we stock 7.5 to 18 tog All-Season duvets) or add a throw or bedspread to your existing duvet for a more flexible solution to bedtime cosiness.
What bed linen is best for Autumn?
Autumn can be unpredictable, so choose bed linen that works as a good all-rounder. Cotton and French linen are a great choice, and with a range of colours and styles to choose from you can use it as an opportunity to update your bedroom, ready for the new season. Why not accessorise with a new blanket or bedspread for those nights when the temperature takes an unexpected dip?
Polycotton and lower thread count cotton bed linens work well and tend to be available in a range of designs. Their easy-care, fast-drying credentials make life easier when it's too wet or chilly to line-dry your laundry outside.
Choose a warmer duvet in the region of 7.5 to 10.5 togs for comfort.
What bed linen material is best for Summer?
We love snuggling up between soft and cooling French linen sheets in the warmer summer months. Just like those cooling linen trousers you keep for holidays, linen bedlinen helps wick away excess moisture, keeping you feeling fresh all night long, and waking up ready to take on the world.
If linen's not your thing then cotton is a classic choice - the natural fibres let your skin breathe and help you keep your cool all night long. Silk bed linen is a luxurious option, and wonderful when the mercury rises. With a naturally cooling touch, it helps wick away moisture for the ultimate indulgent warm-weather comfort.
It goes without saying that you'll be more comfortable with a lighter tog duvet in the summer, in the region of 3.0 to 7.5 tog. Also, think about investing in a natural-fill duvet - silk and cotton help to wick away moisture and wool duvets help you regulate your body temperature while you sleep, making sultry summer nights that bit more comfortable.
If you're finding the heat too much but like to stay covered while you slumber, replace your duvet with a flat sheet and a light cotton bedspread or wool blanket for a cool but comforting way to sleep.
What bed linen material is best for Sweating/Warm Sleepers?
If you or your partner find yourselves overheating at night, you can help cool things down by being clever with your combination of bed linens and duvet.
When it comes to your bed linens, natural materials help you regulate your body temperature by wicking away excess moisture and allowing your skin to breathe. Cotton is the default choice for many people - but you could also consider linen or silk. Just think how lovely a linen or silk top feels on a hot day and you'll understand how sleeping under linen or silk can help cool things down for you in bed.
And it goes without saying that the duvet inside your duvet cover has an enormous impact on how warm you feel at night. Again, natural fill duvets will help you and your partner naturally regulate your body temperatures at night - silk, cotton or wool-fill duvets are all excellent choices for someone who overheats at night. Also, consider moving to a lower tog duvet. Perhaps a 4-tog duvet is a better choice for someone who regularly overheats at night.
Also, think about your bed itself. Memory foam mattresses are especially warm at night, so if you have a memory foam mattress to support your body while you sleep, you may want to consider investing in a protector or topper with temperature-regulating properties, such as one made from wool or cotton.
---
Bed Linen for all ages
What bed linen material is best for an elderly person?
Just as with everyone else, older people should use the correct bedding for the season. The older you are, the less able you are to regulate your body temperature, so choose bed linen that will support your body's needs, and use together with appropriate duvets, toppers and protectors for a comfortable night's sleep. Cotton bed linen is a practical choice - cool and fresh enough to prevent overheating and easy to care for. Make sure you are using the right tog duvet or the right amount of blankets to ensure you stay warm enough but don't overheat. If getting bed linens washed and dried is an issue, you might prefer poly-cotton bed linen. It dries comparatively quickly and needs little (if any) ironing.
What bed linen material is best for a teenager?
Teenagers want something to reflect their personal style, you want something that's easy to care for and will help them sleep well. After all, even though they wouldn't like to admit it, they're not yet adults and need their sleep to help important brain and skeletal development.
So choose simple, plain bed linens in soft, easy-care fabrics. A classic cotton bed linen such as our 200 thread count cotton feels soft, is breathable and available in a choice of colours to suit their style.
Younger teenagers might want something that's a bit more fun. Take a look at our children's ranges - with a choice of subtly decorated bed linens in a soft and easy-care 180 thread count cotton - you may well find something that fits the brief perfectly.
For the luxury-loving teen, our French linen bed linen comes in a range of fashionable shades, feels wonderfully soft and doesn't need ironing (a dream come true, we know!).
What bed linen material is best for a child?
While no one can guarantee a silent night, you can help your child sleep better by choosing the right bed linen. Cotton fabric bed linen is our favourite - it's cool and fresh and will help your little monkeys sleep soundly thanks to the breathable and moisture-wicking properties of this natural fabric. Polycotton is also a handy buy as, like mid-thread count cotton, it's light and easy to launder, making life easier for anyone with a to-do list longer than their arm. Our fun range of children's bed linen is made with soft, easy-care 180 thread count pure cotton to help make bedtime that bit more enticing for lively kids and laundry day less of a chore for tired-out parents.
Because the occasional wet bed is a fact of life for anyone with kids, it's wise to invest in a couple of mattress protectors. It takes the pressure off washing and drying before the next night's sleep and will help keep their mattresses in much better shape.
What bed linen material is best for a toddler?
Toddlers have special bedding needs. They're unable to effectively regulate their body temperature, so need bed linen that will help them sleep comfortably without overheating. They're also prone to night-time accidents so you need something you can wash and dry in a flash. Cotton is a perfect choice for little ones thanks to its breathability and easy-care nature. Our children's bed linen range is made with soft, easy-care 180 thread count pure cotton to help make bedtime extra comfy for excited little ones and laundry day less of a chore for tired-out parents.
Because the occasional wet bed is a fact of life for anyone with toddlers, it's wise to invest in two or three mattress protectors. That way you'll have a spare so there's no rush to wash and dry a protector before your little one has their next nap.
What bed linen material is best for a baby?
Babies have delicate skin and are prone to all sorts of little accidents, so choose cotton for something that's easy to care for and gentle on their soft skin. It's a good idea to buy several sets of sheets and blankets or sleeping bags (depending on your preference) so you're prepared for the inevitable middle of the night bedding changes.
Remember never to use a duvet or pillow with a baby under 12 months of age.