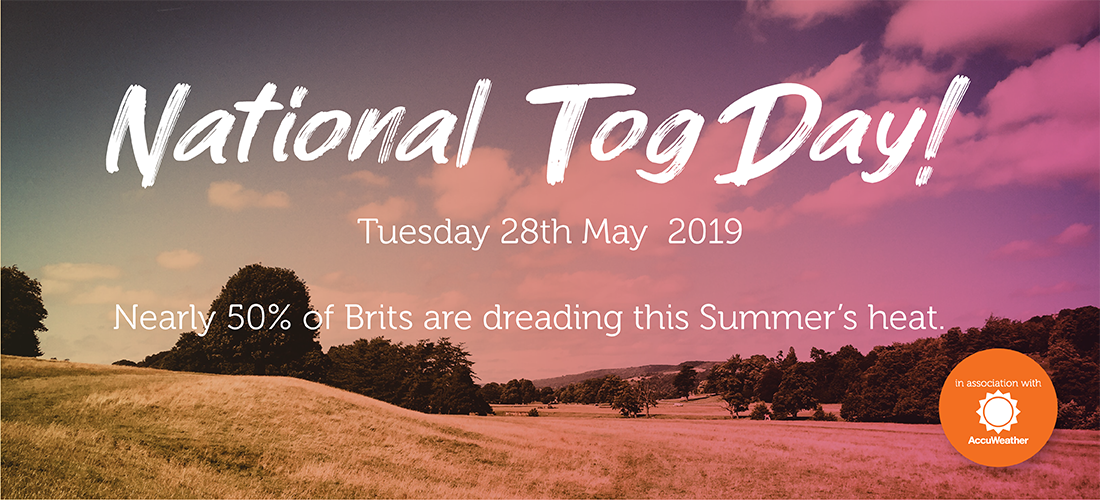 A recent survey by Atomik Research found that half of Brits are dreading sleeping in this year's summer heat. With last year's heatwave affecting the sleep of around 66% of Brits, it's understandable why millions are now dreading the surge in temperature.
Hot weather has recently become one of the most common factors affecting sleep in the UK. With only a minority of households having the ability to control the temperature in their bedrooms with air conditioning units, we understand why it may be a struggle to get some shut-eye at this time of year.
Soak&Sleep x AccuWeather:
In response to the poor sleep and the dreading of more heat this summer, Soak&Sleep and AccuWeather are declaring Tuesday 28th May 'National Tog Day', to allow the UK to prepare their bedroom environment in plenty of time for warmer weather.
Accuweather has pinpointed the 28th May as the best day to change bedding to lighter options, based on upcoming weather forecasts and historical data.
We were able to catch up with Charlie Hunt - Soak&Sleep CEO, to see what his thoughts were:
"We know that there is an ideal temperature for sleep, and when environmental temperatures rise, it takes longer to fall asleep and there is more frequent waking and less dreaming. Often we see a spike in sales for things like 4.5 tog duvets when the temperatures have already risen, and customers are already missing out on vital sleep."
"In the same way people change their clothing wardrobes in accordance with the weather, it makes sense to have a Summer Sleep Wardrobe that includes things like a Summer weight duvet, Tencel fabric bedding which wicks heat away from the body and cotton or linen bed-linen which allows heat to escape and removes perspiration from the skin. The technology is there to ensure we all get a good night's sleep, whatever the weather."
Brian Lavery - AccuWeather's Managing Director, also added:
"We know that people use weather apps for planning for all kinds of daytime activities but rarely do people plan for warmer, or colder, conditions at night in the same way. By looking at upcoming weather patterns we predict a real shift in night-time temperatures from 28 May, with houses retaining daytime heat, less breeze and less rain to cool evenings down. And whilst we can't yet predict another heatwave, events like this are becoming more common, so it's best to be prepared!"

So what are you waiting for? Tuck into our summer bedding and find the perfect fill and size from our Warmer Weather range
NEW - Luxury Linen Duvet (Summer Range)
So if you're all in with having a 'National Tog Day' to help support your sleep throughout the heatwave, then leave a comment down below with #NationalTogDay.
Also, comment on our social media posts and use the hashtag #NationalTogDay to support your bedding this summer!
*The survey was conducted by Atomik Research among 2,003 respondents between 1st and 7th May 2019.