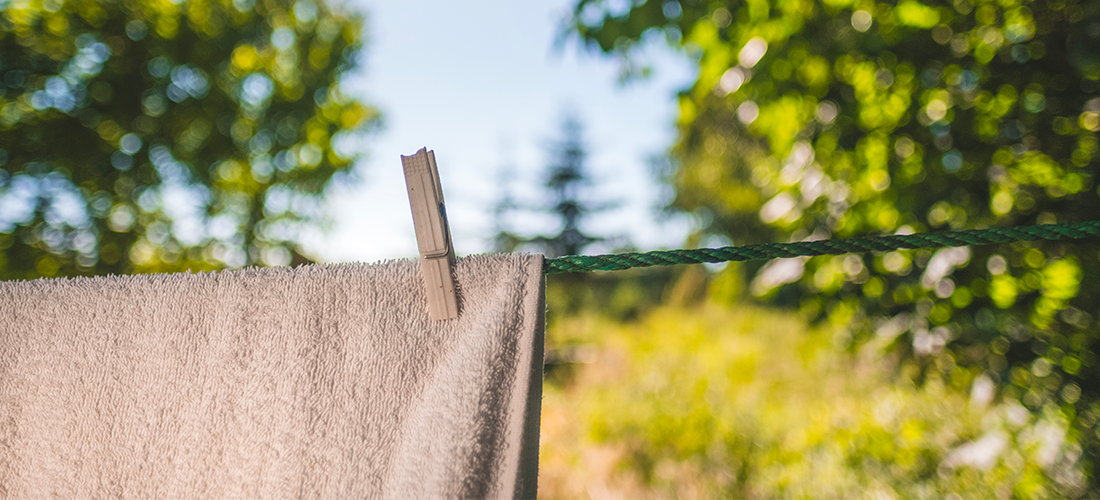 Easter is upon us! Where has 2019 gone?! This weekend the sun was shining, the kids were off having fun, and for some of us, it's time we gave our homes a good old sort out. But where do you start with any of this bedroom detox?
Here at Soak&Sleep, we've pulled together some of our best tips to keep your bedding looking fresh. So listen up, scroll down and be prepared for a Spring-time blitzing!
Tip 1 - Washable Wonders:
We spend a third of our lives in bed, leaving behind 56 hours a week of sweat, body oil and dead skin cells. So how often should we really be washing our bedding?
The answer is simple. As a general rule of thumb is that we would recommend washing it at least once a week. But make sure you invest in decent washable bedding that feels right for you.
When washing your bedding at home, make sure you always read the label, follow laundry instructions carefully, and that you have enough room to hang until it's bone dry to avoid clumping. We always recommend professional laundering for the best results.
Tip 2 - Don't forget your pillows:
Did you know that a whopping 10% of a pillow's weight is built up of sweat, mould and dead skin cells if it is not washed every six months. With this staggering statistic in mind, it is very, very important that we take pride in your head-resting fellow, to get the optimum amount of sleep that we've always deserved.
Whether you're still undecided on that preferred pillow depth, filling, size or firmness, within our Easter Deals you can now shop till you drop from a wide variety of pillows that we offer for all types of rest-head sleepers.
SHOP OUR EASTER DEALS PILLOWS HERE
CHECK OUT OUR PILLOW BUYING GUIDES HERE
Tip 3 - Give your bedding extra protection:
If you want to prolong the life of your bedding a little bit further, then we'd always recommend using protection to bring another full layer of force. Bedding protectors can make a huge difference defending against penetration of dirt and dust, extending the life of your pillow, mattress and duvet.
Not only can they protect your mattress and pillows against spillages and stains, but some also can add extra comfort. Our 'Luxury Quilted Cotton Pillow and Mattress Protectors' will not only keep your bedding hygienically clean, but they will also indulge you in an extra layer of smooth, soft and breathable comfort…
SHOP IN OUR EASTER DEALS FOR PROTECTORS HERE
Tip 4 - Give your mattress a bit of TLC:
If you thought you were neglecting your pillows, bed linen or duvets, then what about your mattress… Even if you use a protector, when was the last time you checked up on how your mattress is doing?
We recommend that in order to prevent the build-up of dust and dirt, you should vacuum your mattress regularly by using the upholstery attachment on your vacuum cleaner. If the mattress surface has become dirty or soiled, then try to use an upholstery shampoo, using warm water and a sponge and always allow the mattress to dry thoroughly.
Rather than flipping your mattress once a year during your annual spring clean, it is advised that you do so once a month. You should vary how you do this between turning it from end to end and from side to side. If you're looking for a non-turn mattress head this way. We recommend our 'Supreme 3000 Pocket Sprung Pillowtop' mattress as one of our favourite non-turn mattresses! Making your life easier with air vents that allow for full circulation and breathability.
SHOP IN OUR EASTER DEALS FOR MATTRESSES HERE
Tip 5 - Breath in that Spring Breeze:
A simple yet effective way of freshening up your bedding is to give it a good airing. This is especially good this time of year, as it's often sunny but breezy, and so will be the perfect conditions for airing out your duvets and pillows in-between washes.
Got any more top tips you'd like to share, let us know in the comments or via any of our social media links how you've given your room the spring clean that it's always needed.
We will also feature some of the best before and after pictures on our social media platforms!