International Women's Day is a day all about celebrating the brilliant women in both your life and around the world. This global day is celebrated every year on March 8th to recognise the social, economic, cultural and political achievements of women while continuing to raise awareness and fight for women's rights.
In celebration of International Women's Day, we at Soak&Sleep have researched the evening routines of some of the world's most influential women to see how they get the sleep they need to be amazing every day!
The Most Influential Women's Nighttime Routine
How does the Queen wind down after a long day of ruling? What does Kamala Harris do to ensure a good night's sleep before embarking on another day of making history? And what tips can you take from Rihanna, Michelle Obama or Charlotte Tilbury for a nightly routine that will help promote productivity and success? Keep reading to find out and learn how these inspirational women prepare themselves for bed.
1. Kamala Harris
As the very first female Vice President of the United States, Kamala Harris is a big advocate of women being able to do anything they put their minds to, especially women of colour. Thanks to years of hard work and dedication, this huge achievement has been a changing point in women's history and will never be forgotten. But how does Kamala Harris wind down after a long day of work and meetings?
At around 6pm she arrives home and reads a cookbook for a delicious recipe. Then, at 7pm she enjoys a family dinner before heading up to relax in a hot bath at 8pm. At 9pm she tends to drink some Chamomile tea and spend the rest of the evening unwinding before heading to bed at 12.
2. Greta Thunberg
Greta Thunberg is making waves against climate change and, at just 18 years old has been nominated for the Nobel Peace Prize and listed in Forbes' World's 100 Most Powerful Women in 2019. Her passion and dedication have inspired young girls all over the world to speak up and rally for what they believe in.
In the evenings though, Greta is just like any other teenager and relaxes at home with her family. At 4pm she likes to take the dogs out for a walk before enjoying a family dinner at around 5:30pm. Then, from 7pm she hangs out with her family and dogs, watching TV and discussing their days. At 9pm, she typically reads some magazines or books before getting to sleep at 10pm.
3. Melinda Gates
American philanthropist and author of 'The Moment of Lift: How Empowering Women Changes the World', Melinda Gates is an inspiration to many women, especially in the field of technology. As co-chair of the Bill & Melinda Gates Foundation whose aim is to achieve gender equality worldwide by investing in women's economic empowerment, women's leadership, and removing the barriers for women and girls to thrive, she has made leaps and bounds for women everywhere.
Melinda Gates has a surprisingly relatable evening routine, however, where she and her husband decompress with the family. Around 6-7pm the Gates' will usually sit down to have dinner together. After dinner, Bill will do the dishes and then the family will sit down and watch TVtogether, play games or go to the movies. Melinda prefers to be in bed by 9:30pm but realistically goes around 10/10:30pm where she'll read or talk with Bill before sleeping.
4. Oprah Winfrey
Oprah Winfrey is one of the most well-known women in the world with an extraordinary list of accomplishments. As a world-renowned talk show host who then went on to be the first African-Amercian woman to own her own production company, successful actress, author, philanthropist and powerful advocate for women with her charity Oprah Winfrey Leadership Academy for Girls, there's nothing Oprah can't do!
In the evenings, Oprah sits down with her family at 6pm to eat dinner before taking her five dogs out for a walk. She'll then either read a book by the fire, drinking herbal tea and sometimes watching a movie. Around 9/9:30pm she'll relax by having a bath and will aim to be in bed by 10pm.
5. Sheryl Sandberg
As Chief Operating Officer of Facebook, former Google executive and founder of Lean In, a global community dedicated to helping women achieve their ambitions, Sheryl Sandberg is no stranger to working long hours and late nights in the office. However, since the birth of her children, Sheryl now ensures she leaves the office at 5:30pm every day no matter which jobs may need doing to go home to her family and achieve a great work-life balance.
When Sheryl gets home from work she'll have dinner with her family where they go around the table and share the best and worst parts of their day. They'll also share something that has made them feel grateful too. Then, she'll relax and unwind either with a book or watching TV. Sheryl has also made a habit of turning off her phone before bed so she's not disturbed at night and aims to be in bed by 9:30pm.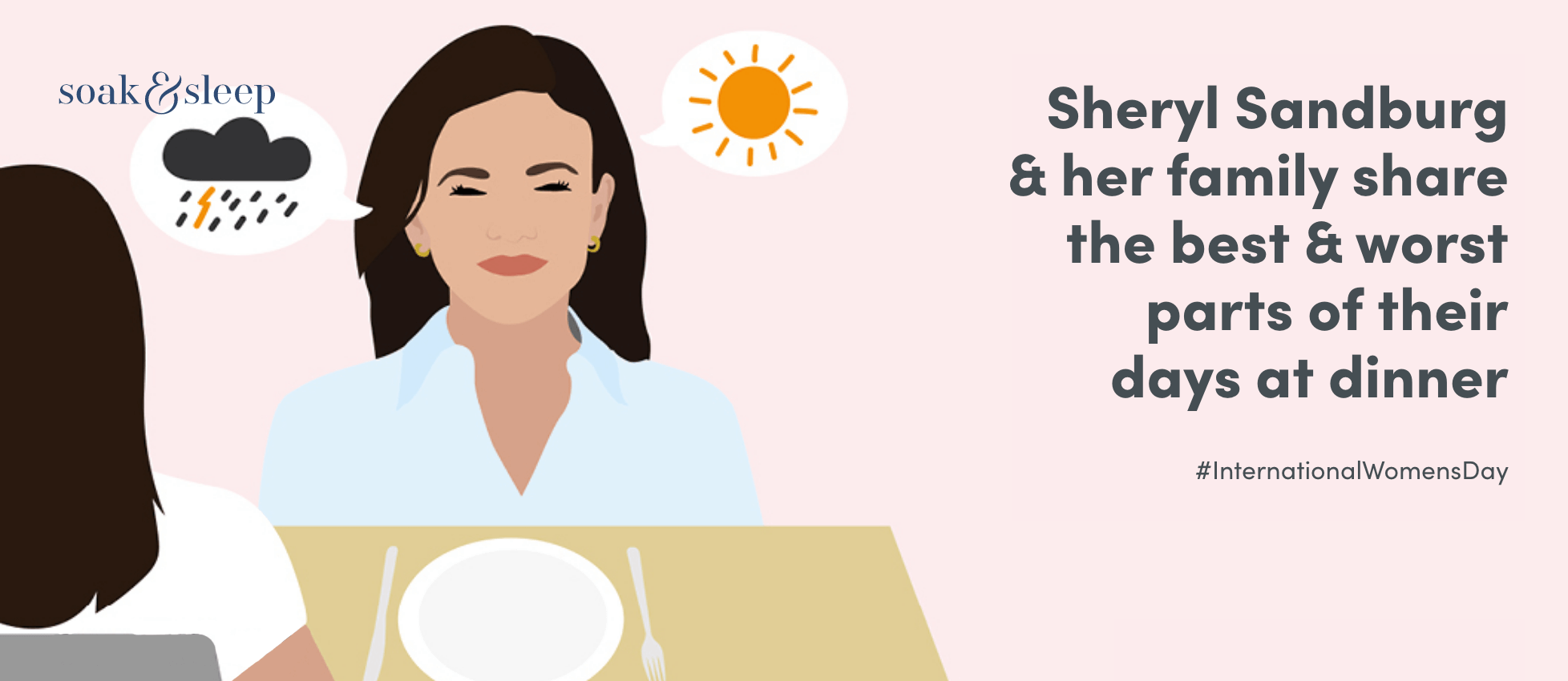 6. Susan Wojcicki
Susan Wojcicki has been in the tech industry for over 20 years as one of the people involved in founding Google and is now the CEO of YouTube. As one of the world's most impressive and powerful women in tech, it's no wonder why so many young girls and professionals look to her as inspiration!
Similar to Sheryl Sandberg, Susan makes a point of leaving the office around 6pm every day and avoiding any work-related emails between 6-9pm to have dinner and spend time with her family. Once her children have all gone to bed, she'll check her emails and respond to anything particularly urgent before unwinding and getting some well-deserved rest.
7. Shonda Rhimes
As the creator of many hit TV series such as the extremely popular Grey's Anatomy, Scandal, How to Get Away with Murder and now Bridgerton added to her list, Shonda Rhimes is a woman who knows how to create, write and produce binge-worthy TV! As CEO of her production company, Shondaland, she is one of the busiest people in the entertainment industry but still makes time to relax at home in the evenings.
One thing that Shonda prides herself on is getting home before her kids are in bed so she can read them a story every night. Before heading to bed herself, Shonda has got into the habit of making a list of all the things that are in her head so that she doesn't think about them while trying to get to sleep.
8. Alexandria Ocasio-Cortez
As one of the most talked-about politicians in America, Alexandria Ocasio-Cortez has certainly made a name for herself as she serves as the U.S Representative for New York's 14th congressional district since 2019. At just 29 years old when she took the office, AOC became the youngest woman ever to serve in the US Congress and regularly speaks for women's rights.
After spending the day representing the people, Alexandria goes home to her normal nightly routine. At 6pm she'll either have dinner at home or go out to eat with friends before taking the dogs out for their walk. Then she'll spend time doing her nightly skincare routine and getting ready for the evening. Like many of us, Alexandria will indulge in some reality TV but by 10pm she's checking if there's any breaking news so she can be fully prepared for the press the next day. Before she heads to bed she'll make sure to turn her phone off, brush her teeth, finish her skincare routine and go to sleep between 11:30pm-12am.
9. Rihanna
Rihanna is easily one of the most influential women of our generation. With an impressive nine Grammy awards, a global fashion and beauty business, charity foundations such as the Clara Lionel Foundation which supports and funds education and emergency response programmes around the world and a successful acting career, it's a surprise she can find the time to rest and relax!
But, her daily routine includes plenty of time to recharge her batteries in the evenings. At 6pm she'll eat a healthy dinner before spending time with friends or family. At 10pm she'll watch some of her favourite TV shows before doing her skincare routine and heading to bed at 12.
10. Charlotte Tilbury
Charlotte Tilbury is one of the world's favourite makeup artists and has built an entire, luxury makeup brand with revolutionary products. As the makeup artist of choice for many celebrities such as Amal Clooney, Miranda Kerr and Nicole Kidman, many budding artists and makeup enthusiasts idolise her.
As a self-confessed party animal, Charlotte Tilbury spends most of her evenings after work out with her friends enjoying a liquid dinner and dancing the night away. At around 1am she'll arrive home where she'll proceed to take her makeup off and do her skincare routine before reapplying her makeup before getting into bed with her husband.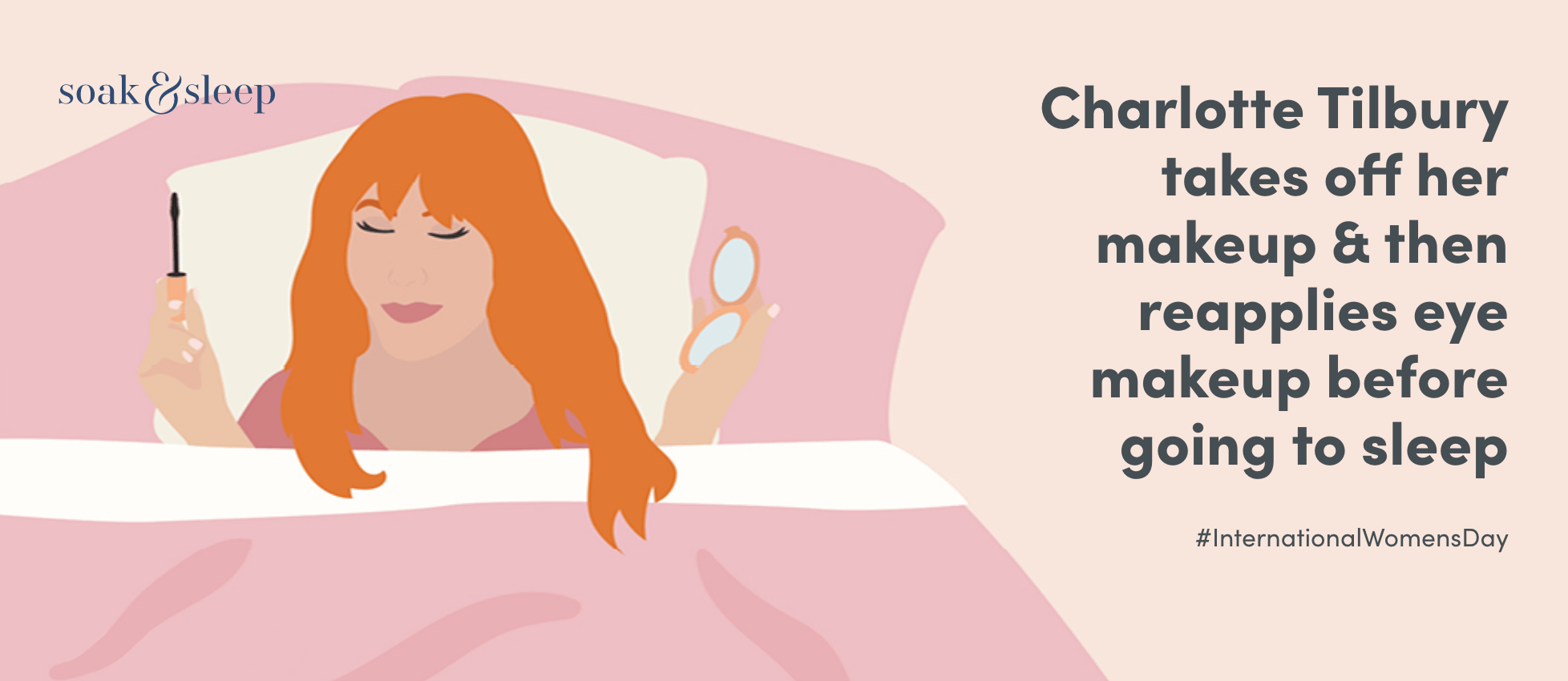 11. Michelle Obama
American Attorney, notable author and First Lady United States from 2009 to 2017, Michelle Obama has spent many years advocating for women's rights, schools, public services, the arts and helping working women balance career and family. Michelle also co-founded The Obama Foundation which aims to inspire, empower, and connect people to change their world.
In the evenings though, Michelle Obama makes sure to spend quality time with her family. Sitting down for dinner between 6:30/7pm before watching TV with her husband and kids or reading before heading to bed at 10pm where Barack will tuck her in.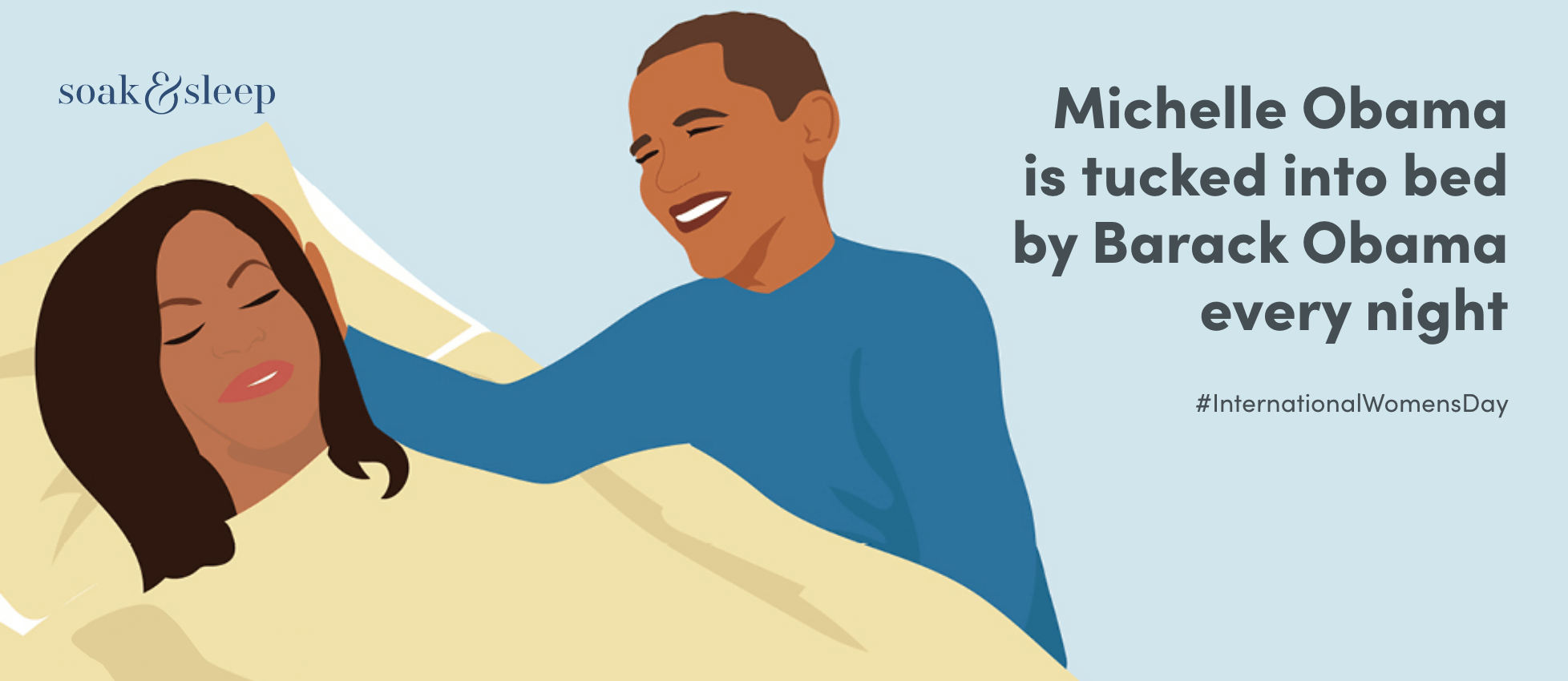 12. Kylie Jenner
As one of the biggest social media influencers in the world right now, with 218 million followers on Instagram and the founder and owner of successful cosmetic company Kylie Cosmetics, Kylie Jenner is a very busy woman and someone that many aspire to.
In the evenings, when she's home from work, Kylie Jenner has a very 'normal' nightly routine that a lot of people can relate to. First, she changes into something more comfortable, then she takes off her makeup and completes her skincare routines. She then has dinner, often with friends or family, and spends some quality time with her daughter Stormi before heading to bed.
13. Anna Wintour
As the editor in chief of Vogue and artistic director for Conde Nast, Anna Wintour is one of the most powerful and influential women in the media and entertainment business. In fact, she even inspired the character of Miranda Priestly played by Meryl Streep in The Devil Wears Prada.
Like many successful women, Anna Wintour has a structured daily routine to help her achieve her workload while still getting a good amount of sleep each night. Anna typically leaves the office around 5pm where she'll then go home, get comfortable and continue to work. This normally includes going over resumes, pitches and publications as well as looking through pages of the upcoming magazine issue. She prefers to get everything done at night so she can keep on top of things and not leave people waiting the next day. She then heads to bed around 10:15 to get 6-7 hours of sleep per night.
14. Serena Williams
With four Olympic gold medals and 73 WTA titles, including 39 Grand Slams, Serena Williams has won more Grand Slam single titles than any other woman or man during the open era and is one of the world's most recognised names in sport! Her hard work and pure dedication to the sport is truly admirable.
Serena keeps a very packed day full of training, dancing and having fun. But, she still makes time to enjoy dinner at 6pm with her family. At 8pm she spends time updating her social media and doing promotional work, she'll also complete her skincare routine too before heading to bed around midnight.
15. Pippa Murray
After founding the leading nut butter brand, Pip and Nut, in 2013 as a way to provide a healthy alternative to traditional peanut butter, Pippa Murray conquered the market and built an extremely successful company and brand that's now stocked in over 1,000 stores nationwide!
As a busy entrepreneur, Pippa usually gets home around 7:30/8pm and picks up a cookbook to try a new recipe. She enjoys cooking dinner for family and friends as a way to relax and unwind after a long day. After dinner, she tries to leave her phone in the kitchen to avoid distractions and lower her screen time and reads before bed.
16. Munroe Bergdorf
As the first trans woman to model for L'Oréal, Munroe Bergdorf is a strong advocate for trans rights and believes passionately in inclusivity for all no matter their race, religion, ability, sexuality or gender identity. Honest, open and direct, Munroe isn't afraid to stand up for what she believes in and spends her time educating others on social issues.
To wind down in the evening Munroe practises self-care to help her overall wellness and mental health. Every morning and night she lights palo santo to help her turn off and enjoys herbal teas blended with valerian root or lavender to ease her mind and drift off to sleep.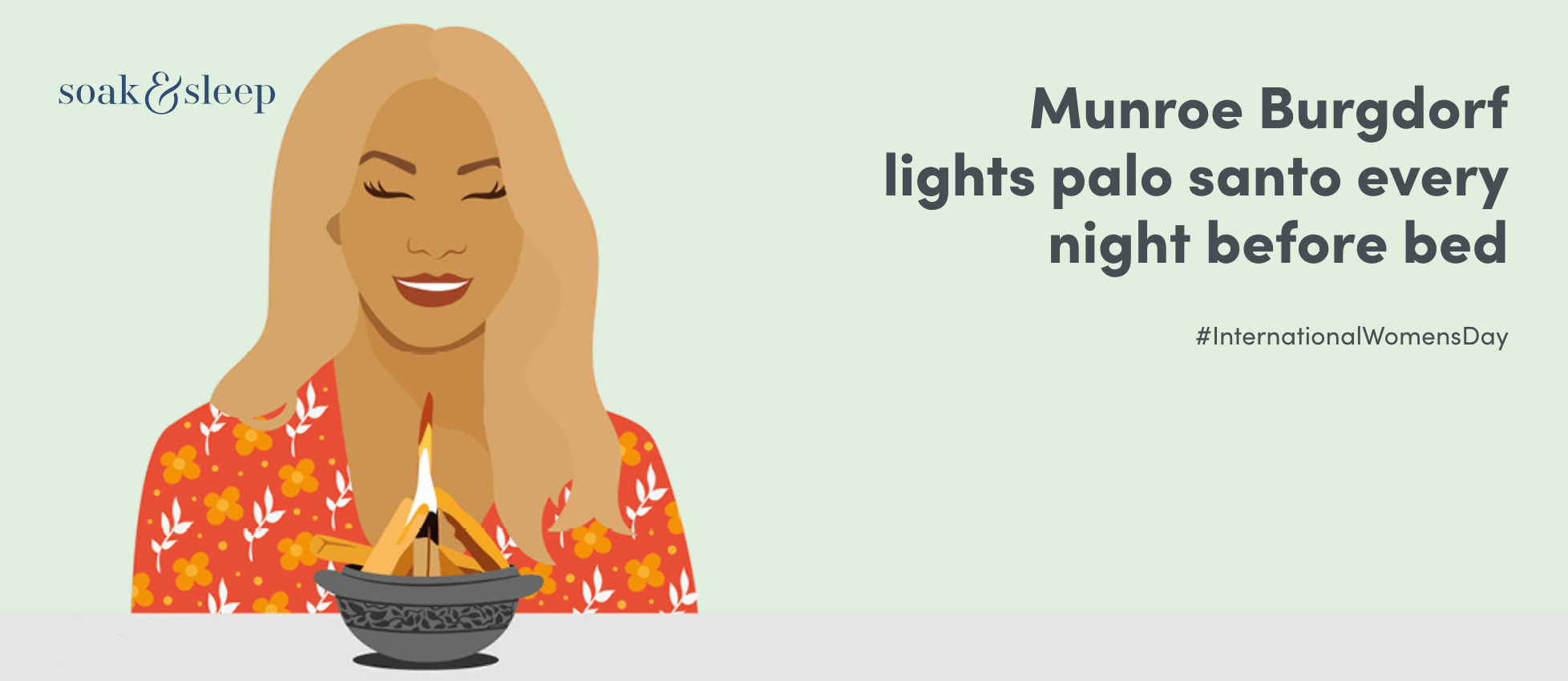 Which Celebrities have Similar Bedtime Routines?
After conducting our research we found that there were a number of similarities between the womens routines, many of which are quite relatable.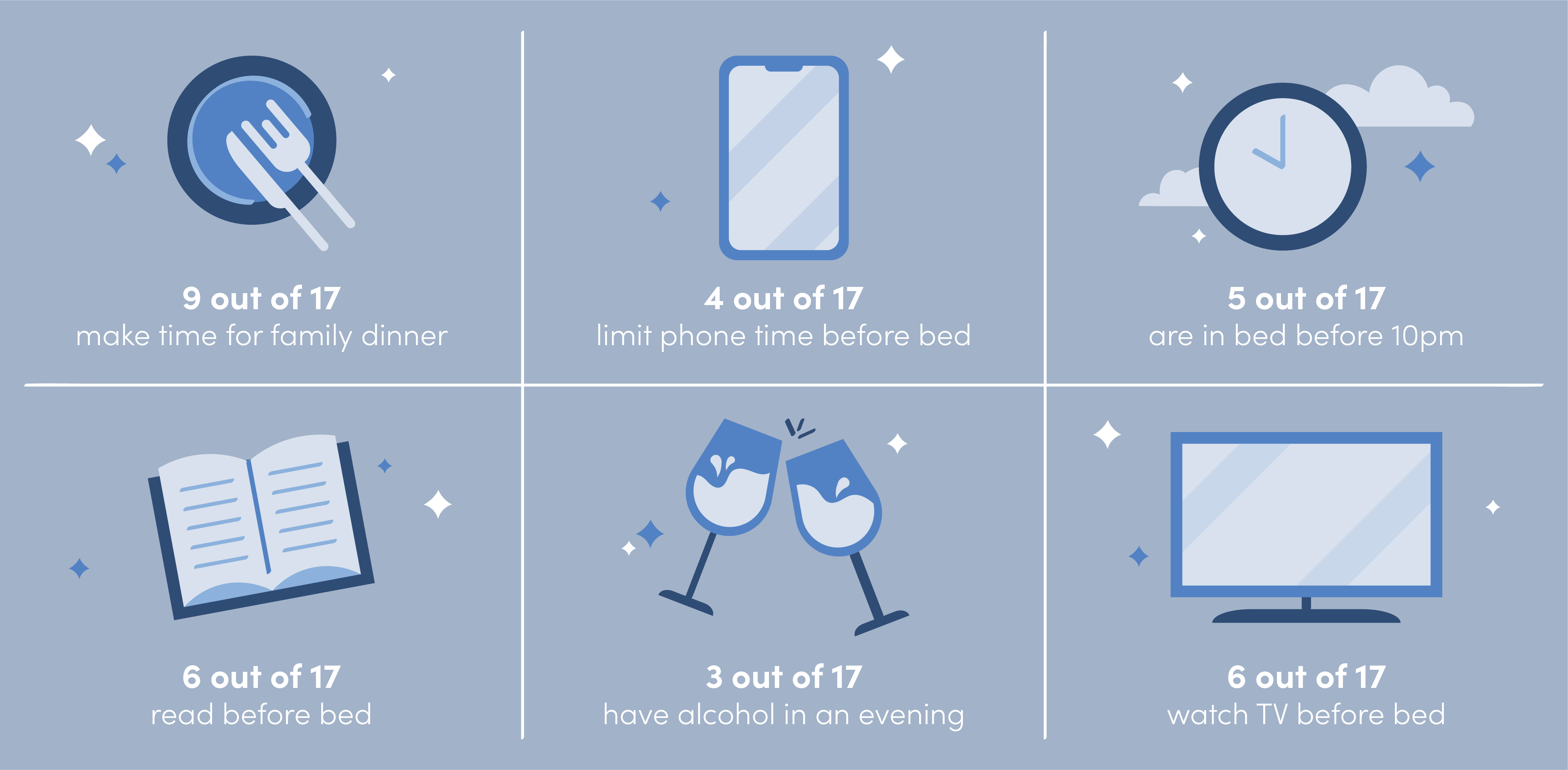 What are Some of the Quirkiest Nighttime Routines?
Of course, there were also a few quirky nighttime routines too which may have surprised some of you to learn. Michelle Obama admitted to being tucked into bed by Barack every night for a cosier sleep. The Queen ALWAYS has a glass of champagne before bed to help ease her mind and drift off to sleep. Charlotte Tilbury takes off her makeup and then reapplies it again after she's completed her skincare routine before getting into bed. In fact, her husband has never seen her without makeup on. Sheryl Sandberg and her family share the best and worst parts of their days at dinner to help release any pent up stress and celebrate any achievements. And, Munroe Burgdorf lights palo santo every night before bed to help cleanse her mind and improve her mental wellbeing.
5 Tips on Getting Good Sleep to Promote Productivity and Success
Getting a good night's sleep is key to ensuring a productive, positive and successful day. Here are the top 5 tips from the experts at Soak & Sleep on how to get a good night's sleep.
Opt for a temperature regulating

bed linen

such as linen or silk to avoid broken sleep. Also, choose a comfortable duvet, in the right size for your bed, such as a

duck feather duvet

or

Hungarian goose down duvet

for a soft, luxurious feel.

Avoid screens one hour before bed.

Go to bed at a reasonable time - if you are tired during the day, you're unlikely to work to the best of your abilities.

Reflect on the positives of the day before you sleep to ensure you wake up with a positive mindset for the day ahead.

Exercise is a great way to switch off and can improve your quality of sleep.

Learn more about bed linen in Soak & Sleep's comprehensive bed linen buying guide to help you choose the perfect bedding for a great night's sleep.