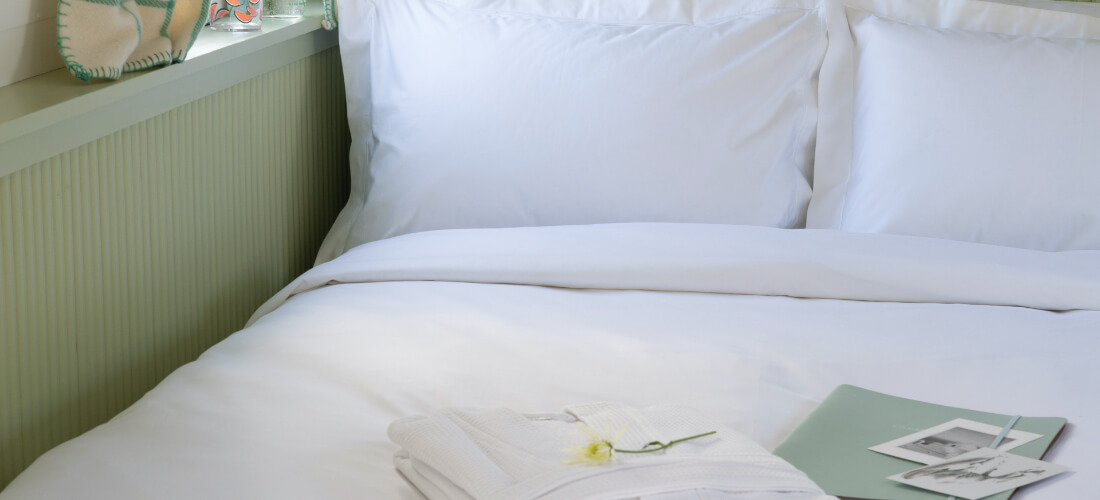 The news that hotels, B&Bs and holiday lets can reopen for business has been well received by a hospitality industry hit hard by the pandemic. But how can you protect your guests and your staff when you open your doors and reassure everybody that your property is safe?
Cleaning Recommendations
Before you open your doors, you should have deep cleaned your bedrooms to ensure that they are dust-free and germ-free. Using a professional cleaning company is advised or if you are using in-house cleaning staff, make sure you brief them well on the extra steps needed to thoroughly clean before the first guests arrive. The World Health Organisation has issued some guidelines on the importance of cleaning bedrooms.
Daily cleaning of bedrooms should be avoided if possible or guests given the option of being able to opt-out of having their rooms cleaned daily.
Where possible, use disposable cleaning materials and ensure that areas that are frequently touched (door handles, lift buttons, etc) are cleaned most regularly.

Protection for bedding
Consider investing in mattress, pillow and duvet protectors which can be easily removed and laundered between guests to ensure the bedding is extra-clean.
Provide your cleaning staff with face masks and disposable gloves for each room they clean. Once the cleaning staff have cleaned each room and handled any bed linen, they should remove their gloves (safely, as per guidelines) and dispose of them. Hand sanitizer should be applied and fresh gloves should be put on before venturing into the next bedroom.

Laundering the linen
When removing bed linen between guests, the bedding should not be shaken, as doing this can disperse viral particles into the air.
Once the linen has been removed, consider either placing in a bin bag or contractor bag which can be sealed closed and then taken to be washed. It is also possible to buy dissolvable laundry bags. These can then be tied closed and placed inside your contractor linen bag or large plastic bin bag. Once at the laundry, the dissolvable bag can be removed from the regular plastic bag and placed directly in the washing machine. The bin bag can then be reused or recycled.
Consider adding a disinfecting product that is approved for fabrics to the wash. Ensure you wash your linen at the highest temperature recommended by the manufacturer or supplier.

Layer up with blankets & bedspreads
If you dress your guest bedroom with blankets, throws or cushions you should also regularly wash these too. Ideally having a few sets of these will allow you enough time to thoroughly launder between guests.
Fluffy towels
Towels can be breeding grounds for germs, particularly if they are left damp or on the floor. Encourage guests to hang them up to dry, and consider supplying different coloured towels for each guest so they know which one they have been using. If this isn't possible, a piece of coloured ribbon sewn in the corner of each towel will work just as well to identify each user.

Top-tips to consider
We know that the health and safety of your guests doesn't stop outside keeping the bedroom clean, so what other things do you need to consider?
1. Feel the breeze
As the investigation into COVID continues there is speculation that the disease is air-bourne. Try to allow as much fresh air to circulate in your property as possible - open windows when cleaning each room.
2. Leave shoes at the door
There is some evidence that germs can spread on the soles of shoes so you don't want them being padded through your property. Instead offer guests slippers that they can wear when they are inside.
3. Luggage holders
Encourage guests to put their luggage on luggage racks in bedrooms if they are available, rather than on the bed. Bags can carry germs on the outside or bottom and these can be easily transferred to the fresh linen.
4. Extra hand soap
You may need to invest in extra hand soap in the bedrooms or hand sanitizer to account for guests washing their hands more frequently.
5. Brief your staff
Make sure your staff are fully briefed on the extra steps you have taken to protect guests so they are able to reassure them if they have any questions.
Soak&Sleep understands that the look and feel of your rooms is important to guests overall stay, and when it comes to interiors our report on what '5 top Insta-worthy necessities' is a great place to start to build that desirable bedroom.
We hope that these help with the re-opening of your businesses, and wish you well. If you've got any further questions, or want to offer any great tips and tricks please comment below.