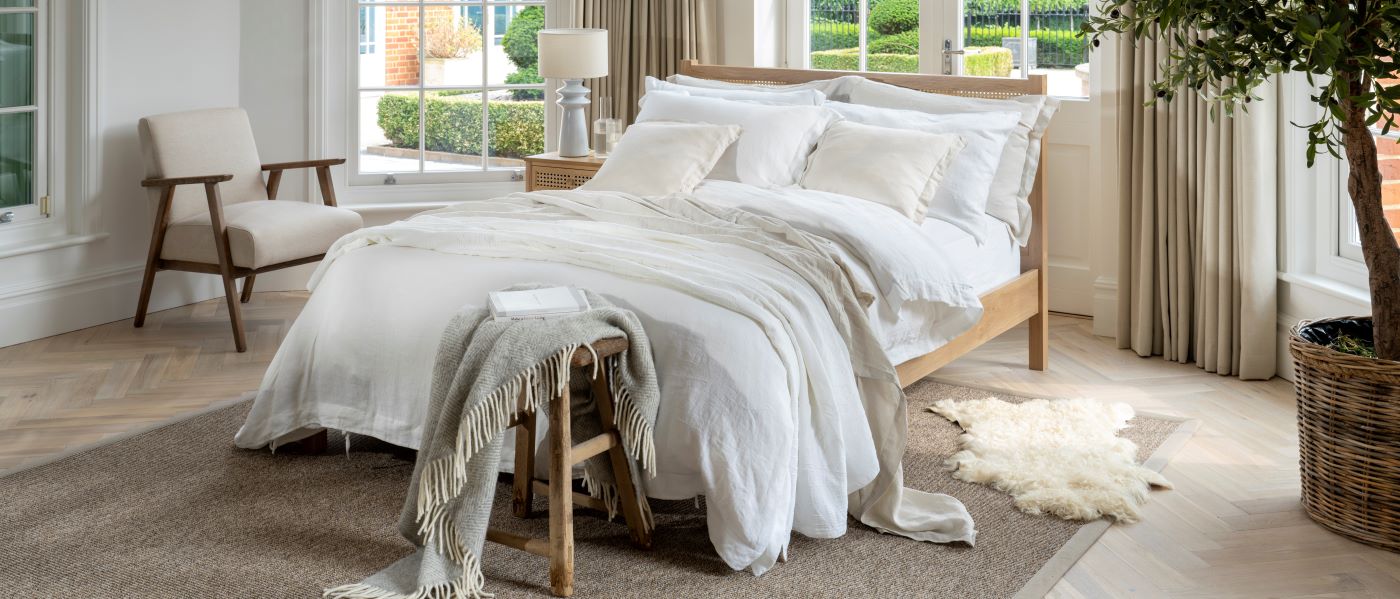 These luxurious bedroom ideas will help you recreate that high-end hotel look, whilst creating an indulgent relaxing retreat in the comfort of your own home. Whether you're planning a whole bedroom redesign, or looking to treat yourself to a few of life's luxuries, these ideas are perfect for creating your restful retreat.
10 Ways to create an indulgent, relaxing retreat in your home
1 - Indulge in fresh, white bed sheets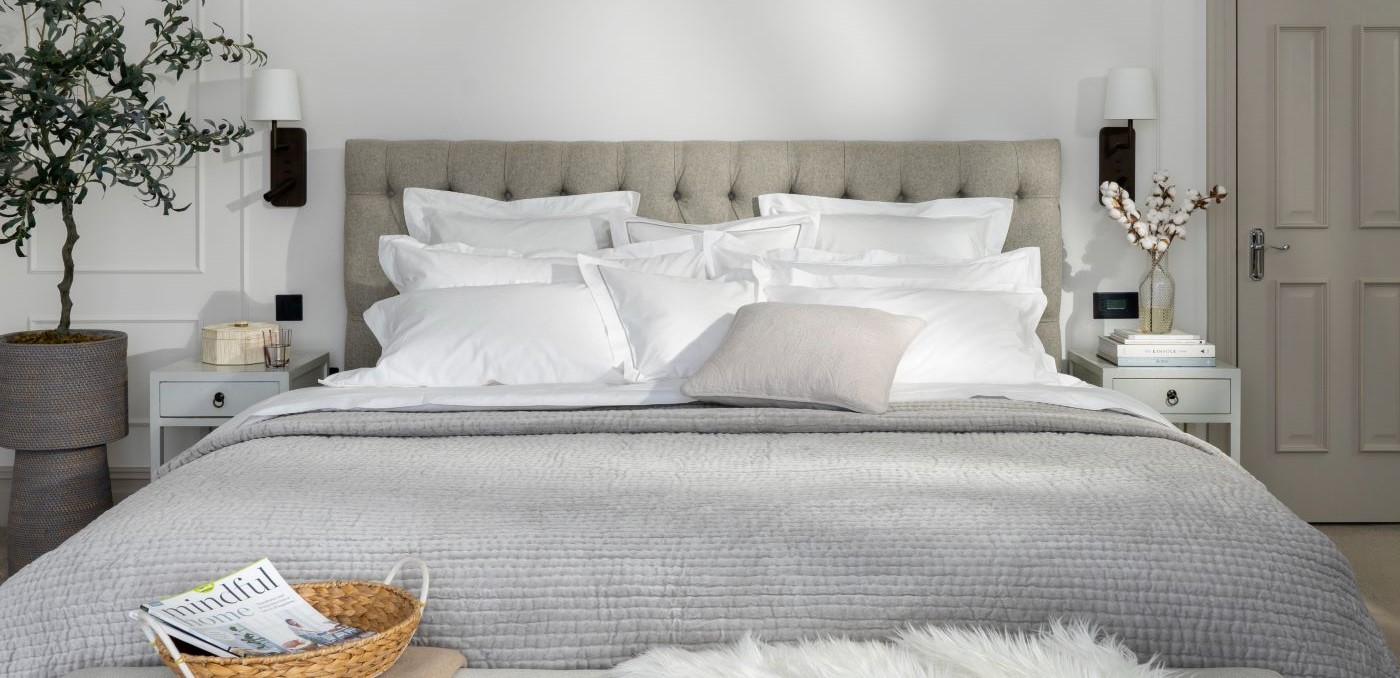 2 - Keep your space clean & tidy
Your bathroom & bedroom should be a haven away from the world to unwind, relax & cocoon yourself as you rest. Decluttering these spaces can reduce stress levels, provide less distractions while you sleep and can improve your overall health and happiness.
3 - Think symmetry
A subtle way to elevate your sleep space is by making your decor symmetrical. Try using matching bedside lighting, such as lamps or wall lights, and coordinating them with matching side tables. This will help to frame your bed for a look that's aesthetically pleasing & easy on the eye.

For a more relaxed look, experiment with your bedside accessories by using a slightly bigger lamp on one side and balancing it with a tall floor plant on the other.
4 - Layer with bedspreads & throws
Whether you're looking for an extra layer of warmth, to couple up with bedsheets during the warmer months, or to enhance your hotel-style, layering your bed with bedspreads and throws is a wonderful way to add a touch of style to your bedroom.

Made with super soft pure cotton, our classic Waffle Cotton bedspread feels wonderfully soft and comforting to the touch. It acts as a light layer so you can move freely during the night for a more restful sleep. Its relaxed style & waffle texture add interest to your room with neutral tones and a matte finish, making it suitable for a wide range of bedroom styles to elevate your restful retreat.
5 - Include a seating area
Adding an extra seat in your bedroom can create a unique space for you to relax & unwind. Think cosy reading corners, small armchairs or a even window seat if you have the space!
As well as creating a hotel-style in your bedroom, making your bathroom a relaxing space is just as important.
6 - Keep your home smelling fresh
Your relaxation space should feel like a sanctuary for the senses. Tap into this by using essential oils & burning gently scented candles. Pillow sprays are also a great way to help you relax & drift off into a blissful slumber.
7 - Luxuriously soft towels
Our blissful Egyptian cotton towels are an indulgent 700GSM, making them soft, super absorbent, and sure to be a winner. Available in a choice of sizes from hand towels all the way up to supersized bath sheets, making them a rich & fluffy must-have for your relaxing retreat.


Good to know: These towels are made to last. Made from certified Egyptian Cotton, they are especially durable with double-stitched hems and twisted loop pile, helping to reduce snags.
8 - Add greenery
Taking inspiration from the natural world is a great place to start when thinking about creating a relaxed feel. It is proven that time spent in nature has numerous benefits for the mind and can evoke feelings of calm and happiness. Adding indoor plants & greenery to your space can help to create the sense of tranquility you feel when you visit a luxury hotel.
9 - Waffle Cotton Bathrobe
Relax & unwind in a soft, stylish & wonderfully comfortable waffle cotton bathrobe. Make everyday feel special & indulge in a spa-like experience after every bathtime.
10 - Relax in luxury with our Pure Silk Robe
For the ultimate luxury spa experience, treat yourself to a Pure Silk Robe. Made with high quality 19 momme smooth silk, this robe is indulgent, sensuous & a dream to relax in. Silk has excellent temperature regulating properties and makes for the perfect addition to your restful retreat.

Did you know: Silk helps care for your skin by reducing friction and is renowned for helping your skin stay naturally hydrated. This makes silk especially good for sleepy heads with dry skin and is the reason it's believed to help prevent wrinkles from forming. Discover our luxury Pure Mulberry Silk bed linen, perfect for creating that indulgent feel & helping you get your well-deserved beauty sleep.