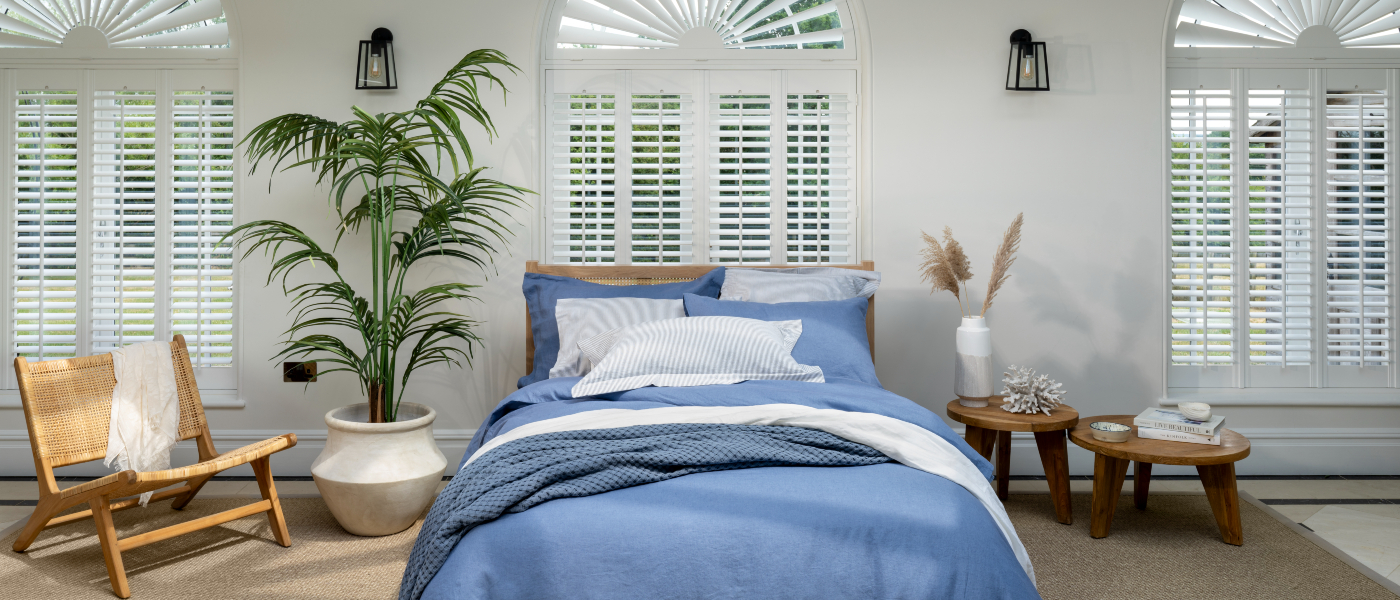 Create your dream, coastal-inspired bedroom with these modern decor ideas and discover our top tips for styling your favourite Soak&Sleep products.
Channelling coastal decor is a fun way to decorate your sleeping space, whether you're creating a relaxing guest bedroom or refreshing your own room. Think light, airy spaces with neutral tones, repeated textures & light blue accents with pops of colour.
Here are some of our favourite ways to bring the outside in and create your dream coastal-style bedroom…
1 - Let the natural light in
Welcome the natural light into your bedroom. Use light-coloured curtains for a fresh feeling and try to avoid warm, mood sources of light.
Tip - Don't forget your sleep mask to help block out the light whilst you sleep.
2 - Woven accessories
Add depth and texture to your coastal design with woven accessories. Experiment with woven baskets & storage, lamps, artwork & mirrors. You can even add rattan furniture for an extra beachy feel.
3 - Embrace the blues & neutrals
Keep your bedroom feeling fabulously fresh with a soft, neutral colour palette & enhance the coastal theme with a subtle touch of blue, or striped bed linen for a nautical theme.
4 - Plants plants plants (and a sprinkling of shells)
Go au naturel and become at one with nature by adding greenery & plants to your coastal theme. They're great for purifying the air and adding a splash of colour to your design. If you struggle keeping fresh plants alive (we've all been there!), why not opt for faux plants or even nature-inspired artwork instead.

Tip - Sea shells are a great way to add a coastal touch - keep it subtle with a shell candle or trinket dish.
5 - Light layers
Recreate the waves by layering with our luxury bedspreads & throws - create a sense of movement whilst adding depth & texture to your dreamy design.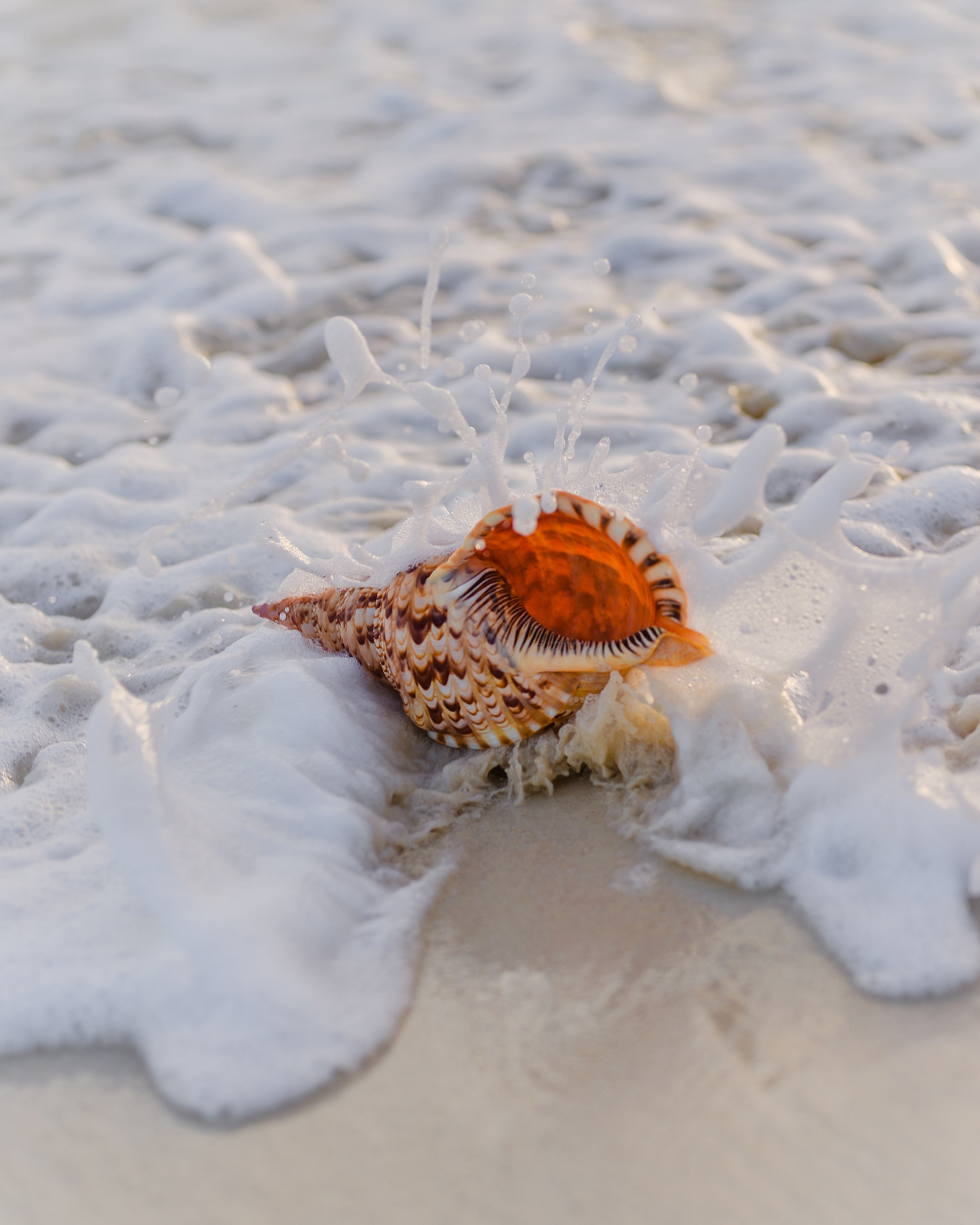 Discover our collection of luxury bedroom & bathroom essentials, designed for your modern coastal bedroom.
Fine Stripe Linen & Cotton Blend Bedding
Conjure up memories of balmy evenings under Greek skies with this bed linen made from a soft and breathable blend of French linen and Indian cotton. Its reversible design makes it ideal for adding depth and interest.
- Available in Blue & Natural
Styling tip: from Soak&Sleep's Senior Assistant Buyer, James Montgomery-Castle:

"The wonderful thing about this bed linen is that our classic tie closure and neat oxford border allow the duvet cover (and pillowcases) to be seamlessly reversible. Featuring a fine double stripe on one side, and a classic ticking stripe on the other you're treated to two looks in one, and if you can't decide, simply turn back the duvet cover when making the bed fresh in the morning to show a sliver of the opposite stripe at the top of the bed. We love styling the ticking stripe side of this bed linen with our pure white textured matelasse bedspread, evoking bright summer mornings. Or the crisp and fresh look of the double pin stripe, styled with a pop of colour from our wool throw collection, looks equally striking - our blue wool & cashmere blend throw would be a fantastic choice."
---
Seersucker Stripe Bedding
Made with pure cotton for a breathable, comfortable night's sleep. The summery seersucker weave makes us think of days by the beach. It's created by weaving on a slack tension loom for wrinkled, raised stripes with flat-woven areas in-between for the variation in texture.
- Available in Navy & Natural
French Linen Bed Linen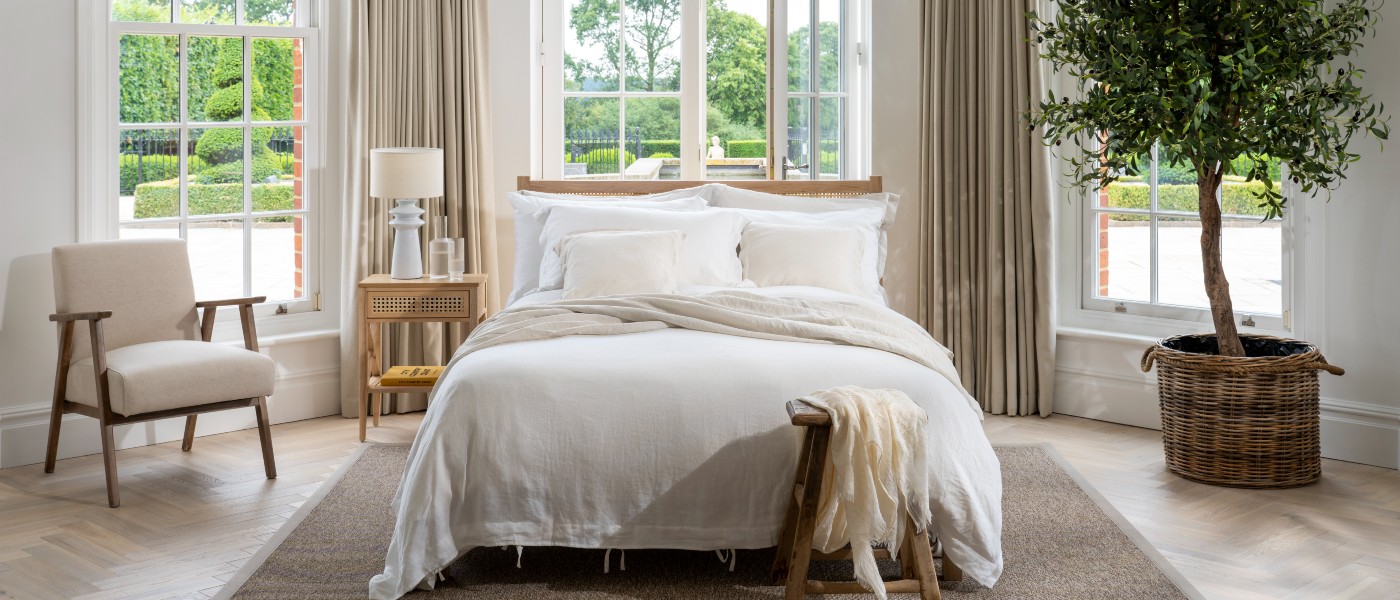 Chalk Pure Hemp Bedding
Our hemp bed linen is a brilliant eco-friendly bed linen option. With it's unbleached, chalky tone & temperature-regulating properties, it's the perfect way enhance your coastal-themed bedroom.
Striped Cotton Pool Towels
Our Striped Cotton Pool Towels are compact, lightweight & super absorbent - perfect for the beach, pool or at home. The dual-tone stripe adds an extra touch of holiday to this multitasking towel.
- Available in Blue, Pink & Natural
Are you a hot sleeper? Read our Summer Sleeping blog for more information on how to stay cool in the warmer months.