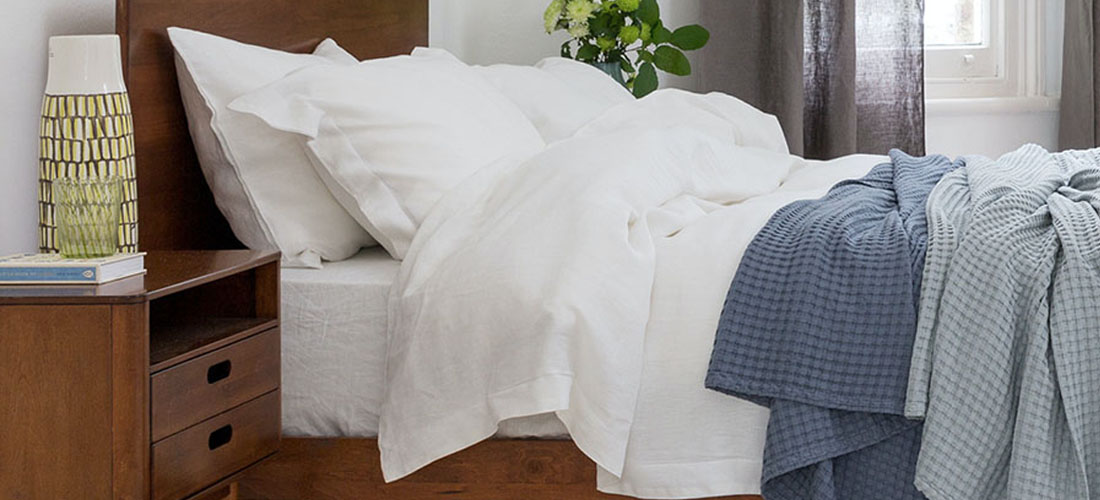 We are all familiar with the tug-of-war that can take place in bed, when your duvet slips down inside your duvet cover, leaving you with patches of your bed which are neither cosy nor warm! No matter how much you flatten out your bedding before you go to sleep the duvet still seems to creep down towards your toes. Why does this happen and how can you prevent it from happening again?
Understanding why your duvet slides away from the cover
As you toss and turn in bed at night, your duvet moves with you and this can cause the inside to come away from the cover. And this is even more likely to happen if you sleep with a partner, as the duvet has to contend with two people moving about in the bed. Our habit of pulling the bedding towards our face once we jump into bed can also cause the cover to come away from the duvet.
How can I prevent my duvet sliding away from the cover
One of the first things to check is that your duvet is the correct size for the cover you have. If not, it is much more likely to slip around and come out of place. Secondly make sure you get all the corners of the duvet into the corners of the duvet cover – you can find tips on the best way to put on a duvet cover here. If you have a big duvet such as a king or superking, you may need somebody to help you shake the insides into place.

Now it's in place correctly, how can you get it to stay in the right place?
Some duvets and covers come with built in ties which you simply tie together after laundering your bedding to hold the pieces in the right place. If your duvet does not come with these, it is possible to buy clips from major retailers like Amazon which you can clip into the corners yourself.
Are there any 'Do It Yourself' ways to fasten the duvet to the cover?
An alternative to buying clips (or if your duvet and cover have already been purchased and do not have ties) is to sew in some ribbon or shoelaces into the inside corners of the cover and each corner of the duvet. (Check that the ribbon or shoelaces are washable). You need approximately 15cm of ribbon or shoelace attached to each corner. Once you have sewn these pieces in, you simply tie the two pieces together – duvet cover corner ribbon to duvet corner ribbon, and this will hold it in place.
If you prefer not to sew, you can also buy stick on Velcro spots which you can attach to the duvet and the duvet cover and these will work just as well.