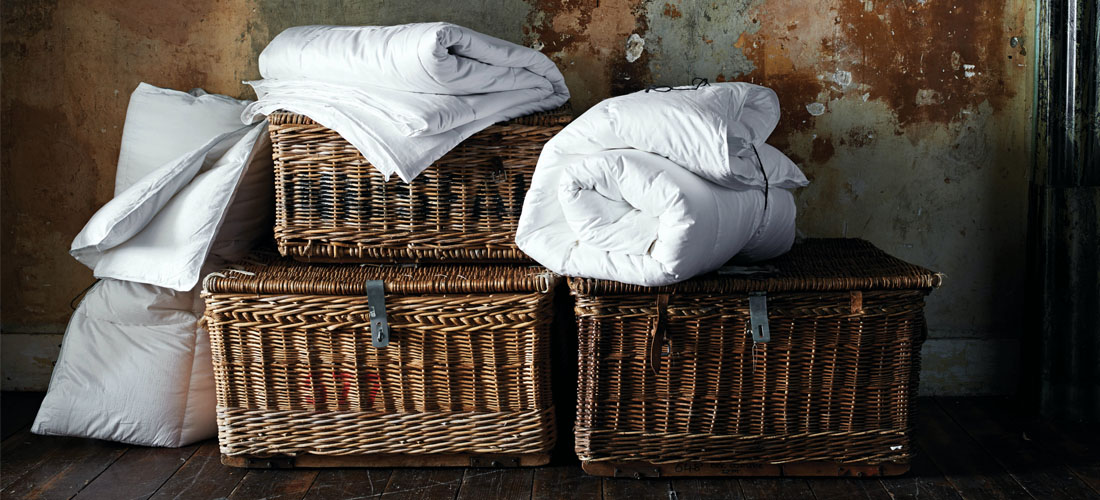 In the market for a new duvet? With so many factors to consider and so much choice, it's easy to feel a little overwhelmed. But wonder no more. We'll help you pick your way through the bedding jargon and get to grips with the various fillings, finally understand togs and know the right way to care for your duvet. We'll even help you decide what your perfect duvet is; just complete our quiz and discover your dream choice today!
---
How often should you buy a new duvet?
There's no set frequency when it comes to how often you should replace your duvet. That's because each duvet is different and the fill, construction and how well your duvet is made will affect how long it lasts. The way your duvet is treated will also have a bearing on how often you need to replace it.
Generally, the following signs of wear and tear will tell you when it's time to replace your duvet:
The filling is uneven or feels stiff and lumpy
The outer case is ripped, has holes or seams which are coming undone
The fill is 'leaking' from the seams
It has stains or an unpleasant odour that you can't get rid of by washing
You're noticing an increase in allergic symptoms when you wake up in the morning.

---
What else should I consider when choosing what duvet to buy?
The important things to think about when choosing a new duvet are the fill and the tog. You may also want to consider how easy it is to care for your new duvet and whether or not the duvet is suitable for allergy sufferers. Some of the most important details are below, however our duvet buying guide is a great place to get the lowdown on all things duvet-related if you want more information.
---
The choice of filling affects the feel and comfort level of a duvet, as well as the price. As you would expect, higher quality duvets are more costly. But with this higher price you get the benefits of improved durability, comfort and a product guarantee.
Broadly, duvet fills can be separated into natural and synthetic fills. Here are some of the most popular duvet fills on offer.
Natural fillings are soft and breathable. This means you are less likely to overheat while sleeping or wake up in the morning feeling uncomfortably sticky. The most popular natural fillings are feather and down fills from either duck or goose. Down is light, soft and very insulative whereas feathers are weightier. If chosen well, feather and down fills create soft, lofty duvets which are both breathable and insulative. One of our favourites is our Hungarian Goose down duvet which is indulgently light, soft and warm – a complete treat at the end of every day.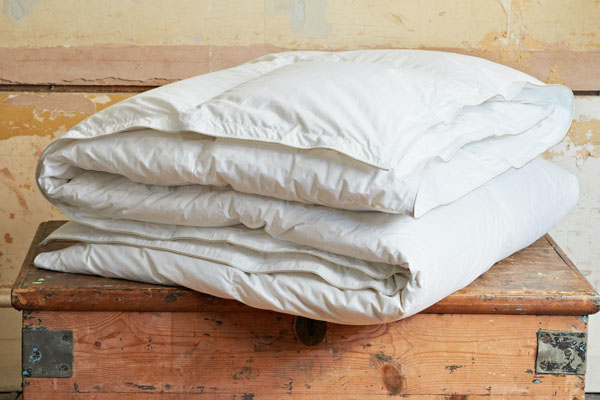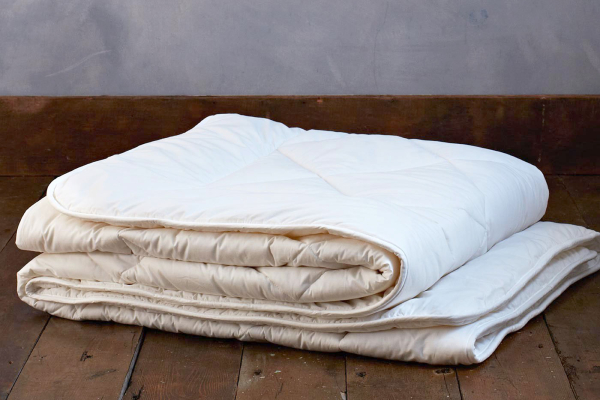 Wool fill duvets are another natural choice. They're wonderfully versatile, and a Soak&Sleep bestseller! Wool is one of nature's cleverest materials, wicking away excess moisture and heat when it needs to. It'll keep you feeling comfortable all night long and warm when temperatures drop. Wool fill duvets are a great option for anyone who shares a bed. That's because of the way they adapt the temperature around both sleepers to keep them comfortable for a good night's sleep.
Synthetic duvet fillings feel soft and cosy but have the added benefit of being easy to care for. You can machine-wash and tumble dry them quickly and easily making them great for allergy sufferers who cannot sleep under a feather and down duvet. Synthetic fills can be made from microfibre, which is designed to feel soft and silky - similar to down, or hollowfibre which is more bouncy and lofty – similar to a feather-rich duvet.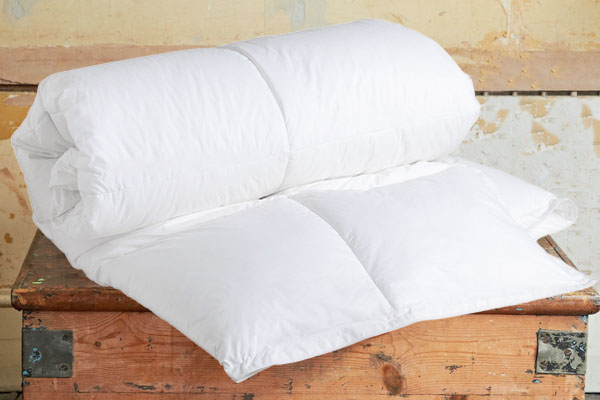 Some duvet fills have a reduced impact on the environment because they are made with recycled fills. Revival is a synthetic duvet fill made with recycled PET bottles while Redown is made with recycled and reconditioned feather and down. Both options are a cost-effective way to sleep comfortably while helping protect the planet.
---
What is the best tog duvet?
A tog tells you how much heat a duvet will hold onto. The higher the tog, the more heat it will retain and the warmer you'll feel while you're sleeping under it.
The easiest way to choose the right tog is by relating the tog to the season. A lower tog rating is best for summer (2-4.5 togs), while a high tog rating is needed for winter (13.5 togs).
If you're looking for year-round comfort, we'd recommend choosing an 'all seasons' set, which includes a 4.5 for summer use, and a 9 tog for spring and autumn. These two duvets can then be joined together during the winter for a cosy 13.5 tog. However, you do have other options. Use our duvet cufflinks to create your own tog rating by connecting our wide range of togs together. You can 'build your own duvet' creating a super warm 18 tog duvet or sleep cool under a light 7.5 tog duvet – it's up to you!
---
Anti-allergy and natural duvets
You might automatically think that synthetic fills are the best choice for allergy sufferers and in some cases you'd be right because they're easy to clean which prevents allergens from building up. However, there are some natural fillings which have inherent anti-allergy properties as well. Using natural fills doesn't just mean you sleep more comfortably, but also paves the way for your duvet to be recycled or composted when it reaches the end of its life.
Both silk and wool are naturally hypo-allergenic – that means they're hostile to the nasties which trigger many allergies such as bacteria and moulds. You might be surprised to hear that feather and down which has been given 'SuperClean' status is also hypoallergenic.

---
How to care for and maintain duvets
Keeping your duvet at its best is easier than you might expect – it's certainly nothing to lose sleep over. There are some very simple steps you can take to keep your duvets fresh and healthy. In doing so you'll sleep better and keep your duvets for longer.

Everyday
Pull back your duvet when you get up and let it air. If you can open your bedroom windows while you do this, so much the better. This lets the moisture that's built-up in your bed overnight escape, which in turn means your duvet is a less attractive place for bacteria and allergens.
Give your duvet a good shake before you make your bed. This redistributes the fill and gives you a nice, lofty duvet. You don't need to do this if your duvet is made with a carded fill – such as wool or silk.
Once a week/fortnight
Change your duvet cover regularly, allowing your duvet to breathe for a while before you put a new cover on it.
Once or twice a year
Wash your duvet once every six to twelve months and make sure it is completely dry before using it or storing it away. Use professional washing machines to make sure your duvet has enough space to move in the washing machine and get a proper wash.
If you're storing your duvet, keep it tucked up in a sealed but breathable container or bag.
Finally, give your duvet a boost by using a duvet protector. This acts as a first line of defence against moisture, helping reduce the impact of accidental spills and unavoidable accidents for a healthier, longer-lived duvet.