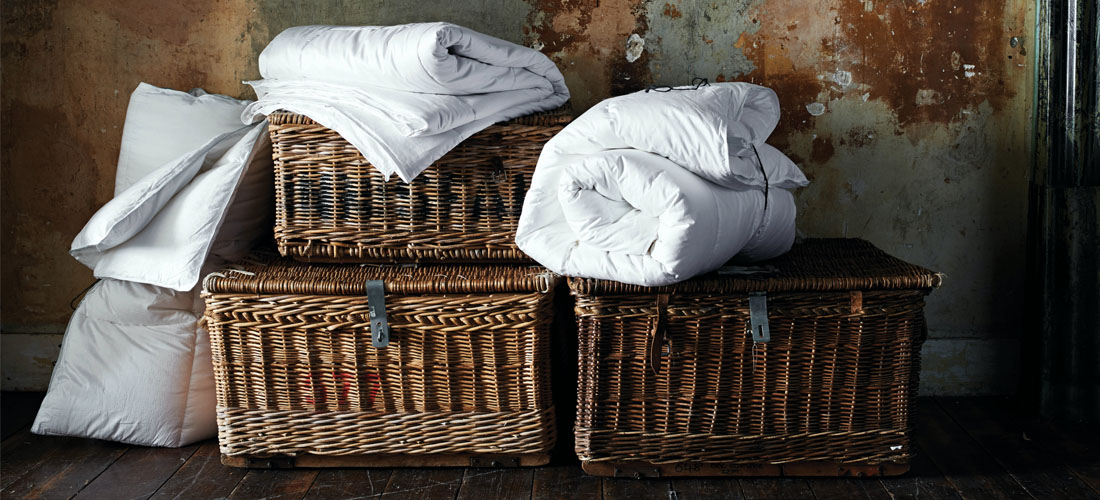 We know that sleep is incredibly important to our physical and psychological well-being. Considering how much time we spend in bed, it's really worth investing time and money when it comes to choosing the perfect duvet. So where do you start? With various fillings, togs and sizes on the market, it's easy to be blown away by bedding jargon, but fear not, as we're here to help.
1. Choosing the perfect duvet size
Let's start with the easiest step, choosing the right size. Duvets come in a wide variety of sizes, from cot bed to emperor, so choose a duvet that is the size of your bed frame and mattress. A top tip is to choose to have a duvet that is a size up from the size of your bed, especially if you share a bed. Having a slightly oversized duvet limits the nightly battle for the covers! It's also a popular interior design choice to have a duvet draped to the floor of the bed.

2. Choosing the best duvet filling
The choice of filling really affects the feel and comfort level of a duvet, as well as the price. Naturally the better quality filling, the greater the cost, but it also provides greater comfort and luxury. Duvets can contain either natural or synthetic fillings.
Natural fillings are soft and breathable. The most popular natural fillings are feather and down, either duck or goose. Down is light and soft whereas feathers are heavy and robust. Both feather and down make for soft, lofty duvets. Our Hungarian Goose down duvets is beautifully light and the ultimate indulgence.
Wool fillings are wonderfully versatile, and a best-seller at Soak&Sleep! Wool is one of nature's cleverest materials, wicking away excess moisture and heat when it needs to, to keep you feeling cool while insulating you when temperatures drop. It's also a great option for those who share a bed, keeping both sleepers at the optimal temperature for a comfortable nights sleep.
Synthetic duvet fillings include Microfibre, which feels super soft, like down, but offers the benefits of being easy to care for. It can be both machine-washed and tumble dried and is great for allergy sufferers who cannot sleep under a feather and down duvet.
In a time where we understand the importance of our buying decisions when it comes to the environment, there's now an opportunity to invest in recycled options for your bedroom. Choose Redown for recycled feather and down bedding, or Revival for synthetic bedding made from recycled PET bottles.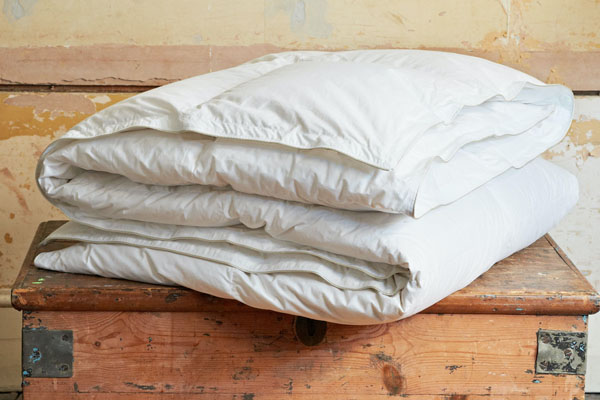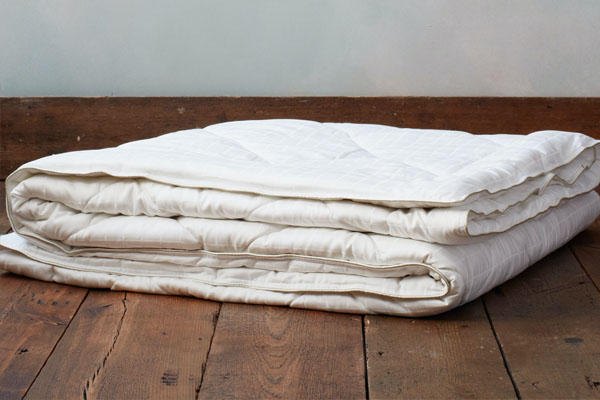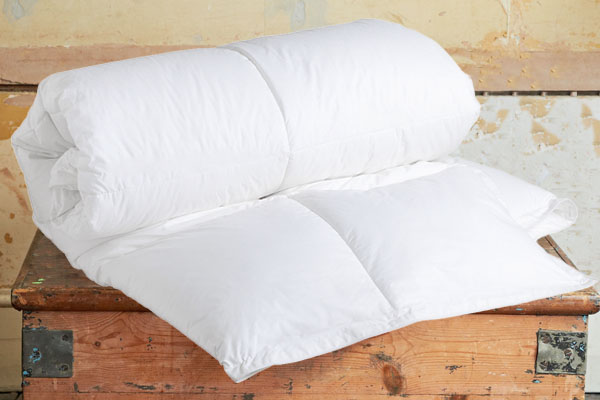 3. Choosing the right warmth or tog rating
This is where those mysterious togs come in. A tog is a unit of measurement telling you how much heat a duvet will retain. The easiest way to choose the right one is by buying your tog relating to the season. A lower tog rating is best for summer (2-4.5 togs), while a high tog rating is needed for winter (13.5 togs).

If you're looking for year-round comfort, we'd always recommend choosing an 'all seasons' set, which includes a 4.5 for summer use, and a 9 tog for spring and autumn. These two can then be commented together during the winter for a cosy 13.5 tog. Looking for something more bespoke? Our duvet cufflinks are there to allow you to create your own tog rating by being able to connect our wide range of togs together.
4. The best duvets for allergy sufferers
Synthetic fillings are great for allergy sufferers but there are some natural fillings which have inherent anti-allergy properties as well. Silk and wool, for example, are naturally hypo-allergenic.

5. The best duvets for hot sleepers
Natural fillings are more breathable than synthetic alternatives. Down fillings are amongst the most breathable, allowing moisture to escape more easily and are a good choice if you suffer from night sweats.
6. The best duvets for cold sleepers
Choose a higher tog rating for a denser duvet that will keep you warm. The natural insulating properties of a duck feather and down filling will keep those that feel the cold at night warm. A high tog, microfibre duvet will also do the trick and retains heat well.
7. Duvet care and maintenance
As it's recommended to wash your duvet every two-three months, it's worth considering the level of effort required when choosing your duvet. Synthetic duvets are generally considered to be easy to care for and can be washed more regularly and sometimes at a higher temperature, which makes them great for allergy sufferers.
Natural duvets can be cleaned but occasionally need to be washed at a lower temperature., We'd always recommend following the care instructions for your duvet, as these can differ between ranges.

So there you have it, a step by step guide of things to consider before finding your perfect duvet! But it's not just duvets that contribute towards a desirable night's sleep. Bedding makes a huge difference, and once you've chosen your duvet, it's best to dress it in a luxury duvet cover.
Soak&Sleep are here to help you find your perfect duvet, so head over to our site today and change your sleep for the better.