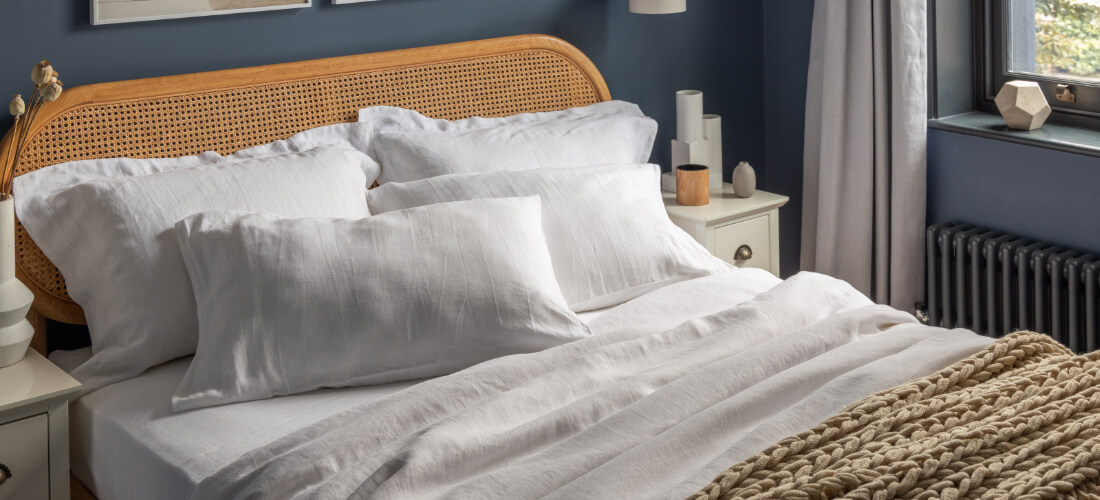 With the bedroom becoming a haven in 2020, what bedding trends can we expect to see in 2021? James Montgomery-Castle, Senior Assistant Buyer for Soak&Sleep, gives us his expert opinion.
1. Natural Fibres
Soft, luxurious and most importantly, eco-friendly. Caring about the environment doesn't mean you have to scrimp on style or comfort. Think hemp bed sheets, wool blankets, organic cotton bed linen and cashmere throws, and mixing up the fabrics to create an interesting bedscape and focus for the eye. Texture layering is the new colour blocking. Hemp, in particular, is a 'miracle fibre' as it has temperature regulating qualities, and contains small amounts of chemical compounds that make the fibre antibacterial and hypoallergenic - meaning it can be washed at a lower temperature. It also requires much less water to grow and yields a larger crop much quicker than it's cotton counterparts.
2. Invest in a weighted blanket
Searches for Weighted Blankets have tripped in the last 3 months - why? There is no doubt that 2020 has been an anxious time for most of us, and a product that has been developed to counter this has become popular this year - the weighted blanket. Proven to help calm and relax you as you settle into sleep, weighted blanket sales look set to remain strong into 2021.
3. Comfort is King
This year we have seen a real increase in people looking for solutions to their sleeping issues.
During the first half of 2020, online sales in mattresses spiked across the country with the Soak&Sleep customer service team seeing an increase in questions about mattresses, duvets and pillows as the nation learns more about sleep and that one size does not fit all. With the nation's sleep quality at an all-time low this year, finding the right mattress, topper, pillow and duvet are the foundations for a good night's sleep.
4. Keep it Clean
With all these new mattress purchases, we see a big spike in mattress, pillow and duvet protectors being bought to protect these investments. The covers protect your bedding from moisture (we can lose up to half a kilo in weight just from water loss overnight!), which can ultimately become a breeding ground for bacteria if left untreated. Protectors also extend the life of mattresses and pillows, reduce wear and tear and are much easier to launder!

5. Make sure you have the right pillow
Getting the right pillow is also essential, as different sleepers (side sleepers, front sleepers, back sleepers) all require a different type of support and firmness. Similarly getting the right duvet for how you sleep is also essential so choosing duvets and bed linen which suits whether you sleep warm or cool, or if you suffer from allergies is key. Our customer service teams are seeing an increase in questions about mattresses, duvets and pillows as the nation learns more about sleep and that one size does not fit all.
6. Light and bright
Crisp, bright, white bedding was a trend in 2020; in fact it was the most popular feature in the most Instagrammed bedrooms. White bed linen inspires a feeling of cleanliness, which we know is going to still feel important in 2021, so it's likely this trend will continue too. White bed linen is also a feature of hotel rooms and whilst our holiday options are limited, creating that luxury hotel feel at home has become something to aspire to.

7. Lock down storage
Multiple lockdowns have prompted many to declutter and organise their homes, and, as more of us are using our houses as offices too, clever storage has become a priority. The space under a bed has become prime real estate in the home so beds with storage drawers underneath are set to sell well in 2021.
8. Living in colour
With the forthcoming vaccine, 2021 is looking more positive already, and this will be reflected in interior design as well. Experimental, bold colours are reflective of an optimistic attitude so it is likely we will see strong, daring colours continuing to be popular bed linen choices as people make their bedrooms their sanctuary. And for those on a tighter budget in 2021, it is still possible to inject colour through accent items such as brightly coloured throws and cushions.
Keep your eyes peeled for product launches, news and more tips and view our full range of bed linen.
So, these are the most likely trends for next year, as we look forward to a more restful and optimistic time in 2021. #WakeUpToBetterSleep